Badminton Stringing in Kuala Lumpur (KL)

We provide clean, certified badminton stringing for players. Our premium badminton restringing services remain true to the high standards of professional stringing services. Our professional stringer is certified, experienced, and strings rackets according to international tournament stringing standards.
Welcome to the family of
ERR BADMINTON RESTRING KUALA LUMPUR (KL)
ERR Badminton Restring located in Melati Utama, Kuala Lumpur, has been providing badminton stringing services to players worldwide since 2012. Our professional stringer has been serving proper stringing services for many years and is well known in Singapore. He has now decided to relocate to KL with his family. Established with a firm commitment to improving badminton standards in Malaysia, ERR specializes in proper badminton racket stringing and maintenance.
We continually strive to improve our skills and knowledge to stay up to date with the latest stringing technology in the industry. We believe that proper racquet stringing is an important factor for success in the sport in Malaysia.
Our goal is not to simply maximize profits or dominate the market, but to foster a greater understanding and appreciation of racquet stringing among players of all ages. We strive to communicate our expertise clearly and concisely, using simple language to improve readability and ensure our services are accessible to everyone.
Premium Badminton Stringing
Experienced Stringer
Our Certified Stringer can feel the string and understand what players need. As he is an active badminton player with a deep understanding of the foundation and also an experienced Badminton Coach.
Certified Stringer
Our Stringer is Certified in various certifications including NMC Singapore. Stringing courses include Certified Badminton Stringer, Certified Stringer, Professional Racquet Adviser, Master Racquet Technician, etc.
Calibrated Machine
Our Stringing Machines, Clamp, and stringing tools are all chosen from the most expensive, precise, and highest-class. Our machine tension head are calibrated yearly to make sure at good accuracy.
What is Proper racquet stringing mean?
Have you observed any differences in the stringing process after viewing our professional stringing video, in contrast to the more casual approach?
Focus on Proper Stringing in Malaysia
Since 2007, Mr. Eric Chuar, the founder of ERR Badminton Restring, has been providing badminton stringing service to his Badminton Academy students, fellow enthusiasts, and coach friends. Throughout the last 16 years, he has remained committed to quality and professionalism, earning a reputation for his exceptional racket restringing standards.
His extensive experience in the badminton industry has enabled him to recognize the importance of top-quality stringing, which is why he and his team employ a Certified Stringing Procedure and use sensible stringing patterns for our premium stringing services. Our commitment at ERR Racket Restring is to offer the best badminton restringing services to players of all skill levels.
Badminton Restring in Taman Melati / Kuala Lumpur
Understand our professional stringing value
The reason is that the string must be given adequate time to expand, which ensures even and consistent tension across the entire racket.
This meticulous process results in optimal performance for the player, as the tension is uniformly distributed throughout the racket. Therefore, it takes approximately 30 to 45 minutes to string each badminton racket to our high standards.
Why does the stringer need to wait for 3 to 4 seconds between each string? Nylon strings require time to stretch and reach a certain length in order to achieve the desired tension.
By giving the strings time to expand, the tension on the racket is distributed evenly and will remain consistent over time. Nylon strings are similar to rubber bands in that consistent stretching can cause them to lose their elasticity and shape.
To achieve maximum repulsion, the thickness of the string is an important factor, as thinner strings tend to lose tension faster than thicker ones. To ensure the best results, our certified badminton stringer devotes more time to the stringing process, particularly when dealing with thin strings and high tension levels.
As a result, we are able to string a maximum of 8 badminton rackets per day, allowing us to maintain the highest possible standards of restringing quality for our members. Our commitment to adhering strictly to the International Tournament Racquet Restringing Standards is consistent.
At ERR Racket Restring, we are committed to raising the standard of badminton stringing in Malaysia, even if it means prioritizing quality over profits. Currently, the local scene prioritizes string type, speed, and low cost over quality stringing. We recognize that hurried stringing will produce subpar results. To achieve the utmost level of stringing quality, we adhere to our Certified Stringing Method, which includes waiting 3-4 seconds between each string before proceeding to the next one.
The difference in output quality is significant compared to casual stringing, as shown in the image of an overlapping string, which appears unprofessional and subpar. Our founder, Mr. Eric Chuar, aims to offer his students and fellow players the opportunity to experience the benefits of our professional stringing services and his extensive stringing expertise.
Empty Frame up to Machine and Strung by Certified Stringer
ERR Badminton Restring employs a NO Pre-String method, as it has been found that pre-weaving the strings can cause critical damage to the strings and reduce their durability. Furthermore, it can lead to inconsistency in tension, making it difficult to achieve the desired tension for the racket owner. The pre-string method can also cause the tension to drop quickly after just a few games.
Even famous badminton players such as Victor Axelsen, Loh Kean Yew, Lee Zii Jia, Jonatan Christie, Kodai Naraoka, and Kento Momota, as well as top women players like Tai Tzu Ying, Akane Yamaguchi, An Se Young, and Chen Yu Fei, regardless of stringing pattern or brand, prefer the NO Pre-String method for its benefits. At ERR Racket Restring, we believe in providing the best stringing services using the most effective and reliable methods available.
Our Promise in Badminton Stringing Services
Following our Certified Stringer's experience in New Zealand, we strongly believe in the importance of sharing proper stringing knowledge with every badminton player. While we may not provide stringing services throughout the entire Kuala Lumpur region, we are dedicated to focusing on certain areas and providing comprehensive stringing education for players.
We specialize in offering badminton stringing service in the West region for higher-level players and badminton enthusiasts seeking proper restringing. Our members come from various areas such as Melati Utama, Wangsa Maju, Seri Setia, Setapak Indah, Gombak, Taman Melawati, Taman Bukit Mas, Damai, Gombak Setia, Kampung Baru, Setia Wangsa, Bukit Jalil, Petaling Jaya and more. Our members can attest to the unparalleled quality of our stringing services. At ERR Racket Restring, we believe in a comprehensive stringing process that starts with an empty frame and utilizes advanced machines for optimal results.
Proper Stringing Quality with Proper Knots
At ERR Racket Restring, we understand that no matter how high the quality of the string or how advanced the stringing machine is, proper knotting is still important for achieving excellent stringing results. That's why we use only professional knots in our stringing process, and we make a commitment to maintaining this standard for as long as we offer our services.
We stand behind this promise by offering a full refund on the spot if any stack string or improper knots are found in our restringing services. To ensure the highest level of stringing quality, we also recommend that our members or players check their rackets before leaving our premises. With more than 5000 rackets strung to date, we're proud to say that no rackets have been found with improper knots or quality.
No Stack, Stick, or Overlapping of String
At ERR Badminton Restring, we understand that not everyone is familiar with industry terms such as "overlapping string" in badminton restringing services. That's why we take the time to educate our members and share our knowledge with them. Our top-quality stringing process ensures that no cross or overlapping strings are found, as evidenced by the attached photo. We treat every strand of badminton string as a priceless asset for our members, acutely aware that even a minor mishap can compromise the quality of stringing. We are deeply committed to ensuring nothing short of excellence.
We also provide personalized advice to help members choose the most suitable string, tension, brand, model, and thickness for their specific needs as badminton players in Malaysia. Sharing useful tips and information is important to us, as we strive to provide the highest-quality stringing services and ensure that all our members can benefit from our expertise. "Always searching for 'badminton stringing near me'? Don't forget, it's the quality of the stringing that truly counts, especially for players who are at competitive level.
Our Good Practices in Racket Stringing Services
1. This approach helps to extend the racket's durability, as it eliminates the risk of damaging the frame during the stringing process.
2. Stringing an empty frame also ensures firmer string tension with consistent results, making it easier for the owner to locate the sweet spot and hit the shuttlecock accurately.
3. By avoiding overlapping strings during the stringing process, the inner nylon string is protected, which improves the overall durability and consistency of the tension.
1. Ensuring that the racket frame remains relatively unchanged before and after restringing.
2. Preserving the paintwork on the racket and avoiding scratches or other damage.
3. Taking great care to protect the string during the restringing process, as nylon string contains many fine silk-like threads that can be easily twisted or damaged if not handled properly. This ensures that the tension remains consistent and comfortable for the player.
4. Ensuring that the tension is equally distributed throughout the entire racket frame to provide the best possible feel.
We adhere to the Professional International Stringing Standard, despite using the world-renowned YONEX PROTECH series stringing machine.
Our commitment to this certified stringing method has been in place since 2012, and is consistently enjoyed by all ERR members.
At ERR, we prioritize our members' satisfaction over profit margins. We are committed to ensuring that our members can fully enjoy their badminton experience, which is why we offer personalized advice on string tension based on their game skills and playing style, taking into account factors such as velocity at impact.
We use only the highest quality materials for our badminton string sets, which are exclusively made in Japan. Our members' rackets are strung with the Yonex Protech World No.1 Stringing Machine, while our stringing tools are Yonex's high-accuracy stringing tool sets, also sourced from Japan.
By upholding these standards, we guarantee the best possible stringing experience for our members
Over the past 16 years, our badminton stringer has continuously pursued new methods and technologies, recognizing that enhancing his skills and knowledge will ultimately benefit our members. Mr. Eric Chuar, our professional stringer, maintains an unwavering commitment to following proper procedures and techniques when restringing rackets. He firmly believes that the temptation to take shortcuts in the interest of saving time and earning a few extra dollars in stringing fees must be resisted.
This dedication to quality is reflected in Mr. Chuar's practice of declining more than 1000 walk-in stringing requests, insisting on the importance of booking appointments in advance. Above all, he emphasizes the essential nature of adhering to the international tournament standard in badminton restringing, rejecting any shortcuts that might compromise the integrity of the process.
Since 2012, ERR has consistently fulfilled all of the commitments made to its members, a record that endures to this day in 2023.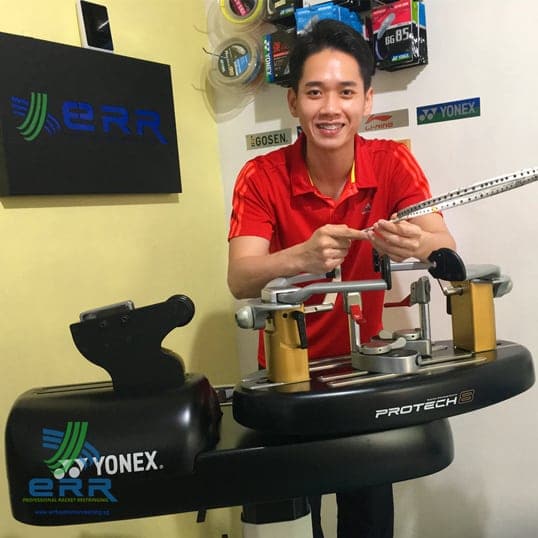 Combination of Stringing Methods that Meet the Highest Standards of Quality and Precision
The stringing method used can significantly impact the final result, which is why our ERR Certified Stringer relies on his extensive knowledge of badminton restringing to determine the optimal stringing pattern for each player. In addition, the quality of the string itself is important, and we exclusively use high-quality options, including premium Japanese-made and renowned brand strings. To us
To ensure that our members receive the best stringing experience, we gather feedback on every new string from our 2000 member base. Our commitment to quality means that we do not endorse low-quality strings, even if they offer higher profit margins. Ultimately, by leveraging the expertise of our Certified Stringer and the precision of our Yonex Protech Stringing Machine, we deliver results that are sure to satisfy. In Malaysia, we are steadily spreading our professional badminton stringing service to players far and wide, fueled by a fervent desire to propel our country forward. We are wholeheartedly prepared to establish a proper stringing foundation throughout Malaysia.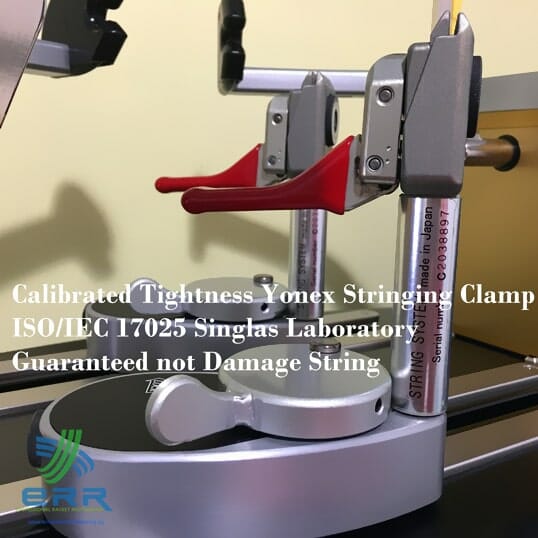 Stringing Machine Calibrated with ISO/IEC 17025 Standard
We take great pride in the accuracy and reliability of our Yonex Protech Series Stringing Machine, which has undergone rigorous testing and calibration by the SAC SINGLAS Laboratory, accredited to the ISO/IEC 17025 Standard. This certification is traceable to National or International Standards, ensuring our equipment meets the highest industry benchmarks. Not every badminton stringing service provider is willing to make this investment, but we passionately do so because we deeply believe in its importance in today's technological landscape.
Our tension head and stringing clamp undergo yearly calibration and must operate within strict tolerances to maintain accuracy. Additionally, our daily routine includes cleaning the clamp and track and conducting a tension test before restringing. Our unwavering commitment to accuracy is rooted in our desire to provide quality services to our members, as evidenced by our stringer's qualifications as a Certified Badminton Stringer and Certified Badminton Coach in Malaysia. The best badminton stringing service isn't just about the price or a good stringing machine, it's about passionate craftsmanship, a solid foundation, and the expertise of a professional stringer.
Book Racquet Stringing Online
For best badminton restringing service quality, membership is required to utilize the "BOOK" button and schedule an appointment for stringing. The booking system is now available to the general public, having previously been exclusive to ERR members, and has been fully developed.
Important Note: We do not accept walk-ins for racquet stringing, as professional badminton stringing requires additional time. Therefore, our stringer has to plan the schedule properly. All members are required to book an appointment online before visiting our facility.
Our Badminton Stringing Address:
G-0-3 PV6 Platinum Hill Condo, No 3 Jalan Melati 3, Taman Melati Utama 53100 Kuala Lumpur, Malaysia