Certified Stringer

Certified Stringer in Johor Bahru (JB) Malaysia from ERR Badminton Restring. As usual, our Certified Stringer will provide professional stringing services to players who love a higher standard of stringing.
Welcome to
Certified Stringer Services in Johor Bahru (JB)
Mr. Eric, our certified stringer, has provided professional stringing services in Malaysia for many years, specializing in badminton. With extensive knowledge and experience in badminton, Mr. Eric ensures that every racket he strings meets the highest standards of quality, helping his clients feel comfortable and improve their performance on the court.
As a certified stringer, Mr. Eric follows the industry's best practices to ensure the perfect stringing tension, sound, and feel for every racket. With years of experience in providing stringing services, he also understands that players often need guidance when choosing the right string and tension to suit their individual preferences and playing style.
Whether working with competitive players, casual enthusiasts, or badminton lovers across Malaysia, Mr. Eric's commitment to providing professional stringing services has earned him a reputation as one of the most trusted and reliable stringers in the industry. His knowledge, experience, and attention to detail ensure that every racket he strings meets the highest quality standards and exceeds his client's expectations.
The difference between Casual Stringer and Certified Stringer
What is the difference between a Casual Stringer and a Certified Stringer? From the end user's point of view, if we look at it from a beginner's perspective, someone who is not very good at badminton, there is no difference. They cannot even play nicely, so they cannot differentiate between good or bad quality stringing. Therefore, whether a stringer is certified or casual is not important to them. They only care about the cost, available string model and color, location, and how fast the stringing can be completed.
For players who can play better, like high beginners and those at a professional level, they would prefer a Certified Stringer instead of a casual one, as they need more consistent and professional stringing services. Why? Most of these players understand that casual stringers may not have a thorough understanding of the principles of stringing or the technical knowledge needed to string a racket with good accuracy and consistency. Additionally, casual stringers may not be up-to-date with the latest stringing technologies, and their stringing machine and tools may not be accurate.
Why Choose a Certified Stringer for Your Needs
Although most certified stringers always follow high standards when performing restringing work, not every one of them can fully understand the player's needs. So, choosing the right professional stringer for your badminton racquet stringing needs is important for every player. Some Certified Stringers may only have book knowledge, which is not enough to provide good stringing services. If they do not have much playing experience in the sport, they may not fully understand how higher-level players feel when using the racket. So, they may only offer what players request, such as "stiffer" or "softer," "high" or "low" tension, and not be able to provide much assistance.
However, experienced stringers who have better skills and understanding of the game of badminton can offer more than just stringing machines and methods. They can understand what players exactly need based on their playing style and pattern. Our Certified Stringer, who is well-known, plays badminton and conducts coaching almost every day. He can easily know what string type, tension, and stringing methods can suit a player's needs just by watching them play. This is why we have had so many members with us for so many years.
What to Avoid When Selecting a Racket Restring Service
In Malaysia, when it comes to selecting a racquet restring service, there are a few important things to be careful of to prevent getting bad stringing services. In order to ensure the best stringing quality and performance of your racquet, our advice is to choose a Certified Stringer as your main provider. Our stringer always advises members to avoid certain things when selecting a racquet restring service. Do not choose a restring service that is only based on price, such as those that keep offering monthly discounts, promotions, or variable pricing.
For example, if you are considering Racket-Restring, make sure to look at their reviews, avoid fake photos, and check how many people have had negative experiences after using their services. A good racket stringing service, like one provided by a Certified Stringer, will not offer many discounts because every professional stringing requires more time. It is important to remember that the quality of stringing can be critical, especially for players at a higher level of play. Secondly, make sure to choose a service that provides courteous assistance when answering inquiries or explaining different types of strings available.
What Our Certified Stringer Offers Members
Our certified stringer provides more than just racquet stringing services; he also offers professional advice and assistance on racquet selection and customization. As ERR members, you can always use our professional stringing services. The quality of our stringing is important for most of our members to keep their badminton racquets in top condition. Our stringer also helps members find the perfect combination of string type, model, thickness, tension, and grip type according to their playing style.
Additionally, our certified stringer offers on-the-spot stringing and same-day collections. Since our stringing system is well-developed, our members can check available slots at any time when they need our racquet restringing services. After booking an appointment online, they can receive the stringing services they requested without delay. At ERR, we offer a certified stringing service that is sure to improve your playing performance. Our goal is to provide members with higher standards of restringing services in Johor Bahru Malaysia.
Which Skill Level is Best Suited for Certified Stringer Racket Restringing
Our advice is that, regardless of the level of the player, everyone should give professional stringing services done by a Certified Stringer a try. At ERR, we believe that everyone deserves good quality stringing services. Especially for beginners and high beginner levels, we have many members who are at these levels. After trying our racket restringing services, they can feel the difference, especially in the hitting sound.
Some of our members, after coordinating with our stringer, were able to find the right tension and string model and play better in their games. As you may know, our ERR Certified stringer, Mr. Eric, has received professional training and certification in racket restringing from overseas. He has the knowledge and skills necessary to restring badminton, tennis, and squash rackets to the highest standards. Listen, whether you're dealing with a Yonex Certified Stringer or one from any other stringing association, the crux of the matter is this, the foundation of their stringing technique must be rock-solid. That's the heart and soul of a quality string job!
USRSA Certified Stringer
Certified Stringer from USRSA
The knowledge and skills of this certification including
Professional Badminton Stringing
Professional Tennis Stringing
Professional Squash Stringing
Professional racquetball
Frame Inspection
Mounting
String Installation
String Technology
Customer Service
CRSF Certified Stringer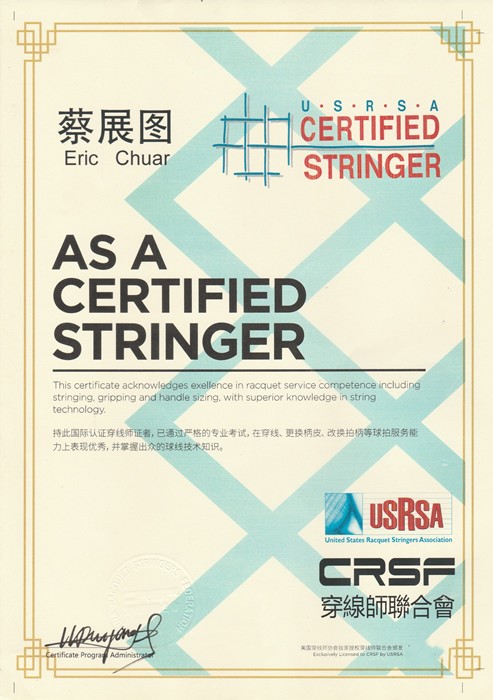 Certified Stringer under CRSF (China Racquet Stringing Federation).
In addition to being a USRSA Certified Stringer, our stringer has also obtained certification from the China Racquet Stringing Federation (CRSF) during his trip to China. The CRSF is another higher level in the stringing world, as they focus more on badminton.
All the stringing instructors and stringers have a deeper knowledge of badminton. However, having all these certificates does not imply that we claim to be the best stringer in Johor Bahru (JB) Malaysia.
Our intention is to raise the badminton standard in Johor Bahru instead of making it a business. A stringer who does not have stringing certification does not necessarily mean they cannot provide good stringing services, so please respect every stringer as stringing can be an extremely tiring job.
Thank you for Reading!
Certified Stringers are just a small part of professional stringing services.

Passion in badminton is only the key to success.

Eric Chuar
Professional Stringer