Personalized Badminton Stringing Course
Badminton Stringing Course Malaysia
Welcome to ERR Education's exclusive Personalized Badminton Stringing Course in Malaysia, specifically designed for individual players who want to learn stringing for themselves, their members, or anyone else. Our stringer's mission is to elevate the standard of badminton stringing in Malaysia, rather than simply promoting our brand or striving to be number one.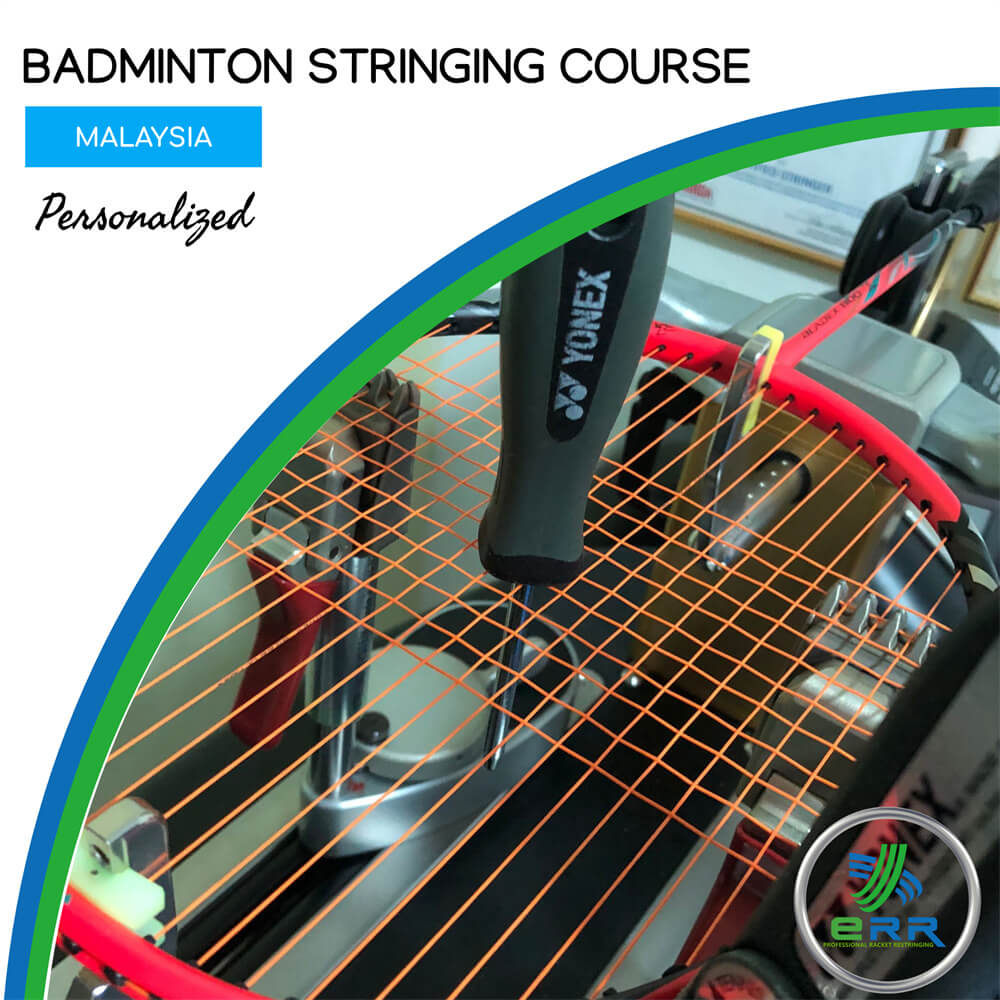 Personalized Badminton Stringing Course
In this stringing course, we won't overwhelm you with outdated theories. Instead, our professional stringer will focus on teaching the essential skills needed to achieve top-quality stringing that you'll truly appreciate. We'll cover what's important and necessary to master the craft. By the end of this course, you'll be well-equipped to handle your racket stringing needs, ensuring that you have complete control over the quality of your stringing.
Badminton Stringing Course Instructor
This badminton stringing course is led by Master Stringer, Mr. Eric Chuar, who is also renowned for his exceptional badminton coaching skills in Malaysia. He has also completed all of the stringing courses offered by USRSA, under the guidance of a famous and experienced certification tester from China, which has made him feel very proud. With years of stringing and playing experience, Mr. Eric is well-equipped to share his knowledge with members and maintain the premium quality of his stringing services.
The badminton stringing course modules and eligibility include

Racket Technology and Type
Badminton racket technology includes frame construction. Learn how to differentiate between types of badminton rackets designed to suit various playing styles for players in Malaysia. Each racket has unique built-in technologies such as "isometric" frames, and different materials to help meet specific player needs and playing styles. Additionally, rackets come in different balance points such as head-heavy, light, and balanced.
Stringing Machine and Stringing Tools
Brief-on stringing machines come in different types, including drop weight, crank, and electronic machines. They also have different mounting styles, such as tabletop, standalone, and portable machines. Our professional stringer can recommend the right stringing machine for your needs, as well as the best stringing tools like pliers, awls, starting clamps, and stringing scissors to guide you in choosing the right one.
String, Tension, and Stringing Methods
Our professional stringer will advise on how to select the right string, tension, and stringing method for their clients, as these can significantly impact the performance of the racket. When it comes to tension, they will recommend the appropriate level depending on the player's skill level, playing style, and racket type. They will also explain two-piece and one-piece stringing methods, and how to properly string the main strings first, followed by the cross strings.
Stringing Techniques and Best Practices
Our stringing techniques module includes instructions on how to properly clamp the strings to maintain the correct tension and prevent slipping during the stringing process, as well as how to maintain consistent tension throughout. We also provide advice on the professional way to recommend a stringing pattern to maintain proper tension and avoid damaging the racket frame. Additionally, our trainer will guide you on how to ensure secure knots and neat trimming for a professional finish.
Racket Care and Maintenance
This stringing module includes instructions on the proper care and maintenance of a badminton racket during stringing, which is essential for maintaining its performance and prolonging its lifespan. We will explain how excessive string tension can put unnecessary stress on the frame and strings, and how to properly replace grommets, which are designed to protect the frame and strings from wear and tear. Our training will cover how to replace grommets professionally and the necessary tools needed. We will also guide how to replace grips and store stringed rackets under ideal conditions.
Hands-on Practice and Evaluation
This stringing module includes hands-on practice for trainees because no matter how good our theory is, hands-on practice is essential for stringers to develop their skills and gain experience in different stringing techniques and methods. After the hands-on session, our stringer will evaluate the trainees' stringing technique and identify areas for improvement. Evaluating the string job can also help trainees identify any mistakes or errors they may have made and learn from them for future stringing jobs.
Stringer Certification
The Stringer Certification program in Malaysia is designed to certify individuals who demonstrate the knowledge and skills required to string a badminton racket to a high standard. This program includes theoretical and practical assessments, as well as certification levels that our stringer can offer. Obtaining a certification can increase a stringer's credibility and marketability as it demonstrates their expertise and commitment to quality badminton stringing.
Premium Stringer Listing
Stringers who have passed the certification exam and demonstrated expertise in badminton racket stringing will be eligible for inclusion in the premium stringer listing. As ERR only prefers professional standards, this listing can be a valuable resource for both stringers and consumers. We understand that a premium stringer listing can provide increased visibility and opportunities for growth for those who have passed the certification exam and demonstrated their expertise in badminton racket stringing.
Objectives of this Course
By the end of this Personalized Badminton Stringing Course (PBSc), participants will have opened up new and exciting opportunities to explore, understand, and learn the latest techniques and standards. It goes beyond just using machines and theory, as our final aim is to produce professional stringers who can help more players in Malaysia Johor Bahru improve their game. The objectives of this course are:
Gain a comprehensive understanding of the foundation of badminton racket stringing
Learn the latest techniques and standards
Be able to select the right string
Use appropriate tools and equipment
Apply proper stringing techniques
Troubleshoot common problems
String badminton rackets effectively, efficiently, and with confidence


Badminton player / Retail sports shop / Casual stringer / Badminton lover


Applicants should be able to play badminton at a high beginner level or above and have a good understanding of the basic foundations of the sport. In addition, they must have access to a stringing machine, stringing tools, and equipment of good quality and accuracy.


Weekday Evening Class
Weekend Full-Day Class


Weekday
14 Weeks – One class per week each 3hr
7 Weeks – Two classes per week each 3hr
5 Weeks – Three classes per week each 3hr
Same as the online schedule

Weekend
5 Weeks – One class per week each 8hr
The stringing courses for Term 1, 2023 are full. This is because we only allow a maximum of five students per in-person course.
Upcoming term 2 stringing courses to be advised
Same as the online schedule


Class facilitated Training or Online (in hours): 40.0hr
Theory Assessment Duration: 1.5hr
Practical Hands-On Assessment: 1.0hr


Upon completion of this badminton stringing course, the candidate will receive a certificate of "Professional Badminton Stringer " in badminton that acknowledges his skills and knowledge in badminton racket stringing in Malaysia by ERR Education.
Candidates who are learning badminton stringing as a hobby and do not wish to experience stress may choose to skip this exam and certification. In that case, you will receive a completion certificate instead.


Weekday Course: RM2100.00
Weekend Course: RM1150.00



FAQ About the Stringing Course
We have prepared three Yonex brand stringing machines for the course. However, if you feel more comfortable using your own machine for learning stringing, you are welcome to bring it to our workshop.
Yes, even though you are still new, you may borrow all these tools from our course instructor and return them after class. However, we still recommend that you bring your own toolset, as it is better for you to use the tools you are already familiar with, especially during the practical exam.
Yes, you are eligible to string rackets for professional players, as you have already gained a solid foundation in badminton stringing. Your stringing will no longer be considered casual but rather professional.
If you pass our theory and practical exams, you will be qualified to offer professional stringing services, and your profile will be listed in our stringer directory. We also offer other courses on racket technology, tennis stringing, and squash stringing that you may consider if you want to gain in-depth knowledge of racquet sports.
As a well-known organization, our professional stringers aim to help more and more players in Singapore receive high-standard stringing services instead of the casual stringing prevalent in the current market. Our motivation for offering this course is not to build a business or reputation based on exclusivity or prestige, unlike others. We believe in sharing knowledge and not being selfish. After completing this course, you may use your own name or any other name for your stringing services, but we will serve as your backbone to support and verify your qualifications.
Currently, our stringing courses are conducted at Malaysia Johor Bahru Workshop. Accommodation can be arranged by group or individual.
Yes, you can arrange on-site training with our instructor. However, due to different venues, timings, and arrangements, we recommend requesting a quotation from us to learn more about the associated costs.
For the theory test, currently we only offer it to students who attend our classes and access it through our online system. However, due to the overwhelming number of overseas applicants who wish to take the exam online, we will consider and implement a secure and easily verifiable system to ensure that no falsified data or cheating occurs during the exam.
For the practical test, we are currently only offering it in-person. This is because we want all the stringers certified by ERR Education to be able to provide the best stringing for players in Singapore while maintaining the highest standard of verified certification credibility.