Our Stringing Vision and Values

Our vision for racquet stringing is simple: we are committed to continuously improving our stringing standards and techniques to ensure our members receive the best possible value from our stringing service.
Vision & Values of Our Structured Stringing
We've been dedicated to providing excellent service to our members since 2007. Our main focus is on delivering high-quality badminton stringing services that are well-structured and allow all our members to enjoy the best stringing quality possible. Not only that, but we also aim to foster important traits like consistency, accuracy, and good play, which we believe are essential in every player.
We put a lot of effort into the quality and organization of our stringing services to ensure that our members get the best stringing services. We firmly believe that the quality of our stringing services is what sets us apart from any other stringing professionals.
Vision & Values of Our Stringing Services
We understand that not everyone who plays badminton may require professional-level stringing services. Yet, we are determined to provide all our members with top-quality racquet stringing that helps them play at their best on the court.
We invest in using the best stringing machines, highly skilled stringers, and only the finest materials, so we can deliver the highest quality stringing services to our members. We pride ourselves on providing our members with unparalleled support and service to ensure they receive the best stringing experience in Kuala Lumpur Malaysia (KL).
Vision & Values of Our Stringing Methods
Our professional racquet stringing services have been well-developed and refined over the past 13 years and we remain committed to continuous improvement. As professional stringers, we recognize that our members are the future of badminton and that we have a responsibility to provide effective stringing services.
Our goal is not simply to earn stringing fees, but rather to help our members play better on the court. Blindly performing pre-weave stringing services without a clear purpose is not our aim. Instead, we are dedicated to providing our ERR members with the best racquet restringing services.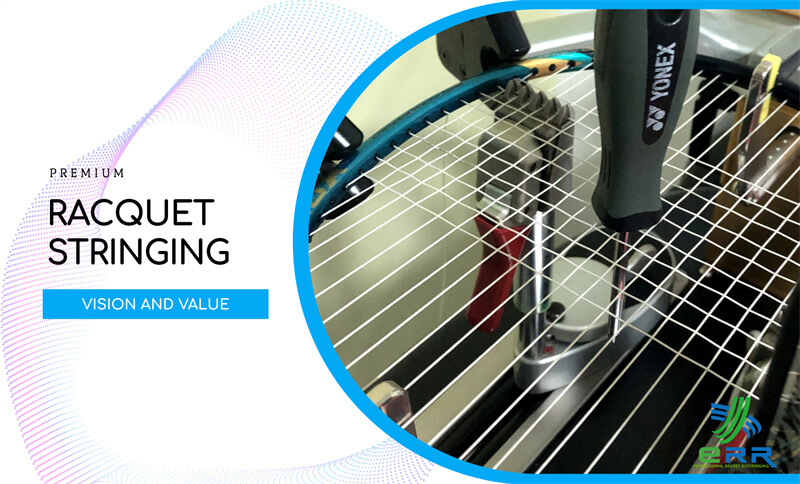 Vision & Values of Our Racquet Stringing
We understand that proper stringing work and machine quality are two important components of professional racquet stringing. At our stringing services, we are constantly seeking new and innovative ways to improve the quality of our members' stringing and maintain high standards in their game.
However, we believe that stringing quality is just as important as academic education. Therefore, we prioritize racquet stringing for all members and provide them with the highest quality, professional service. We understand that anyone can buy a stringing machine and start a business, but at our stringing services, expertise and quality are our top priorities.
Vision & Values of Our Stringing Challenges
We are well aware of the challenges of developing professional-quality racquet stringing in KL Malaysia. In the market where many shops prioritize time and profit over professional skills and techniques, badminton stringing can be a time-consuming and demanding process. This is why we limit the number of members and daily stringing slots, to ensure that our Master Racquet Technician can provide each member with quality stringing services at a designated time.
At our stringing services, we prioritize the satisfaction of our members above all else. We take happy to see our members confidently use their racquets, and this is far more important to us than generating revenue or taking more members. We believe that by providing each member with personalized attention and high-quality stringing, we can help improve their overall experience in badminton.
Vision & Values of Our Professional Stringing
At our stringing services, professionalism isn't just a buzzword we use to attract customers or gain notoriety. It's a structured approach that caters to players of all levels with a carefully planned stringing schedule for each member.
Unlike many casual stringers who don't create stringing schedules for their services, we believe in developing a flow and calendar that ensures our members receive consistent, high-quality stringing services. We understand that different players may have unique requirements, but we help them fulfill their needs as necessary.
Our stringing services include solid stringing methods, proper stringing techniques, and other important techniques. By following a professional and well-structured plan, our members are guaranteed quality stringing services that improve continuously. As professional badminton stringers, we take pride in the effort we put into planning and executing our services, which is a key aspect of our comprehensive badminton stringing service for players.
Vision & Values of Our Racquet Safety
Our priority is to provide safe and reliable stringing services for badminton players. We're fully aware that racquets are often expensive investments for players, so we take great care to ensure that they remain undamaged during the stringing process. We know that many players are hesitant to trust their racquets in the hands of inexperienced stringers, especially when high-tension stringing is involved.
But there's no need to worry. Our professional stringers have undergone extensive training and have years of experience in racquet restringing. They prioritize creating a crack-free and supportive stringing environment that instills confidence in our members to entrust their racquets with us. You can rest assured that your racquet is in capable hands with our team of skilled professionals.
Vision & Values of Our Stringing Advice
At our stringing services, our experienced stringers are equipped to provide expert advice on all aspects of stringing and offer advice on different string models. They have extensive knowledge of various racket types and the specifications of different manufacturers. With their experience, our stringers can quickly identify potential problems and provide solutions, allowing members to get back on the court with better-quality stringing services.
Our highly skilled certified stringer has been certified by the USRSA (United States Racquet Stringers Association), which is a testament to his expertise in the field. You can trust that our stringers are knowledgeable and well-equipped to provide you with top-quality racquet restringing services.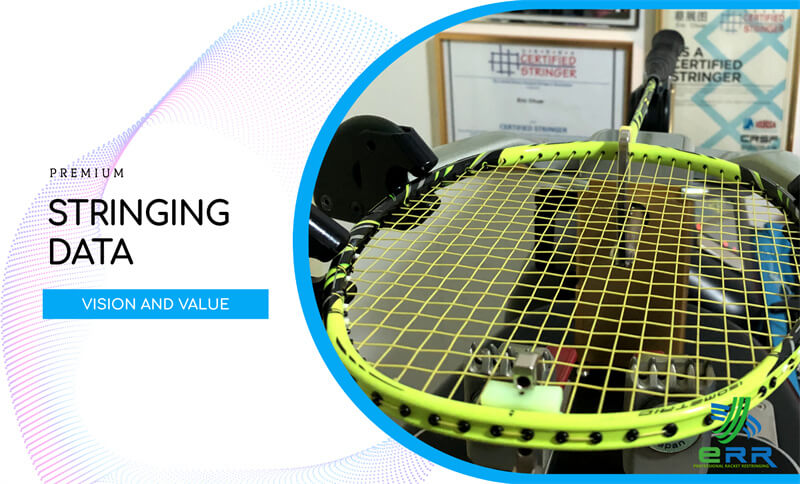 Vision & Values of Our Stringing Data
We've been integrating stringing data into our services for the past five years. Our team of stringers incorporates Python programming to analyze the data and generate valuable insights that help us improve our stringing quality. Our analytics approach is made up of three components. We begin by defining the specific data points needed from each player's racket specification, which we collect during the stringing process. Next, we analyze and code the data in Python, followed by statistical analysis of the data after the stringing.
Finally, we evaluate player feedback and identify areas where our stringers can adjust and improve their stringing methods for the next round. With our advanced analytics system, we can continually enhance the effectiveness of our racquet stringing and deliver a more comprehensive stringing experience to our members. By leveraging technology and data, we're able to provide even greater precision and accuracy in our stringing services.
Vision & Values of Our Badminton Knowledge
Our professional stringer not only possesses knowledge of badminton stringing, but he is also a full-time badminton coach in Malaysia. He understands the importance of a strong foundation in badminton. He has also successfully taken kids from beginner level to current national players in Malaysia. The knowledge of badminton and stringing services is crucial, but many stringers wrongly focus on the machine, the precision of the stringing, and the process of stringing.
However, this knowledge is not sufficient, as it is the player who uses the racket on the court. Thus, understanding the player's requirements and playing style, and how to help them play better, is more important to us than any theory or stringing certificate. There are too many stringing certifications from different brands and countries, but the most important factor is the player's satisfaction, which is the key to success for a professional stringer.
Vision & Values of Our Stringing Intention
Our intention with our badminton stringing services for all player levels is to prioritize the use of professional methods to improve their comfort and prevent them from experiencing aches for several days after using our stringing, which can occur if the strings are too tight.
Most of our professional stringing services are designed to help players adjust to their comfort zone, so they can enjoy the stringing without feeling fatigued. Many players are unaware of the appropriate tension to choose, so our stringer will assist members in selecting the right tension and type of string to ensure they can play well and enjoy our stringing services.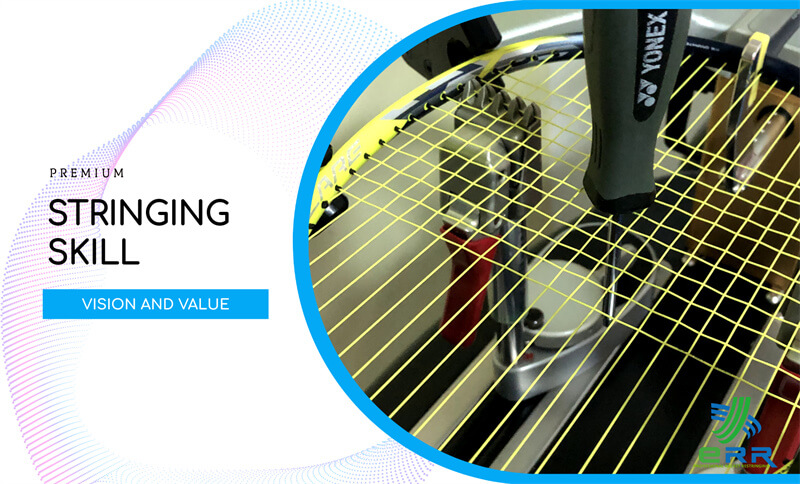 Vision & Values of Our Stringing Skill
At ERR Badminton Restring, we believe in providing personalized stringing services to all of our members. We understand that some players may not be familiar with the right tension or string type for their racquet, which is why our stringer will offer fair and personalized assistance to each and every member.
Unlike some stringers who may not be interested in working with beginners, at ERR Badminton Restring, every member benefits from a customized racquet stringing service tailored to their skill level. We believe that individualized attention is key to an effective restringing experience, and that's why we go above and beyond generic stringing methods to truly understand each member's needs.
Vision & Values of Our Stringer Experiences
While it's unfortunate that many stringers lack proper racquet stringing technique, especially in Malaysia, we focus on what we can control – delivering high-quality badminton stringing services to our members. Providing professional racquet stringing services is both time-consuming and requires a certain level of experience and expertise.
That's why we prioritize hiring stringers who possess the necessary qualifications and experience to guide members from beginner-level to skilled players. Our services, such as stringing, grip replacement, and grommet strip replacement, are designed to provide the best experience. An experienced stringer has the expertise to help ensure that members get the most out of their equipment, which is essential for improving technique and maximizing enjoyment during each game.
Back to the stringing home page.