Master Racquet Technician

Master Racquet Technician in Johor Bahru (JB) Malaysia from ERR Badminton Restring. Expect nothing but the best from ERR Badminton Restring's Certified MRT in Malaysia.
Welcome to
Professional Racquet Stringing Services by Master Technicians in JB Malaysia
Mr. Eric is a highly experienced and knowledgeable Master Racquet Technician (MRT) who has been providing professional stringing services in Johor Bahru (JB) Malaysia, specializing in badminton, for many years. He takes great pride in ensuring that every racquet he strings meets the highest quality standards, which allows his clients to perform at their best and feel comfortable on the court. Mr. Eric follows the latest industry best practices and uses his extensive experience to optimize the sound, feel, and tension of every racquet stringing he works on.
He also understands that each player has unique preferences and playing styles, and he provides personalized guidance to help them choose the best strings and tension for their needs. Mr. Eric's commitment to providing top-quality racquet stringing services has made him one of the most trusted and reliable stringers in the industry. He is respected for his deep knowledge, attention to detail, and years of experience. If you want a racquet that exceeds your expectations, Mr. Eric is the perfect choice for you.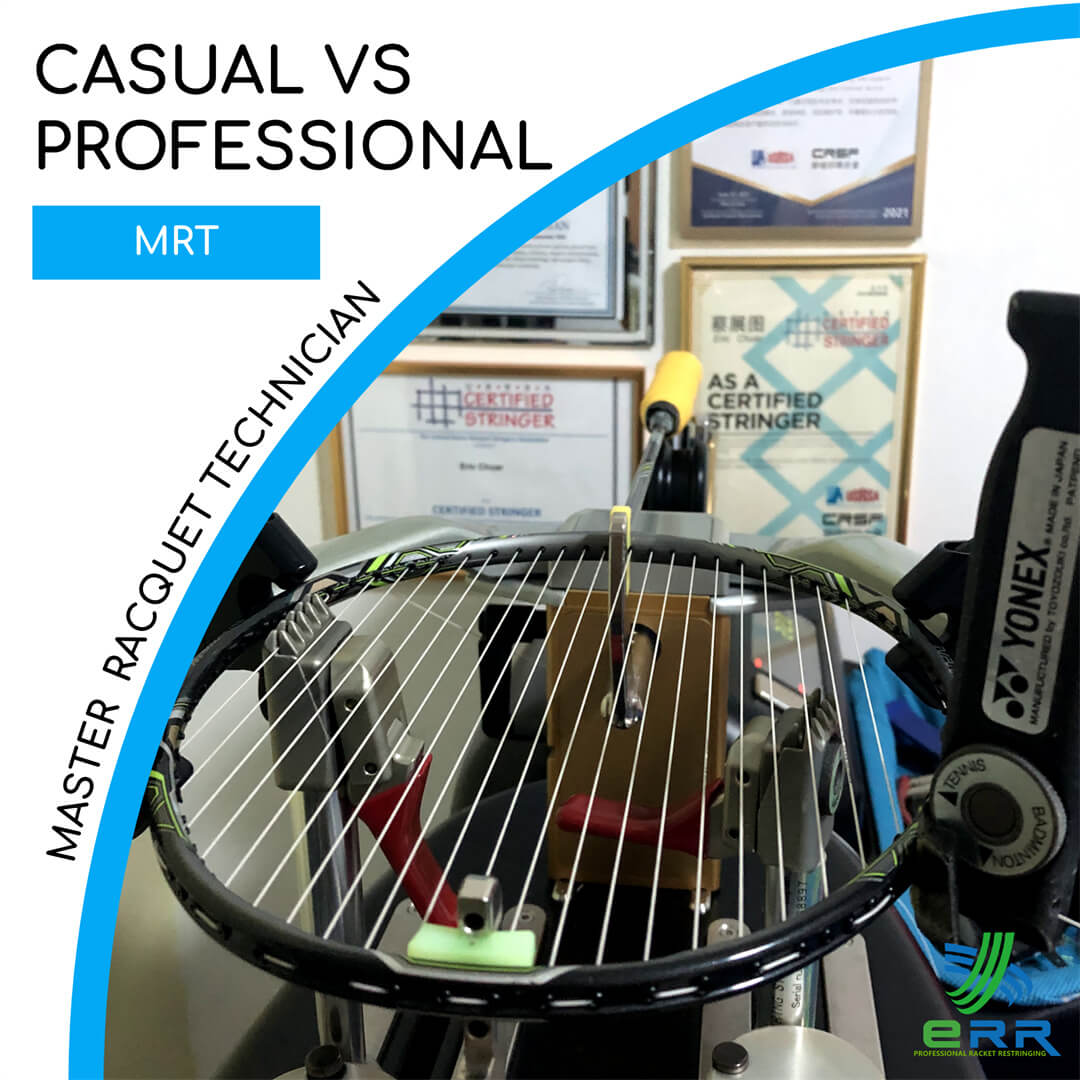 Casual Stringer versus Master Racquet Technician
From the standpoint of a beginner badminton player in Johor Bahru Malaysia, there seems to be no difference between a Casual Stringer and a Master Racquet Technician. The reason for this is that they lack the necessary skill to differentiate between good and bad stringing. Their main concerns are limited to the price of the stringing service, the string model and color availability they prefer, the location closest to them, and how quickly the stringing can be completed – faster completion time means better service to them.
However, for more skilled players in badminton, particularly high-level beginners and professionals, would prefer an MRT over a casual stringer because they require consistent and expert stringing services. The rationale behind this preference lies in the fact that casual stringers may lack a comprehensive understanding of stringing principles and the technical expertise required to string a racket with accuracy and consistency. Moreover, these stringers may not be aware of the latest stringing technologies, and their stringing machines and tools may lack precision.
Therefore, for players who are not skilled in badminton, the difference between a Casual Stringer and a Master Racquet Technician is not apparent. However, for players who possess a high level of proficiency in badminton, the quality and consistency of stringing become essential factors, and therefore, they would opt for an MRT.
Master Racquet Technician Stringing Services Malaysia
When it comes to restringing badminton racquets, not all Master Racquet Technicians have a deep understanding of what players need, even if they follow high standards. This is why it's important for players to choose the right professional stringer. Some MRTs only have theoretical knowledge and lack practical experience playing the sport. This means they may not fully understand what higher-level players feel when using the racquet, and may only follow a player's requests for tension or string stiffness without offering much guidance.
On the other hand, experienced stringers who have comprehensive knowledge of badminton can provide more than just stringing machines and techniques. They can analyze a player's performance, playing style, and pattern to determine the specific requirements for their racquet. Our well-known Master Racquet Technician is a regular badminton player who also provides coaching. He can easily select the appropriate string type, tension, and stringing method based on a player's performance. That's why we have many long-term members who trust us to provide excellent stringing services.
Mistakes to Avoid When Selecting a Racquet Restringing Service
When it comes to getting your racquet restrung in Johor Bahru (JB) Malaysia, it's important to be cautious and avoid poor-quality stringing services. To ensure that your racquet performs at its best and is of high quality and professional, we suggest choosing a Master Racquet Technician to handle the job. Our stringer recommends avoiding providers that focus on low prices by offering discounts, promotions, or varying pricing.
While many people may be attracted to cheap prices, stringing services require a lot of hands-on work and time, so if they offer deep discounts, it may mean they won't give your racquet the full attention it needs or may lack the necessary knowledge and skill to do the job right. It's better to invest in a reputable service like the one provided by a Master Racquet Technician that won't offer discounts.
Remember, the quality of the restringing can make a significant difference, especially for more advanced players. Additionally, choose a service that is responsive and helpful when answering your questions and explaining the different stringing options available.
Our Master Racquet Technician's Professional Services
Our highly skilled Master Racquet Technician provides a comprehensive range of services beyond just racquet stringing. He also offers professional advice and assistance on racquet selection and customization to our valued ERR members. We take pride in our professional stringing services, which are crucial for most of our members to keep their badminton racquets in top condition.
Our experienced badminton stringer also helps members find the perfect combination of string type, model, thickness, tension, and grip type based on their playing style. In fact, our Master Racquet Technician is not just a stringer, but also a Certified Badminton Coach in Malaysia with deep knowledge of the sport. Additionally, our MRT provides on-the-spot stringing and same-day collections, making it convenient for our members.
Our stringing system is well-developed, enabling our members to check available slots at any time when they need our racquet restringing services. Once an appointment is booked online, our members can receive the requested stringing services without delay. At ERR, we are proud to offer a certified stringing service that is sure to improve our members' playing performance. Our goal is to provide our members with the highest standards of restringing services in Johor Bahru.
Which Skill Level is Best Suited for Master Racquet Technician Racket Restringing
At ERR, we believe that professional stringing services should be accessible to players of all skill levels. Professional stringing is not just for professional players, as every badminton lover deserves to have the best stringing instead of being cheated by other shops and paying for expensive but low-quality stringing. We recommend that everyone gives our Master Racquet Technician a try.
Whether you're a beginner or a high beginner-level player, our services can make a noticeable difference in the quality of your play. Many of our members fall into these categories and have given us positive feedback after using our professional racket restringing services. Knowledge is important for every player, and trying new things can keep you up to date and provide a smart mindset in the current technology world.
Our stringer can help you find the right tension and string model for your racket, resulting in improved sound and better performance during matches. Mr. Eric, our Master Racquet Technician, has received professional training and certification in racket restringing overseas and is equipped with the necessary skills and knowledge to restring badminton, tennis, and squash rackets to the highest standards.
USRSA Master Racquet Technician
Master Racquet Technician from USRSA
The knowledge and skills of this certification including
Professional Badminton Stringing advice
Professional Tennis Stringing Services
Professional Squash Stringing
Professional racquetball Advise
Frame Inspection and Modification
Racquet Advice for Clients
String Installation Expertise Advice
Latest Racquet Sports Technology
Brand Manufacturer new technology
CRSF Master Racquet Technician
Master Racquet Technician under CRSF (China Racquet Stringing Federation).
Our stringer has achieved the impressive feat of becoming a USRSA Master Racquet Technician and has also been certified by the China Racquet Stringing Federation (CRSF) after a trip to China. The CRSF is an organization that focuses on badminton, and its instructors and stringers have advanced knowledge in this area.
However, it's important to note that having these certifications doesn't mean we think we're better than other stringers in Johor Bahru (JB). Our goal is to improve the level of badminton in Malaysia without focusing on making money.
Additionally, not having a stringing certification doesn't necessarily mean that someone can't provide great stringing services. Therefore, we should treat every stringer with respect, as stringing is a very physically demanding job.
Thank you for Reading!
Master Racquet Technicians are important, but passion for badminton is the key to success.

Eric Chuar
Professional Stringer