Certified Badminton Stringer Malaysia

In Kuala Lumpur, ERR Badminton Restring offers expert stringing services by our Certified Badminton Stringer. For players who value high-quality stringing, our professional is ready to deliver.
Welcome to
Certified Badminton Stringer in Kuala Lumpur Malaysia
ERR Badminton Restring Malaysia provides professional certified badminton stringing services in Kuala Lumpur (KL) and across Malaysia. Our experienced and certified badminton stringer, Mr. Eric Chuar, specializes in stringing rackets to maximize quality, performance, and comfort for players.
With extensive training and years of stringing experience focused on badminton, Mr. Eric ensures every racket he strings meets the highest standards. His expertise and attention to detail have earned him a reputation as one of the most trusted and reliable certified badminton stringers in Malaysia and Singapore.
Selecting the Right Stringer for Your Badminton Racket
For beginner players, there may not be an obvious difference between a certified badminton stringer and a casual stringer. Beginners tend to prioritize cost, string colors, location, and turnaround time rather than specialized expertise.
However, intermediate to advanced players notice a clear difference in working with a certified badminton stringer. Certified stringers have mastered technical stringing knowledge and use professional grade stringing tools. This enables them to deliver more consistent, high-quality string jobs tailored to a player's needs. Casual stringers often lack the in-depth expertise and precision equipment to meet the same standards.
Advantages of Choosing a Badminton Stringer
Certified badminton stringers bring several benefits, such as ensuring consistent accuracy and precision in racket stringing, mastering the latest techniques along with using quality equipment, and the capability to suggest the perfect string type and tension tailored to an individual's playing style. They also assist in selecting rackets that best complement a player's game, all while focusing on providing professional, high-quality services.
While all certified stringers meet high standards, the best understand a player's specific needs. Our certified stringer plays and coaches daily, giving him deep insight into optimizing string setups for each player's skills.
Mistakes to Avoid When Choosing a Racquet Restringing Service
When looking for a badminton restringing service in Malaysia, it's important to choose carefully. Don't just go for the cheapest option or the biggest discount. Quality stringing takes time, and those who rush or offer big price cuts might not give you the best results. It's better to go for certified stringers who are trained to do the job well, rather than those who just offer deals. They have the training to do things right, which some part-timers might not have.
Also, watch out for services with a lot of bad reviews about things like wrong string tension, damaged frames, and rackets not lasting long or feeling off-balance. Doing your homework on a stringer's track record can save you from problems that affect your game. Going for the cheapest or quickest badminton stringing service can often end in disappointment. It's worth taking the time to find a certified stringer who's known for their quality work. This way, you get a racket that responds well, is consistent, and feels right in your hand.
Exclusive Member Benefits from Our Badminton Stringer
Here at ERR, our certified badminton stringer does more than just string rackets. He's like a personal racket advisor for our members. He really gets to know how you play, what level you're at, and what you need. Then, he suggests the best rackets and strings for your style, including the type of string, thickness, tension, and even the right grip.
Our members love that they get advice tailored to them, not just the usual stuff you find on the shelf. With his background in stringing and badminton coaching, he knows how to pick the gear that lets you shine on the court. Plus, we make it convenient. You can book online, swing by our place to drop off your racket, and pick it up the same day. Our setup is all about getting you back in the game fast, with no long waits without your racket.
Our certified stringer is all about setting you up with a racket that feels great and plays even better. He treats every racket as if it were his own, guaranteeing top tier service. With his know how and custom approach, our members trust that their rackets are strung to help them play their best.
Which Skill Level is Best Suited for Certified Stringer Racket Restringing
We advise that all players, regardless of level, should try professional stringing services from a Certified Badminton Stringer. At ERR, we believe quality stringing can benefit anyone who plays badminton. Even for beginners and high beginners, we have many members at these levels. After they try our racket restringing, sure can feel the difference one, especially the hitting sound become crisper.
Some of our members managed to find the correct tension and string type to match their playing style better after discussing with our stringer. Their game improve after getting the customized setup. As you may know, our ERR Certified stringer, Mr. Eric, received professional overseas training and certification in racket stringing. He has the advanced knowledge and skills to string badminton, tennis and squash rackets to international standards.
Whether you go to Yonex Certified Stringer or any other certification also, the key point is their stringing fundamentals must be solid. That's what makes a good, quality stringing job. So in summary, players of all levels can benefit from certified stringing. It can help maximize the performance and life of your racket to improve your game. We welcome players of all skills to come try our professional certified badminton stringing services.
USRSA Certified Badminton Stringer
Certified Stringer from USRSA
The knowledge and skills of this certification including
Certified Badminton Stringing
Certified Tennis Stringing
Certified Squash Stringing
Certified Squash Stringing
Detailed Frame Inspection
Racket Mounting
String Installation
Advanced String Technology
Professional Customer Service
CRSF Certified Stringer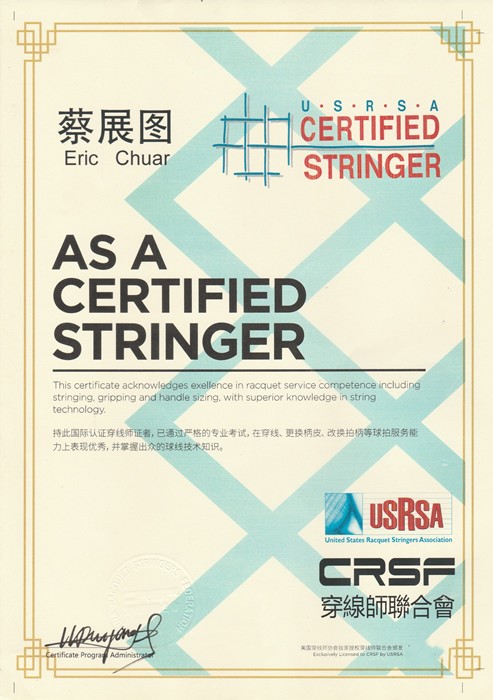 Certified Stringer under CRSF (China Racquet Stringing Federation).
Our stringer goes beyond being a USRSA Certified Badminton Stringer; he's also certified by the China Racquet Stringing Federation (CRSF), which is quite big in the badminton world.
Everyone on our team has a deep understanding of badminton. These certifications don't mean we're saying we're the best in KL, Malaysia, though. We're here to help lift the standard of badminton, not just to run a badminton shop. And remember, even stringers without certificates can provide solid service. Stringing is hard work, and all stringers deserve our respect.
Thanks for taking the time to read this!
Being a Certified Badminton Stringer is just one aspect of professional stringing.

True success in badminton stringing comes from a passion for the sport.

Eric Chuar
Professional Badminton Stringer