Our Stringing Gallery

Our stringing gallery features photos of the rackets that our previous members have sent to us for stringing services. Although our age is increasing and life is short, we always enjoy seeing our members on the court. This is how our relationship with our members continues to grow. Take care, everyone!
Photo 1 of 38
BG66 Ultimax Badminton Restring
For his badminton stringing, the member prefers to choose BG66 Ultimax strung at 27lbs. His Yonex Arcsaber 11 badminton racket is in very good condition, and he strings it about once a month. He plays quite regularly, about twice a week. Our stringer will also help him replace certain grommets when necessary, as high-tension grommets can easily wear out.
Photo 2 of 38
Nanogy 98 Badminton Restring
Many people mention that the Yonex Astrox series racket has a heavy head, but this member always tells us that he likes the racket because it gives him more power. His preferred string is Yonex Nanogy 98, strung at 26lbs, and he restrings his racket about once a month. All along, his racket's condition has been quite good, with not many scratches.
Photo 3 of 38
BG66 Ultimax Badminton Restring
The Yonex Astrox 100ZZ was very popular when it was launched, but the head is quite heavy even for the 4U weight. This member always chooses between BG66 Ultimax and Nanogy 98, strung at 28lbs. During racket restringing services, our stringer will take extra care with his racket, because he prefers the stringbed to be stiff; if it is too soft, he will just cut it off. In fact, we know that he is quite a good player.
Photo 4 of 38
Nanogy 98 Badminton Stringing
The stringbed is quite stiff because the member always prefers a stiffer stringbed, with a DT of 64. Most players do not choose a high tension because they know that our stringer is a professional and strings at 27lbs, which looks like 29lbs at other shops. Sometimes, high tension is not good for everyone.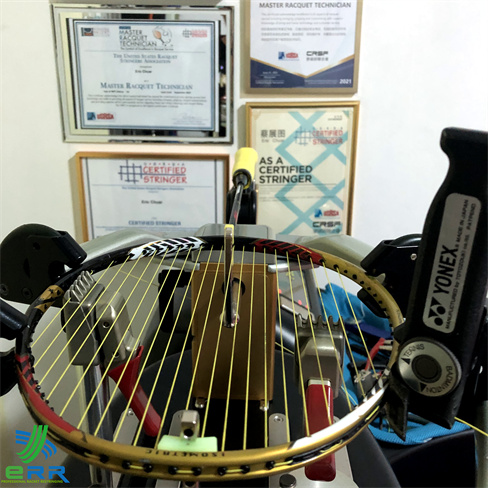 Photo 5 of 38
Nanogy 98 Badminton Stringing
This badminton racket is well known as the Z-Force, and it's used by many power players for smashing. However, the head is quite heavy for some people. This member chooses to string his racket with Yonex Nanogy 98 for his restringing services and sets it at 26lbs. Sometimes, head-heavy rackets, although their flexibility is not that good when it comes to attacking, are better.
Photo 6 of 38
BG80 Badminton Stringing
The Victor AuraSpeed badminton racket is considered a balanced racket, not too heavy. This member always likes to string it with BG80 badminton stringing and Victor AuraSpeed 70 at 26lbs. The BG80 string has a hard feeling, so combining it with a balanced racket is a good combination for a fast and controlled type of play.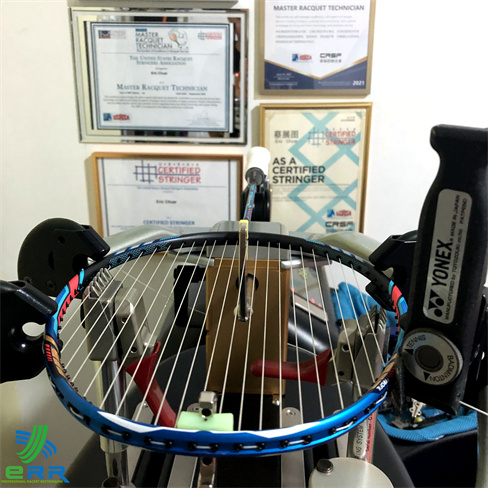 Photo 7 of 38
Nanogy 98 Professional Stringing
Quite a number of members are using this racket because the sweet spot is larger and longer, and partly because the racket ambassador is Tai Tzu Ying. This member chooses to string his Victor Thruster K Falcon with NBG98 using professional stringing services. This combination is good for players who like repulsion and flexibility.
Photo 8 of 38
BG66 Force Professional Stringing
Professional stringing doesn't always mean that we only serve high-level or competitive players. Take this customer, for example. He is actually at a high beginner level, but he still prefers our stringer to string his racket with BG66 Force at 26 lbs. He believes that professional stringing can help him play more consistently.
Photo 9 of 38
BG66 Ultimax Professional Stringing
This Z Force II badminton racket is strung with BG66 Ultimax. Although the player is not tall, he plays badminton at an almost competitive level, as he frequently participates in local competitions and wins many first prizes. According to our Certified Stringer, professional stringing can help him improve his consistency.
Photo 10 of 38
Nanogy 98 Racquet Stringing
The Yonex Z Force 2 is strung with BG66 Ultimax at 25 lbs. However, the racket's sweet spot is slightly smaller, so even at 25 lbs, the DT is still at 56, which makes it a little stiffer. It's worth noting that badminton racket frame technology and frame size can sometimes affect the stringbed's output. Therefore, our stringer will adjust the tension if necessary.
Photo 11 of 38
BG65 Titanium Racquet Stringing
BG65 Titanium is a good string choice for many intermediate-level players who cannot use thin strings because they are prone to breakage. This member, for example, prefers thicker strings because they are more durable and can withstand his powerful smashes, which also increase with this string.
Photo 12 of 38
Nanogy 98 Racquet Stringing
"This member has been using Nanogy 98 for all of his rackets since our stringer started providing racquet stringing services to him. All of his rackets are from the Nanoray Series, and he sets them at 26 lbs. Although the Nanoray is designed to be a lightweight and well-balanced racket, our stringer noticed that the member's smashing and front net pushing are extremely fast on the court.
Photo 13 of 38
BG68 Titanium Certified Stringing
BG68 Titanium string has a soft and medium feel that many members like. However, this string has been discontinued since 2021, and many members still miss it because they cannot find a suitable replacement that provides the same feel. This member uses Certified Stringing to string his Voltric series racket with BG68 Titanium at 25 lbs.
Photo 14 of 38
Kizuna Z65 Premium Certified Stringing
Sometimes, some of our members prefer strings from other brands, such as Kizuna Z65 Premium, over Yonex strings. Our stringer will still use this Yonex Astrox Mid Range Racket and string it at 26 lbs as requested. This member likes Kizuna Z65 Premium because he feels it is better compared to BG66 Ultimax, which he has used before. Each player has different preferences when it comes to racket strings.
Photo 15 of 38
BG66 Brilliant Certified Stringing
Everyone knows about the Yonex Astrox 88D, but not every member will choose the same type of string. Some members prefer to use BG66 Brilliant to string their Astrox 88D at 26 lbs. Although most people know that BG66BR string is stiffer compared to the old version of BG66, they will not string it at high tension when using this string.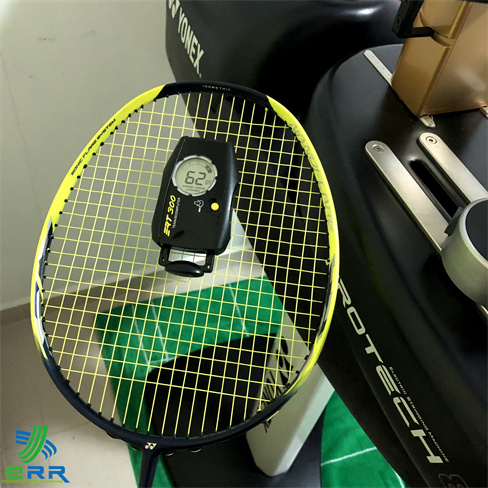 Photo 16 of 38
BG66 Strung by Professional Stringer
This member loves his Nanoflare 700 because he feels that this racket is good for both smashing and defense without making him feel tired. He usually chooses BG66 and has it strung by our professional stringer at 26 lbs, which gives a DT of 62. Although the tension is not low, he still feels that it is just right for him.
Photo 17 of 38
Exbolt 63 Strung by Professional Stringer
Although Exbolt 63 has a string gauge of only 0.63mm, it doesn't necessarily mean it has the same soft and medium feeling as other strings. Some members have used this string at 26 lbs, but they found the hitting feel to be quite hard. However, compared to Yonex BG66 Ultimax, this string can be more durable and cost-effective for them.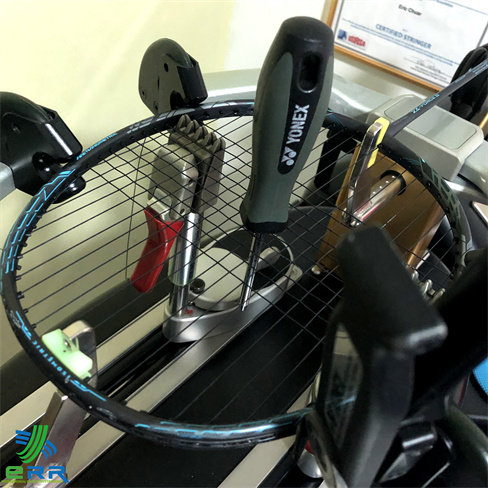 Photo 18 of 38
BG66 Ultimax Strung by Professional Stringer
Have you realized that this racket is strung with black string? Actually, most professional stringers don't like black string because it is very difficult to see. However, some of our members prefer black string because they mention that they cannot see the shuttle with other colors.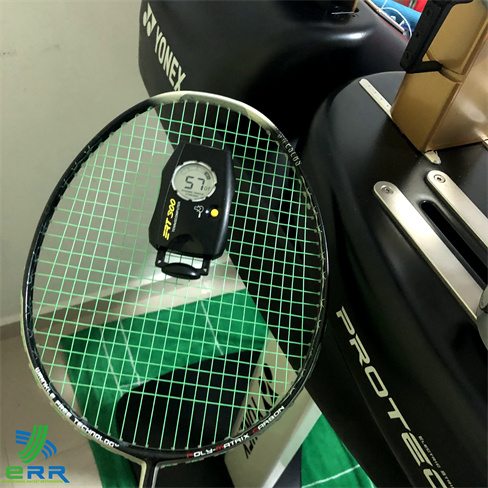 Photo 19 of 38
BG66 Ultimax Racket Restringing
This BG66 Ultimax racket restringing service is done by our certified stringer. The Carlton Badminton Racket, which is strung at 24lbs, actually belongs to a secondary school student. He always chooses this string at this tension because he feels that the tension is just right for him to use during badminton training. The DT (dynamic tension) is 57, which is quite stiff, but he has no choice as he likes it.
Photo 20 of 38
Nanogy 95 Racket Restringing
We have many members whose string model preferences can be different, but who are using the same model of badminton racket, such as this Yonex Astrox 88S strung with Nanogy 95. This is the reason why there are so many different string gauges available in the market, because every player is different. Without the variety of gauges and brands available, badminton would not be as popular as it is.
Photo 21 of 38
Li-Ning No.1 Boost Racket Restringing
This Astrox 88S is strung with Li-Ning No. 1 Boost at 27lbs. Actually, the hitting sound is quite loud when our stringer tested it after the stringing. The DT (dynamic tension) is 67, but we feel that some members really know how to match the string type to their racket and personal preferences, while others may not be as knowledgeable and end up selling their racket and buying a new one simply because it's not suitable for them.
Photo 22 of 38
Li-Ning 62 Instinct Badminton Restringing
We restrung the Li-Ning 62 Instinct racket with Li-Ning Windstorm Badminton Racket at 27lbs for this member, who is a fast attack player. He needed a thinner string and a lighter racket, so we set his tension at 27lbs to allow for a stiffer string bed while still producing a good hitting sound. The Li-Ning racket is always of good quality.
Photo 23 of 38
Kizuna Z58 Premium Badminton Restringing
Some people might feel that the Kizuna Z58 Premium string, other than producing a good hitting sound, is easily broken. Actually, this is not the case. This member always strings his Voltric racket with Kizuna Z58, but he only needs to restring it once every two months, and the string has only broken once so far. It lasts quite long.
Photo 24 of 38
Kizuna Z67 Premium Badminton Restringing
We provided a Kizuna Z67 Premium racket restringing service for the Yonex Astrox 100ZZ. You can see that this racket is already head heavy, and the member chose to string it with a thick string at 27lbs because he likes a harder feeling. He is a 90% attacker, as normally if a regular player strings at this tension, they cannot even hit the baseline.
Photo 25 of 38
BG80 Power Racquet Restringing
We restringed the Yonex Voltric Z-Strike racquet with BG80 Power string. This Yonex racket is actually quite good, and is currently used by the world's number one singles player, Victor Axelsen, as well as Chou Tien Chen. However, the original grommets for this racket are not easy to find and are expensive.
Photo 26 of 38
BG Aerosonic Racquet Restringing
We restringed the Yonex Aerosonic racquet with Yonex Astrox 77 Badminton Racket at 25lbs for this member. He always uses this string because he feels that it is quite suitable for his playing style, which is more defensive and focused on control, such as lobbing. He needs more repulsion for this kind of play.
Photo 27 of 38
BG65 Titanium Racquet Restringing
BG65 Titanium Racket Restring with Yonex Nanoflare 700 Badminton Racket at 27lbs. This member's playing level is high-intermediate. As we have strung for this member before, we consider them to be quite skilled at smashing and playing at the front net. Therefore, they typically prefer thicker strings.
Photo 28 of 38
Nanogy 99 Racket Restring
The Yonex Voltric racket is strung with Yonex Nanogy 99 at 27lbs. This customer brings his son's racket to us for restringing. His son is currently on the school badminton team and frequently breaks strings due to his private training sessions. As a result, his father always chooses thicker strings for him.
Photo 29 of 38
Li-Ning No 7 Racket Restring
The racket has been restrung with Li-Ning No. 7 string at 26lbs. The customer chose the Li-Ning No. 7 partly because it is used mainly as a spare racket. They have three badminton rackets, each strung with a different string. The other two rackets are used for playing games and one is used for training, while the Li-Ning No. 7 is kept as a spare.
Photo 30 of 38
BG SKYARC Racket Restring
The Yonex Nanoflare Badminton Racket has been restrung with BG SKYARC string at 27lbs. The customer initially strung it at 24lbs but found it to be softer than expected. This is because the SkyArc string is a very soft type and is mostly recommended for beginners.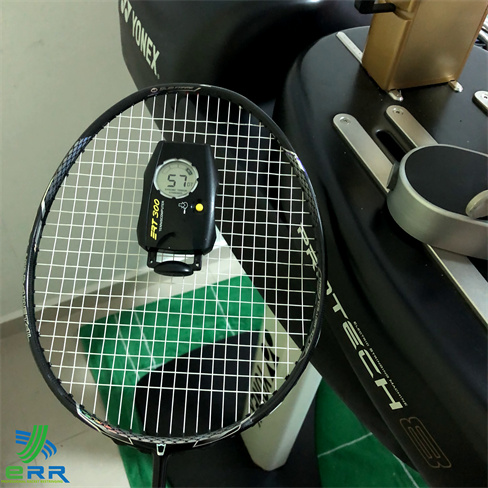 Photo 31 of 38
BG6 Badminton Restring
The JNICE Badminton Racket has been restrung with BG6 string at 26lbs. Initially, we felt that this Taiwan racket was not good, but our stringer personally tried it on the court and found the feel to be quite good. The founder of the JNice brand is also a badminton player and coach, which probably explains why they can understand players better.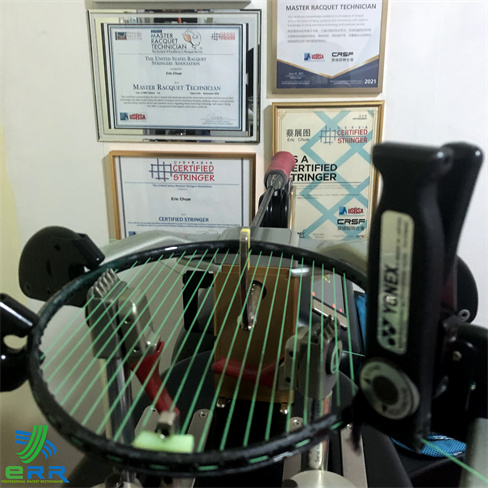 Photo 32 of 38
Yonex BG66 Ultimax Badminton Restring
The Yonex Carbonex 8 Badminton Racket has been restrung with Yonex BG66 Ultimax string at 23lbs. This badminton racket was very popular during our father's time. This customer initially requested that the racket be strung at 28lbs, but this was not possible because we are now using a digital stringing machine instead of a manual one.
Photo 33 of 38
Yonex BG66 Ultimax Badminton Restring
The Yonex Armotec 700 Badminton Racket has been restrung with Yonex BG66 Ultimax string at 26lbs. The Armortec 700 was one of the most famous badminton racket models 10 years ago, used by Lee Chong Wei. Even today, we still have many customers sending this racket to our stringer for professional stringing services.
Photo 34 of 38
BG66 Ultimax Badminton Stringing
The Bonny Badminton Racket has been restrung with Yonex BG66 Ultimax string at 27lbs. This customer's rackets are not from well-known brands, but don't misunderstand – he is a good player. Despite being in his late 50s, he can still compete with and easily defeat young players.
Photo 35 of 38
Add On Tape & Ultimax Badminton Stringing
We added cover tape and restrung a Carlton Badminton Racket for outdoor use. Our stringer was wondering why some members' racket strings were breaking easily within a few weeks, and discovered that they were playing outdoors. We added outdoor tape to their rackets to help the strings last longer.
Photo 36 of 38
Aerobite Badminton Stringing
The Aerobite string has been used to restring a Yonex Astrox 88S Badminton Racket at 28lbs. This string is preferred by many people because it not only provides good repulsion but also more durability at the same time. Most of the people who prefer this string are youngsters, so it meets the preferences of many players.
Photo 37 of 38
Li-Ning 64 Instinct Racquet Stringing
The badminton racket has been strung with Li-Ning 64 Insinct at a tension of 24lbs and a dynamic tension of 53. In the past, Li-Ning only had badminton strings with numbers 1, 3, 5, and 7, but now they have increased the number of string gauges, and most of the strings are quite good. Many of our members really like Li-Ning strings.
Photo 38 of 38
Exbolt 63 Racquet Stringing
The Exbolt 63 Badminton String has been used to string a Yonex Astrox 100ZZ racket. This customer always prefers thinner strings, and with this new Exbolt 63 string, he feels that it is really durable compared to other brands with the same gauge of string that he had used in the past. This string is known to provide better durability compared to others.
Interested to
See More Stringing Photos
As we have been providing professional badminton stringing for many years, we have almost 10,000 photos of restrung rackets. For your convenience, you may visit the link below to see more stringing photos. Thank you again for the support of all our members. Take care!