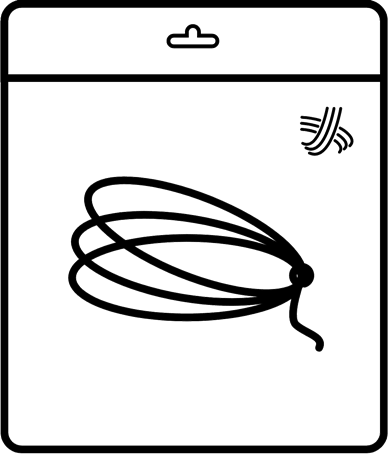 Li-Ning No.1 Boost Badminton String Review in JB Malaysia
By ERR Badminton Stringing
Here is a review of the Li-Ning No. 1 Boost badminton stringing by ERR Badminton Restring JB Malaysia.
Welcome to
Lining No.1 Boost String Review by ERR Badminton Stringing Johor Bahru
This badminton string is well-known after the Li-Ning No.1. It was launched in 2019 and has a thicker gauge compared to the first generation of the Li-Ning No.1 string.
Review from Eric: The feel of the Li-Ning No.1 Boost string is good when the tension is set between 25-27 lbs. When compared with BG66 Brilliant, the hitting sound and feel are different. The Li-Ning No.1 Boost string feels a bit softer compared to the first generation.
With the Li-Ning No.1 Boost string, you can find that the repulsion and durability are better.
However, below are the results of the Li-Ning No.1 Boost badminton stringing experiment DT tests at 26lbs:
First Day 55 – 58DT
Second Day 53 – 55DT
Third Day 51 – 53DT
Li-Ning No.1 Boost Badminton Stringing in Taman Johor Jaya
Most leisure players will choose the string based on its price first, and secondly, based on the reputation of the string. There are two types of people, for example: some players are concerned about the cost, such as a 58-year-old player who chooses strings that cost around RM35. He may find a string, such as the Victor VBS-70 Power, but after it's strung, he realizes that it's too stiff and lacks repulsion, making it difficult to play with.
Do you think this is the correct way to choose a string? No, this is not the right way to choose a string for you and your racket. Why? In the example above, the player is 58 years old and chooses a thick string, the VBS 70 Power with a 0.70mm gauge. The string is stiff, thick, and not good in terms of repulsion. This might cause the player to develop frozen shoulder or sustain an injury. So even if you choose a string based on the price you want, it doesn't necessarily mean that you'll get the correct string for yourself.
Players over the age of 50 should choose a thinner string. Why? Thinner strings are able to increase repulsion, allowing players to use less strength to make more powerful shots. Thinner strings also have a lower cost range, even though they are generally more expensive to produce than thicker strings because of their complexity. However, nowadays there are many different brands available. So, if you don't choose the Li-Ning No.1 Boost stringing, you can still choose another brand with a lower cost and good quality.
Li-Ning No.1 Boost String: Good for You
Now, let's talk about the second type of people who look at the string name and choose based on how it sounds. For example, they may choose the BG66 "Ultimax" or BG80 "Power." Returning to the same scenario of a 58-year-old player, if he's not having a lucky day, he might fall in love with the name and choose the BG80 "Power." What will happen then? If he decides on a tension of 24-26lbs, the string is still playable. However, what if he chooses 27lbs or 28lbs and the stringer blindly strings the racket for him?
In the end, the player, or 'uncle', will not be able to play properly in the game. Their lobs will be half-court, their smashes will become slow and tiring. So, who is at fault? Is it the player or the stringer? One person chooses based on the name, while the other blindly does their job, so both are at fault.
As an end-user, you must provide your stringer with more information about yourself, such as your age, current level, and playing style. Don't randomly choose a string, as it may waste your money and result in a string that doesn't suit you. For example, if you want to try Li-Ning No.1 Boost stringing but you're not sure about what tension to choose, please let our certified stringer know.
Our certified stringer is happy and willing to help you with this. Don't hesitate to speak up and get the assistance you deserve. After all, you're paying for the stringing service, so you have the right to choose the correct string that suits you best.
Li-Ning No.1 Boost Badminton Stringing Services
We have a member who is 66 years old this year. Before he met Mr. Eric, he used to send his badminton racket to another shop and had it strung with Yonex BG65. However, for the past two years, he has been sending his racket to us for stringing. Our certified stringer advised him to choose a thinner string like the Li-Ning No.1 or Yonex BG68 Titanium at 22 to 24 lbs. After trying it out, he found that he was much better and could feel more power with the new string.
Which players can try the Li-Ning No.1 badminton stringing? If you have previously used strings such as the BG66 Ultimax, BG66, or Victor VBS 66 Nano, you can try this string. For example, if you find that the BG66 Ultimax is too soft and easy to burst, you can try the Li-Ning No.1 Boost because the string gauge is thicker and has good repulsion power.
Although everyone knows that BG66 is good in repulsion, some people might find the string a bit too soft. In this case, the Li-Ning No.1 Boost would be a better choice because its surface is stiffer, giving you a solid titanium sound. If you have any doubts about your badminton stringing, you can always let our certified stringer, Mr. Eric, know. Additionally, Mr. Eric is also a certified badminton coach in Malaysia.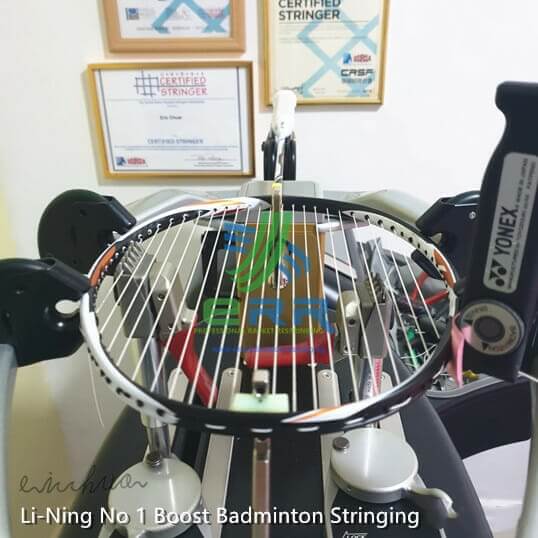 Li-Ning No.1 Boost Badminton String: Manufacturer Description
Specifications
Control – 8
Durability – 8
Repulsion power – 10
Hitting sound – 10
Shock Absorption – 8
As much as High-Cost Efficiency + Repulsion
Material & Structure
Core: Heat-resistant & High-Intensity Nano Braided Multifilament
Outer: Heat-resistant & High-Intensity Nylon
Coating: Compound elastic resin
Badminton string with high repulsion power Super thin string with only 0.66mm diameter, providing superhigh repulsion power plus clear hitting sound
Using heat-resistant & high-intensity fabric for both inner and outer plus Li-Ning unique 3D KNIT technology makes the string more durable compared to others with the same diameter.
Crisp hitting feeling.
Li-Ning No.1 Boost: Badminton Stringing Fees
Badminton Stringing Cost – RM50 ( String + Labour ) Nett
Frequently Questioned Answers
---
How to make an appointment?
To check the availability of our stringing slots, please click on the "Book" button.
You can also click on this link to book badminton stringing.
https://errbadmintonrestring.my/member/stringing-appointment/
When booking through our appointment system, you can choose to collect your racket on the spot or on the same day.
The color of the string and its corresponding price are indicated in our appointment system for all badminton stringing services.
Please make an appointment before coming so that we can provide you with the proper badminton stringing service.
Note: We accept walk-ins for badminton stringing, but please note that professional badminton stringing requires additional time. This is in accordance with our rules for providing professional stringing services. All members are required to book an appointment online before visiting our facility.