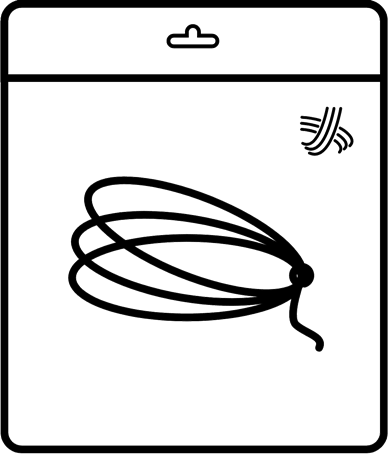 Yonex BG68 Titanium Badminton String Review in Johor Bahru (JB) Malaysia
By ERR Badminton Stringing
Many reviews have suggested that the BG68 Titanium badminton string is one of the most powerful strings.
Welcome to
YONEX BG68 Titanium String Review by ERR Badminton Stringing JB
Herewith BG68 Titanium badminton stringing review:-
Many reviews have suggested that the BG68 Titanium badminton string is one of the most powerful strings, especially among Yonex's thicker string series. The hybrid titanium coating provides a sharp but comfortable feel at impact, and you can actually feel the titanium coating when you hit the shuttlecock. According to our feedback records, this string has helped many advanced-level players increase their playing performance. Additionally, some players appreciate the titanium coating as it produces a pleasing sound when hitting the sweet spot while also providing power and good control.
The BG68 Titanium badminton string is one of the most popular thick strings, frequently chosen by competitive players due to its durability and just-right repulsion. We recommend stringing at a tension above 28 lbs for the best results. This is because we had an ERR member who sent an old racket, the Carbonex x8SP, to be restrung with a BG68 Ti string at 22 lbs. He commented that after a few games, the middle part of the string snapped and the string felt "strange" during hitting. Lastly, the string did not provide him with the desired repulsion, even though it was a new string.
Review by Eric: I used to string my racket with a tension of 27 lbs for coaching and group badminton games, and it felt good in terms of repulsion and sound.
Below are the BG68 TI badminton stringing experiments and DT tests conducted at 27 lbs.
First Day 56 – 58 DT
Second Day 54 – 47 DT
Third-Day 51 – 54 DT
BG68TI String Feedback by Leisure Badminton Group in Pandan JB
The main benefit of a thick string is its ability to last longer. If you desire both durability and repulsion, we advise stringing at a higher tension. However, the question is whether you can handle the higher tension. During the BG68 Titanium racket stringing process, we typically pre-stretch the strings with a hands-on method to slow down tension loss.
Additionally, we have received feedback on the BG68 Titanium badminton string at 25 lbs in combination with a heavy head racket. Players have noted that this setup provides better game control and ultimate power, suiting their playing style. However, many people choose to string at high tension without fully understanding the reason, and as a result, they may not be able to hit the shuttlecock effectively. Despite this, they still insist on the same tension for their next racket restringing.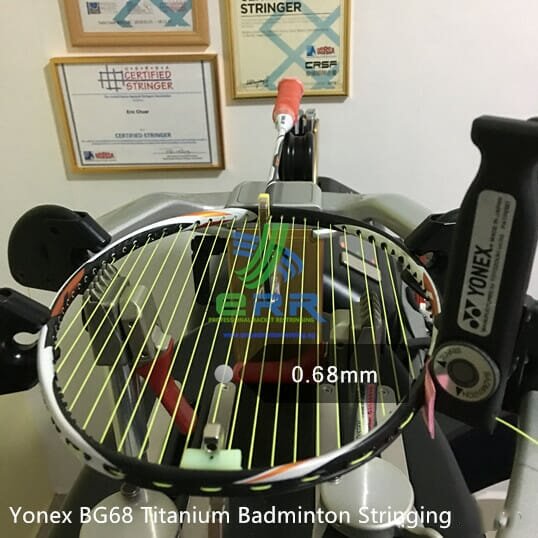 YONEX BG68TI Manufacturer Description
Description
The BG68 Titanium badminton string features a compound titanium hybrid coating and a 0.68mm gauge, which produce a clear sound at impact and a sharp, comfortable feel. It is designed for control players.
Material: MULTIFILAMENT / HYDRO TITANIUM
Length:
10/200m (33/656 ft)
Gauge:
0.68mm
Key Properties:
High Hitting Sound
Soft Feeling
Made in Japan
BG68 Titanium Badminton Stringing Fees
Badminton Stringing Cost – RM45 ( String + Labour ) Nett
Frequently Questioned Answers
---
How to make an appointment?
To check the availability of our stringing slots, please click on the "Book" button.
You can also click on this link to book badminton stringing.
https://errbadmintonrestring.my/member/stringing-appointment/
When booking through our appointment system, you can choose to collect your racket on the spot or on the same day.
The color of the string and its corresponding price are indicated in our appointment system for all badminton stringing services.
Please make an appointment before coming so that we can provide you with the proper badminton stringing service.
Note: We accept walk-ins for badminton stringing, but please note that professional badminton stringing requires additional time. This is in accordance with our rules for providing professional stringing services. All members are required to book an appointment online before visiting our facility.