Professional Badminton Shop in KL Malaysia

Professional badminton shop in KL Kuala Lumpur held by ERR Badminton Restring Malaysia. Welcome to our professional badminton shop located Setapak area of Kuala Lumpur, Malaysia.
Welcome to
ERR Badminton Restringing: Premium Shop in KL Melati Utama
Our shop first opened its doors in 2005 with a mission to make professional-grade badminton racquet stringing services and gear more accessible. We started as a small operation in Singapore but have grown over the years to offer proper badminton restringing services and badminton equipment in KL. We have now established an official badminton store at KL Melati Utama, located below the PV6 condominium, where our stringers look forward to helping more badminton enthusiasts and also having more time to spend with their families, especially with their elder parents.
We are eager to help each of our members choose the right rackets, strings, and tension for their individual needs. With over 10 years of experience in the badminton industry, we understand that every player is different. This is why we take our service seriously, ensuring that each player makes the right choices to improve their badminton game.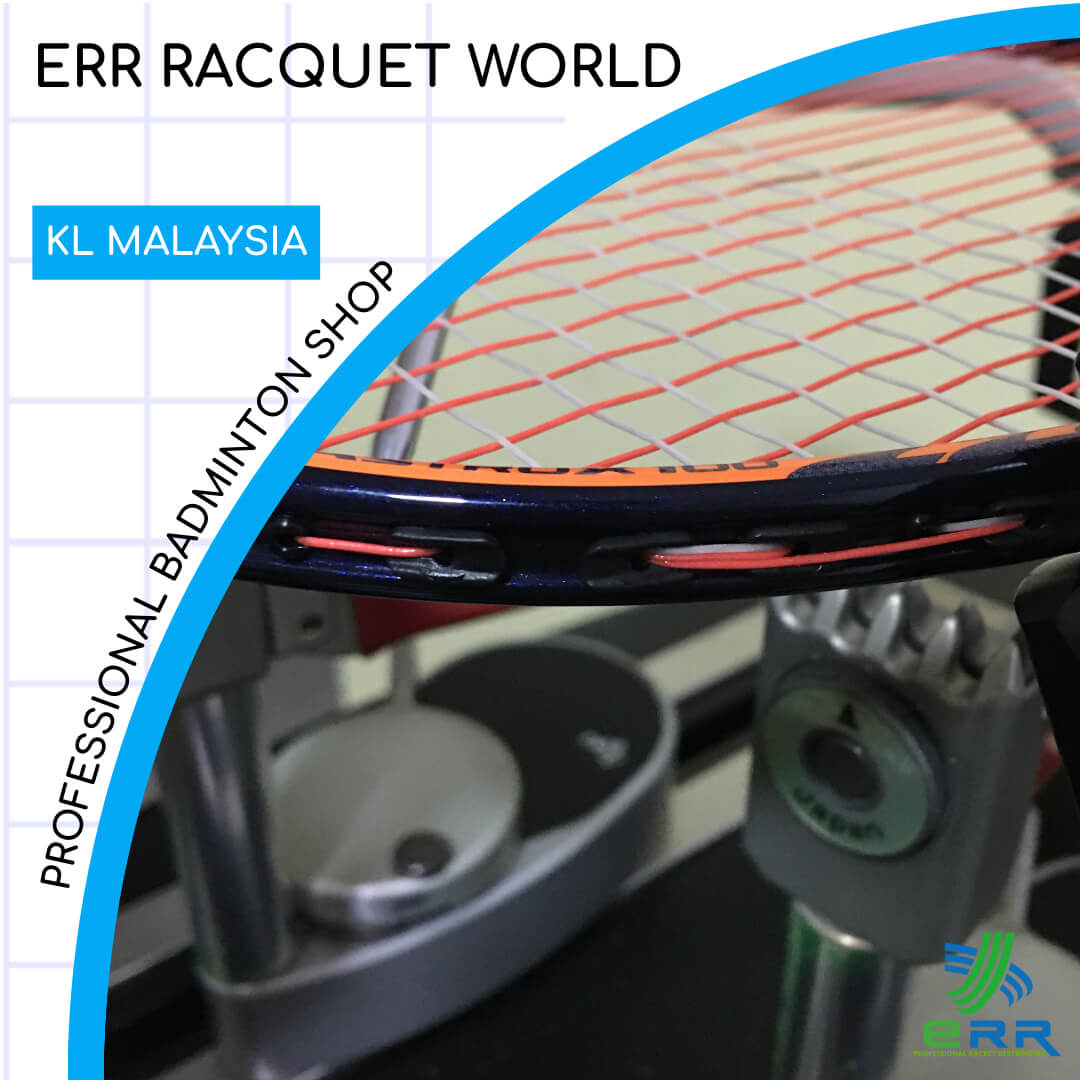 Brands Offered at ERR Racquet World Malaysia
Our badminton shop carry a wide selection of badminton products suitable for players at all levels. Especially the few main brands that we trust, like Yonex, Li-Ning, Victor, Apacs, Felet and a few local brands. All this equipment, like badminton rackets, strings, apparel, grip or accessories, will be tested by our professional stringers and coaches before we decide to bring them in.
Our intention is not just to earn those few dollars of profit margin, but we want our members to get the best equipment and lift up their badminton standard. So, even though we are a badminton store, we don't do hard selling, never push specific products because of a good margin. What we look into is ensuring our members can get reasonable and the best equipment. We also offer a variety of badminton shuttlecocks, including feather RSL, Yonex, Ling Mei, Sea Lion and all only quality shuttlecocks.
Pricing at Our KL Professional Badminton Shop
In KL, there are many professional shops. Thus, we do not insist that badminton players must come to our professional badminton shop to purchase items. Our goal is to help more players establish the right foundation, ensuring they have access to high-quality rackets and contribute to raising the badminton standard in Malaysia.
As a professional badminton store, our stringer is certified as a Professional Racquet Advisor, enabling him to assist players of all levels in choosing the right badminton racket and other racquet gear. Although we have just launched and are currently focusing solely on badminton, tennis and squash, we promise to continually expand our range of sports accessories to serve players from both Malaysia and Singapore.
Passion for the Sport at Our Professional Badminton Store
Our staff's extensive badminton experience and passion for the sport is reflected in every interaction with our customers. Mr. Eric, our Professional Stringer, also a head coach of ST Badminton Academy, is a certified badminton coach with over 15 years of playing and coaching experience. He provides expert guidance to help badminton lovers improve their skills and fulfill their potential on court.
Mr. Eric, our head Master Racquet Technician, holds USRSA certifications in racket stringing and maintenance. He continuously sharpens his expertise through ongoing coursework and training programs. Mr. Eric also personally trains all our stringing staff to uphold his exceptional standards. We heavily invest in continuing racket sport education for our entire staff. Our goal is for every customer to feel confident they are getting guidance founded on true badminton expertise.
Malaysia's Best Racquet Restringing Services
In addition, we provide expert racket stringing services done by Certified Stringer certified by the USRSA and CRSA. Our technicians carefully select the ideal string type, tension, and threading pattern optimized for each customer's playing style and skill level. To complete your equipment needs, we also carry badminton grips, overgrips, wristbands, shoes, bags, and other accessories from the top brands.
Our on-site USRSA certified badminton stringer can provide same-day restringing services to minimize player downtime. We understand how crucial it is to get your racket back into optimal playing condition as soon as possible. To help players learn more about optimizing their equipment, we also hold monthly coaching clinics. Topics include proper string tension for your game, racket maintenance best practices, and the latest innovations in badminton gear.
Final Thoughts on a Good Badminton Shop in Malaysia
Our experienced and passionate staff aims to provide exceptional customer service during every interaction. When assisting with racket selection, we take the time to discuss the player's specific needs, level, goals, and playing style in order to make customized recommendations. We also offer racket review so players can refer on before committing to a purchase.
Customers can always reach out to us via phone, email, or in person for advice regarding new equipment purchases, stringing services, maintenance questions, or any other badminton-related needs. We take pride in being a comprehensive educational resource for the KL badminton community. For over 15 years, our specialized badminton shop "ERR Badminton Restring" has become known for its great knowledge and service. Local and international players often recommend us.
Looking ahead, we will continue doing what we love: helping players find the best badminton products and providing advice to improve their game. We're excited to support KL's badminton players for many more years. Always remember, as Malaysians, we do not care about skin color, whether Malay, Chinese, or Indian; we are all Anak Malaysia. Stay strong, everyone.
Frequently Asked Questions for ERR Badminton Store
Our store offers a wide selection of professional badminton gear including rackets, shuttlecocks, strings, grips, shoes, bags, and accessories from top brands like Yonex, Victor, Li-Ning, and more. We have options suited for all play styles and skill levels.
Yes, we offer professional racket stringing done by Master Racquet Technicians. Our techs can recommend the ideal string type, tension, and pattern for your playing style and restring your racket the same day if booked appointment online.
Our shop is dedicated specifically to badminton, tennis, and squash. Our experienced staff can provide customized racket recommendations and coaching on optimizing your equipment. Our focus is helping every player perform their best.
From equipment selection to stringing services to ongoing coaching, our shop provides the products, guidance, and knowledge serious players need. Optimized gear and learning proper technique and maintenance will help you maximize your potential.
Our sports store is right under the condo. To visit, you'll need to swap your license at the security house. But if you've booked your stringing service ahead, just WhatsApp us your appointment number. Our stringer will meet you outside to pick up your racket, so you won't need to come inside. We'll message you on WhatsApp when your racket is ready.
At our shop, it's about helping players build a solid badminton foundation. While certificates show our qualification, it's the consistent effort and passion we put into each racquet that defines our service.

This commitment is what helps players succeed.

Eric Chuar Professional Stringer