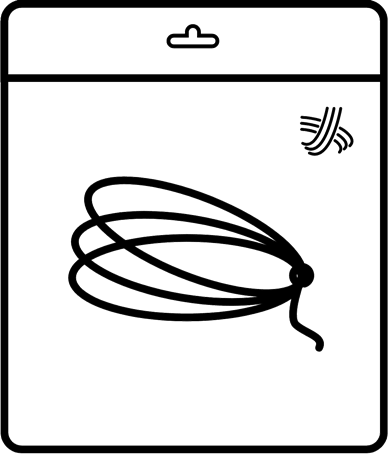 Li-Ning No.7 Badminton String Review in JB Malaysia
By ERR Badminton Stringing
Li-Ning No.7 badminton review: This badminton string is suitable for players who are looking for durability and a hard feel.
Welcome to
Li-Ning No.7 String Review by ERR Badminton Stringing JB Malaysia
Most of our members use this thicker string for their leisure badminton games. Those who have two rackets will string one racket with this type of thicker string and the other with a high-quality string like BG80. The racket with BG80 string will be used for high-quality games, while the racket with the thicker string will be used for training and lower-quality games.
Review from Eric: I use this type of string for my usual coaching and sparring with my students. It is very durable, even though it has a hard feel. However, once you become accustomed to hitting the perfect contact point with this string, you will forever prefer it. Over time, you will notice that you continue to prefer this string.
Moreover, during the Li-Ning No.7 badminton restring, we noticed something about the surface coating of the string. It is not as dry compared to Yonex strings, which also means it is more durable. This string is still being used by the China National Team today. Some of our members who love to smash hard during their games prefer this string, as it is very durable and does not break easily. They also mentioned that the quality is better than other no-name strings.
Incidentally, for all Li-Ning No. 7 badminton restrings, we prefer to use the 2-knot stringing method. The reason for this is that it can delay the drop in tension, which means that the tension will decrease more slowly.
Below are the DT test results for the Li-Ning No. 7 badminton restrung at 28 lbs.
First Day 49 – 52 DT
Second Day 43 – 47 DT
Third Day 40 – 44 DT
Li-Ning No.7 Review by Intermediate Player
Most of our professional-level badminton members only come back for a restring after 1 to 2 months when they use Li-Ning No.7. For normal-level players, they typically come back after 6 months or more. This confirms that the durability of the string is good. Some advanced-level players prefer the Li-Ning No. 7 badminton restring at a tension between 27 – 29 lbs.
The reason for this is that at the advanced level, players do not need new technology in their racket or string. They only need a racket and string that helps them control the shuttlecock whenever they want. How do we know all of this? We have always collected surveys from players at all levels – from professional and competitive to advanced and leisure. All these different levels of players use Li-Ning No.7. Why is it that professional players do not need a high repulsion string or new technology racket?
The reason is that professional players have powerful bodies and strength. If given a racket that is too light, they will not be able to get used to it. Furthermore, because they swing too fast and hard, they may miss the "sweet spot" contact point with the shuttlecock.
Any Difference Between Yonex BG65 and Li-Ning No.7?
A racket needs time to get used to, and we also need to apply our skills to the racket. Many people like to change their rackets after playing for a short time only. Very often, they will buy a new racket and send it for a restring. By doing so, they become confused and disappointed. After our certified stringer, Mr. Eric Chuar, explains everything to them, they finally understand why they did not improve after so many years, and why their skill level has not gone up.
Part of the reason is that they keep changing their rackets. Some players are probably still looking for a racket that suits them, while others rely too much on racket advertisements. In reality, this type of thick string is not very good, and it costs much less than thin string.
Many brands have come out with 0.70mm string. The main reason for this is to create a wide range of strings for their brand, so customers have many choices to choose from. For example, Li-Ning No.7 is about the same as Yonex BG65. Their main feature is durability, and there is not much difference. It all depends on which brand you prefer to support.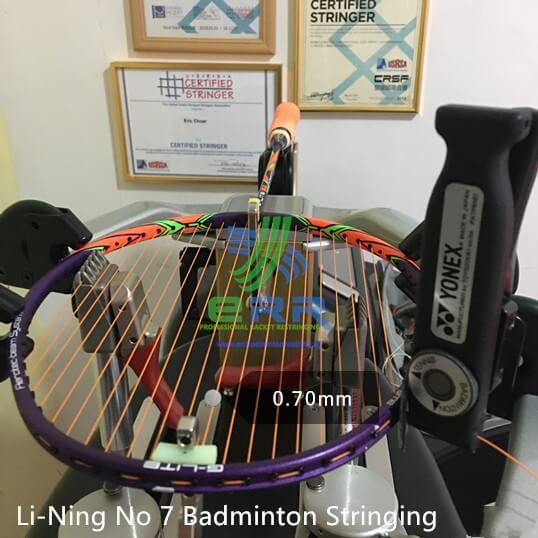 Li-Ning No.7 Manufacturer Description
Specifications
Control – 8
Durability – 10
Repulsion power – 6
Hitting sound -7
Shock Absorption – 8
Super durable badminton string
Using heat-resistant & high-intensity fabric for both inner and outer to make it super durable
Li-Ning unique Deep-Re-Dipping technology improves the durability dramatically and prevents tension loosing at the same time
Li-Ning special hit-absorbing coating provides a fantastic hitting feeling.
Soft hitting feeling
Gauge: 0.70mm
Core: High Polymer Nylon Multifilament
Outer: Heat-resistant & High-Intensity Nylon
Li-Ning No.7: Badminton Stringing Fees
Badminton Stringing Cost – RM40 ( String + Labour ) Nett
Frequently Questioned Answers
---
How to make an appointment?
To check the availability of our stringing slots, please click on the "Book" button.
You can also click on this link to book badminton stringing.
https://errbadmintonrestring.my/member/stringing-appointment/
When booking through our appointment system, you can choose to collect your racket on the spot or on the same day.
The color of the string and its corresponding price are indicated in our appointment system for all badminton stringing services.
Please make an appointment before coming so that we can provide you with the proper badminton stringing service.
Note: We accept walk-ins for badminton stringing, but please note that professional badminton stringing requires additional time. This is in accordance with our rules for providing professional stringing services. All members are required to book an appointment online before visiting our facility.