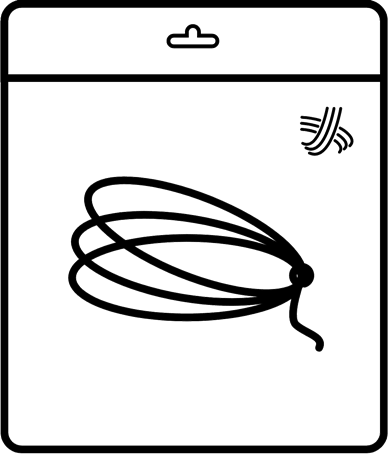 Yonex BG65 Badminton String Review in Johor Bahru (JB) Malaysia
By ERR Badminton Stringing
BG65 badminton string, made by Yonex, is known for its durability and is considered one of the most long-lasting strings available.
Welcome to
Yonex BG65 Badminton String Review by ERR Badminton Stringing JB Malaysia
Herewith is BG65 racket stringing string review:-
Additionally, the BG65 badminton string is suitable for badminton players to use during training as it provides a soft feeling with a 0.70mm gauge while also being durable. Thailand's national badminton player, Ratchanok Intanon, even uses this string during her training.
However, when restringing a badminton racket with a BG65 badminton string, we can feel that the string is quite thick. For beginner or leisure players who do not have proper badminton training, the string may feel very stiff, making it difficult for them to generate a good impact when hitting the shuttlecock. This difficulty will only increase if they have not learned the proper basic skills of how to swing the badminton racket.
Review by Eric: I used to use Yonex BG65 badminton string with a tension of 28lbs for my racket, which I used for my regular badminton games, coaching, and sparring with my students. I feel very comfortable when executing smashes, as I am able to generate power within my comfort zone without having to exert extra effort to generate speed.
Here are the DT test results for BG65 badminton stringing experiments at 28lbs:
First Day 52 – 55 DT
Second Day 50 – 53 DT
Third Day 47 – 51 DT
Review on BG65 String by ERR Badminton Restring JB
Most advanced badminton players choose Yonex BG65 badminton string when restringing their rackets. Why? Because for advanced players, their racket strings tend to burst frequently. If they use a thin string, the cost of restringing will be much higher as they will have to do so more often. Therefore, they prefer using Yonex BG65 string for their rackets, which is attractive due to its ability to save costs and durability.
However, the feedback from beginner badminton players is different. They find it difficult to hit the shuttlecock with BG65, and the sound from the string is not as nice as compared to other thick strings like Yonex BG80. In conclusion, our research regarding BG65 shows that if you are a beginner badminton player looking for durability in order to save costs, you should choose Yonex BG65. However, if you are looking for a nice and solid sound when hitting, you should forget about using Yonex BG65.
BG65 Badminton String for Long-lasting Durability
However, some of our ERR clients have commented that they prefer to have their kids' rackets strung using Yonex BG65 badminton string. Their reason is that since their children are still on the school team, it is better not to spend too much on their rackets and save costs during training. They can always switch to a better string when participating in tournaments. Based on our BG65 racket stringing records, this string can provide great durability.
For intermediate players, the string can last about 3 to 4 months before the next restringing, while for advanced players, it will only last about 2 months. This is because advanced players tend to hit on the sweet spots accurately most of the time, causing the string to burst easily. However, this problem is not limited to advanced badminton players, as it can also happen to leisure players. Sometimes, leisure players ask us why their racket strings only last for 2 weeks, and upon investigation, we found that they were hitting on the wrong sweet spot all the time, usually hitting the upper top end of the racket.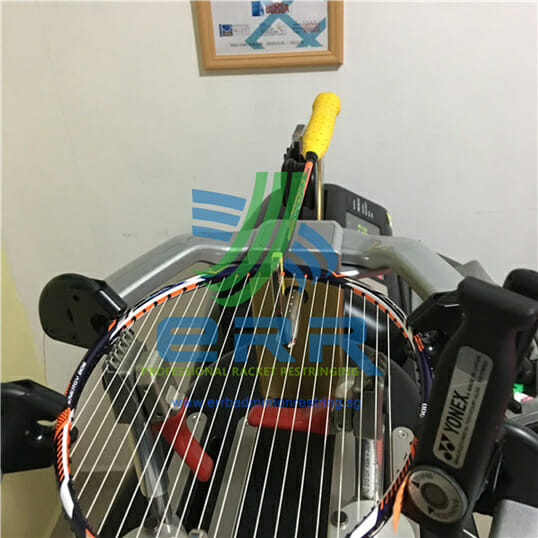 Yonex BG65 Badminton Stringing from a Certified Stringer
We decided to replace the upper top end of the racket with longer grommets to prevent the string from being hit, which should make the string last longer. After a few months, we followed up with the racket owner and he reported that his racket feels good and the strings are still intact. In conclusion, we were able to solve his problem of hitting the wrong sweet spot. As Certified Stringer, we always encourage our members to tell us their problems.
If a member keeps sending his racket for restringing, we try to find out the cause, which could lie with the owner or the racket itself. Our goal is to understand and solve the problem, rather than just restringing the racket and making money. At ERR, we do not practice this approach. Our Certified Stringer is also a Certified Badminton Coach in Johor Bahru and does not rely on stringing as his primary income. He strives to elevate the standard of racket restringing and help people understand what they need in badminton restringing.
Yonex BG65 Manufacturer Description
Description
The 0.70mm specially braided fiber increases string abrasion durability, making BG65 a durable choice. Its all-round performance has made it the preferred string of the world's top players.
Material:
MULTIFILAMENT
Length:
10m (33ft)
Gauge:
0.70mm
Key Properties:
Durability
Soft Feeling
Made in Japan
BG65 Badminton Stringing Fees
Badminton Stringing Cost – RM40 ( String + Labour ) Nett
Frequently Questioned Answers
---
How to make an appointment?
To check the availability of our stringing slots, please click on the "Book" button.
You can also click on this link to book badminton stringing.
https://errbadmintonrestring.my/member/stringing-appointment/
When booking through our appointment system, you can choose to collect your racket on the spot or on the same day.
The color of the string and its corresponding price are indicated in our appointment system for all badminton stringing services.
Please make an appointment before coming so that we can provide you with the proper badminton stringing service.
Note: We accept walk-ins for badminton stringing, but please note that professional badminton stringing requires additional time. This is in accordance with our rules for providing professional stringing services. All members are required to book an appointment online before visiting our facility.