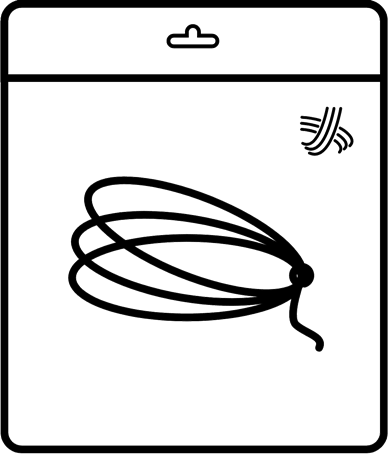 Yonex BG66 Ultimax Badminton String Review in Johor Bahru (JB) Malaysia
By ERR Badminton Stringing
BG66UM is one of the most famous and popular strings used by many badminton players in JB Malaysia.
Welcome to
Yonex BG66 Ultimax String Review by ERR Badminton Stringing JB
Below is BG66 Ultimax racket restring review:-
There is no doubt that in terms of repulsion and hitting sound, BG66 Ultimax is the best string so far. We have received many positive feedbacks about BG66UM. The hitting sound helps build a player's confidence. As for repulsion, you can feel that it is good when doing lobbing and smashing.
Based on our records, the requested tension for BG66UM is generally between 25 – 28lbs. At times, we receive feedback from players who say that it is best to play after restringing using Yonex BG66UM continuously. If not, they feel that the string's repulsion will be gone. Some players keep the racket after restringing, using it as a back-up. The actual reason is that thin strings will quickly lose their tension once restrung.
Review by Eric: I have used this string with a tension of 28 lbs for my leisure games and I feel that the repulsion is excellent, making it very suitable for all levels of badminton players.
Below are DT test results for BG66 Ultimax badminton restring experiments at 27 lbs.
First Day 53 – 57DT
Second Day 47 – 51DT
Third-Day 42 – 46DT
BG66 Ultimax String Feedback from Leisure Badminton Group
To begin with, some players prefer BG66 over BG66 Ultimax badminton string because of its durability. Therefore, we always ask our members what they want and recommend the right string for them accordingly, as different strings suit different players' needs. With regards to repulsion, the BG66 Ultimax badminton string is better than BG66, and its performance in smashes and net plays is fantastic. On the other hand, where durability is a concern, BG66 is far better than BG66UM because it has thicker gauges.
Fortunately, we have a few solutions to help extend the durability of the BG66UM string. Firstly, we suggest stringing it at a lower tension. Secondly, we highly recommend a professional stringing method with no stack strings, as this can significantly increase the durability of the string. At the beginning in Malaysia, most players did not have much knowledge about strings, and they did not realize that a proper stringing method can help increase the durability of the string.
Currently, some players do not know the difference between a professional and leisure stringing method. They only know that once their string has burst, they should bring it to a racket stringer and get it strung. Unfortunately, they do not know that a professional and proper stringing method can not only increase durability but also improve repulsion. Without a doubt, these are the two important points that players look for in their rackets.
BG66 Ultimax with Good Repulsion
Many players know about Yonex string BG66 Ultimax badminton string because of its excellent repulsion, which makes it a popular choice among players. Moreover, Lee Chong Wei also strings using BG66 Ultimax badminton string with a tension of 30 lbs, but many other players prefer a lower tension, such as 25 lbs. Their mindset is "Oh, Lee Chong Wei is a high-level player, but I am just a leisure player, so I should string at a lower tension as it should suit me."
However, it's important to remember that not all strings suit everyone, as each individual player has a different playing level and style, and even the racket design can have different effects on different players. It does not necessarily mean that a high-level player should always string the tension higher. Lastly, always remember not to string at a high tension if you are unable to handle it, as it can affect your performance during play.
We also advise our members to put their rackets into a plastic bag when not in use, as this can help slow down tension loss. Our Certified Stringer often explains to our members about stringing knowledge and updates them regularly, as he believes in sharing with his members. Finally, through our experience, the BG66 Ultimax badminton restring takes longer to complete as the tension needs to be expanded gently and consistently.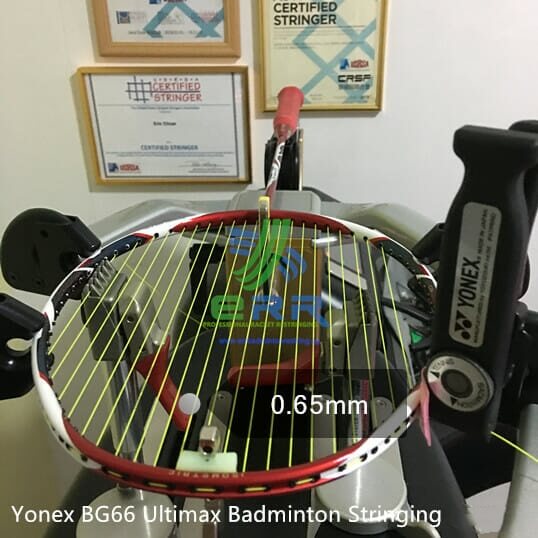 Yonex BG66 Ultimax Manufacturer Description
Description
The BG66UM has a 0.65mm thin gauge and a perfect balance of maximum speed, control, and durability, making it the top choice for the world's best players.
Material: High-Intensity MULTIFILAMENT
Length: 10/200m (33/656 ft)
Gauge: 0.65mm
Key Properties:
High Repulsion
Medium Feeling
Made in Japan
The high-intensity nylon core provides greater durability than normal nylon, while the high-polymer nylon outer layer provides a sharp feeling and high repulsion, resulting in exceptional all-round performance from an extra-fine string.
"The sound from the BG66UM string is great. Every shot feels so strong and powerful" Taufik Hidayat (INA)
BG66 Ultimax Badminton Stringing Fees
Badminton Stringing Cost – RM45 ( String + Labour ) Nett
Frequently Questioned Answers
---
How to make an appointment?
To check the availability of our stringing slots, please click on the "Book" button.
You can also click on this link to book badminton stringing.
https://errbadmintonrestring.my/member/stringing-appointment/
When booking through our appointment system, you can choose to collect your racket on the spot or on the same day.
The color of the string and its corresponding price are indicated in our appointment system for all badminton stringing services.
Please make an appointment before coming so that we can provide you with the proper badminton stringing service.
Note: We accept walk-ins for badminton stringing, but please note that professional badminton stringing requires additional time. This is in accordance with our rules for providing professional stringing services. All members are required to book an appointment online before visiting our facility.