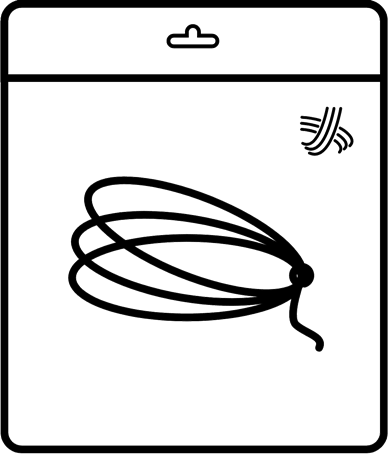 Li-Ning LN62 Instinct Badminton String Review in JB Malaysia
By ERR Badminton Stringing
ERR Badminton Restring JB review of the Li-Ning LN 62 INSTINCT badminton stringing.
Welcome to
Li-Ning LN 62 Instinct String Review by ERR Badminton Stringing in JB Malaysia
The Li-Ning LN 62 INSTINCT badminton string, launched in 2019, is the thinnest string from Li-Ning. With a gauge of just 0.62mm, it is incredibly thin, but its performance is beyond expectations. Despite its thinness, the string provides a firm feeling on the stringbed, without being too soft. It is a great option to consider for your badminton games.
Review from Eric: Despite being thin, the Li-Ning LN 62 INSTINCT badminton string feels stiff. I tried stringing it at 25lbs and the repulsion power was awesome. However, it's important to note that when compared to Kizuna D61, both strings have different characteristics and may meet different needs.
With the Li-Ning LN 62 string, you can experience excellent repulsion power while still maintaining a firm feeling. Additionally, it is more durable than other thin strings available in the market.
However, the following are the DT test results for the Li-Ning LN 62 INSTINCT badminton string strung at 25lbs:
First Day 54 – 56DT
Second Day 51 – 53DT
Third-Day 50 – 53DT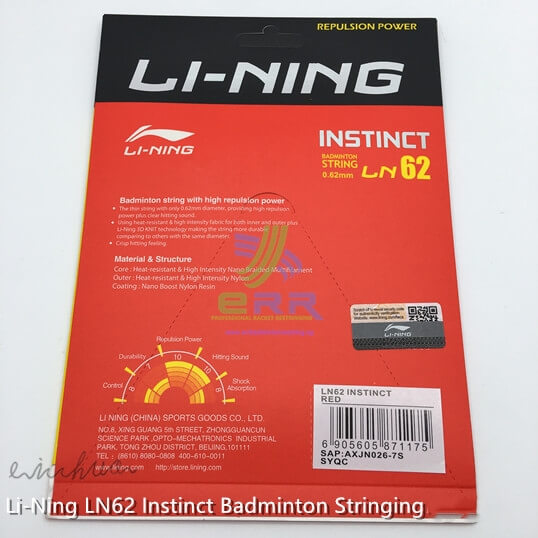 Li-Ning LN 62 Instinct Badminton Stringing in Taman Desa Jaya Malaysia
Currently, the market is flooded with thin strings that are either too bouncy or have a fast tension drop. However, the Li-Ning LN 62 INSTINCT badminton string can maintain its tension for a longer period of time. Many people ask me why I use thin strings but never experience string breakage. There are various reasons, but the general answer is that their body strength may be low. This means that when the racket makes contact with the shuttlecock, they need to generate power from their shoulder, wrist, and body to avoid putting excessive strain on the string.
If you find that your body strength is low, there are two things you can do. Firstly, you can train to improve your strength and flexibility. As you age, your flexibility may decrease, making it harder for your body to generate power. This is why both strength and flexibility are important. It's not enough to simply choose the right badminton string, like the Li-Ning LN 62 INSTINCT, and expect to perform better.
Choosing the right badminton string, like the Li-Ning LN 62 INSTINCT, can improve your performance initially. However, as the string tension drops, you may feel the need to restring your racket every day, which is not practical. Therefore, it's best to focus on training your body to improve strength and overall health. Don't use age as an excuse for having poor stamina. We have a player who is 73 years old and still jogs every day while maintaining excellent skills with fewer mistakes. Remember, skills, stamina, and strength are all important and should be combined to improve your game. You cannot rely on only one of these factors.
Li-Ning LN 62 Instinct String: Good for Your Playing Style
Whether you choose to string the Li-Ning LN 62 INSTINCT badminton string or any other string, the three factors mentioned above are crucial for becoming a good player. No one can bypass these factors. Some older generations may think that they can simply give money to the stringer and let them choose the best string for them. However, no matter how expensive the string is, it's useless if it only brings you temporary happiness. It's important to focus on long-term improvement by developing your skills, stamina, and strength.
Many people believe that constantly changing strings can improve their skills and strength, but this is not entirely true. Even if you find the best badminton stringing service in Malaysia and have your racket strung with the latest brands like Ultimax or Power, it's not a guaranteed improvement. These brand names are often just a marketing ploy, and you may end up wasting your money. If these strings were truly that effective, why would national players still need to train and work hard every day?
If you feel that your racket's stringing is not the issue, but you still feel weak in certain areas, such as lacking footwork, stamina, or skills, then it's time for you to train and improve yourself in those areas. Once you have identified your weaknesses, it's important to work on them. As a leisure player, most shops may not even consider your playing level or style when suggesting strings. They may only be concerned about how much you're willing to pay, which is not ideal.
Many shops may simply give you what you want and take your money without considering your playing level or style. This can lead to you suffering on the court and thinking that the string is not good, and that you need to change it. After many years of playing, your level, skills, and stamina may remain the same, which is not ideal. It's important to keep improving and climbing up to the next level, just like knowledge. If you don't keep learning new things, you may become outdated and miss out on new innovations like the Li-Ning LN62 INSTINCT modern badminton stringing. I hope that you have gained something from this that shopkeepers may not have told you.
Li-Ning LN 62 Instinct: Manufacturer Description
Specifications
Control – 8
Durability – 7
Repulsion power – 10
Hitting sound – 10
Shock Absorption – 8
As much as High-Cost Efficiency + Repulsion
Material & Structure
Core: Heat-resistant & High-Intensity Nano Braided Multifilament
Outer: Heat-resistant & High-Intensity Nylon
Coating: Compound elastic resin
The badminton string provides high repulsion power and has a super-thin diameter of only 0.62mm, resulting in excellent repulsion power and a clear hitting sound.
The badminton string is made using heat-resistant and high-intensity fabric for both the inner and outer layers, along with Li-Ning's unique 3D KNIT technology. This results in a more durable string compared to others with the same diameter.
Crisp hitting feeling.
Li-Ning LN 62 Instinct: Badminton Stringing Fees
Badminton Stringing Cost – RM50 ( String + Labour ) Nett
Frequently Questioned Answers
---
How to make an appointment?
To check the availability of our stringing slots, please click on the "Book" button.
You can also click on this link to book badminton stringing.
https://errbadmintonrestring.my/member/stringing-appointment/
When booking through our appointment system, you can choose to collect your racket on the spot or on the same day.
The color of the string and its corresponding price are indicated in our appointment system for all badminton stringing services.
Please make an appointment before coming so that we can provide you with the proper badminton stringing service.
Note: We accept walk-ins for badminton stringing, but please note that professional badminton stringing requires additional time. This is in accordance with our rules for providing professional stringing services. All members are required to book an appointment online before visiting our facility.