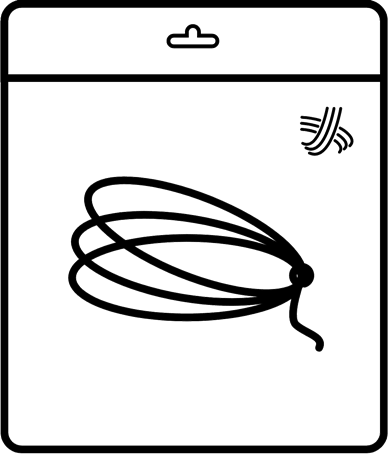 Kizuna Z58 Badminton String Review in JB Malaysia
By ERR Badminton Stringing
This review of the Kizuna Z58 premium badminton string was written by ERR Badminton Restring JB Malaysia. The Kizuna Z58P is one of the thinnest strings available in Malaysia.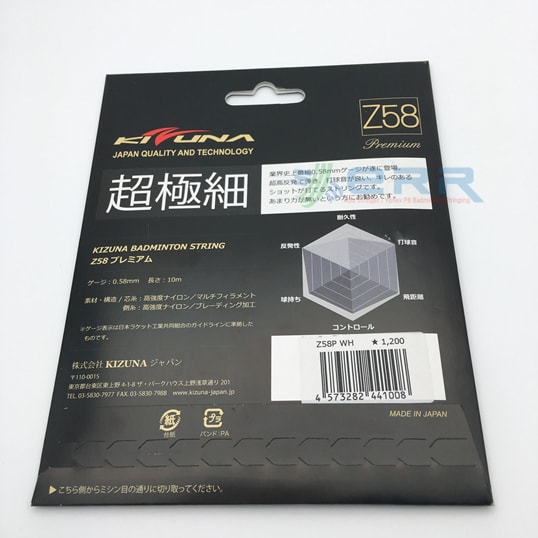 Welcome to
Kizuna Z58 String Review by ERR Badminton Stringing JB Malaysia
Here is a review of the Kizuna Z58 Premium badminton restring: The Kizuna Z58P is one of the thinnest strings available in Malaysia. This badminton string comes with high-strength nylon (multifilament) that provides better repulsion and hitting sound.
Additionally, the string diameter gauge is 0.58mm, making it the thinnest badminton string in the world. Despite its thinness, the string is durable and comparable to the BG66 Ultimax. This string provides a medium feel, and if you are a leisure player looking for more repulsion to lob baseline shots, it is a good option.
Review from Eric: The repulsion is good when strung at 25lbs, and the hitting sound is loud when performing lobs and short-range rebounds.
This Kizuna Z58 badminton stringing is suitable for players who love high repulsion and clear sound, and prefer to string their rackets at 24-26lbs.
However, the following are the results of the Kizuna Z58 badminton stringing experiment DT test at 26lbs.
First day: 57 – 60 DT
Second day: 55 to 58 DT
Third day: 54 to 56 DT
Kizuna Z58 String Feedback from Leisure Badminton Group
Moreover, we have a new member who loves thinner strings and tried Kizuna Z58P with our badminton restring service. He loves it and found that lobbing clears and drops quickly giving him the touch and feeling he was looking for.
Also, the hitting sound of the Kizuna Z58P makes him feel good and comfortable, and the string's durability lasts for about 3-4 months for him. Have you ever wondered how Kizuna badminton string became famous?
Their mindset is to create a specific string type that Yonex does not offer because Yonex is well-known as a marketing leader in their brand. If Kizuna were to manufacture string gauges that Yonex already offers, they would not be able to secure their brand awareness in badminton.
For example, if Kizuna were to manufacture the 0.65mm gauge, everyone would only choose Yonex BG66 Ultimax because Yonex is the brand that started this string gauge.
Is Kizuna Z58 Really a Good Badminton String?
I hope you have gained some insight from this post. Marketing ploys and brand awareness are just labels. The important thing is for every player to choose the right string that suits their playing style and fitness.
Additionally, when we perform Kizuna Z58 badminton stringing, we only use the Yonex Protech 8 series, which is the world's No.1 stringing machine. We understand our members' need for proper stringing methods, perfect high-quality strings, and the right stringing machine. For Kizuna Z58 racket restring, we always advise players from high to intermediate levels to choose a tension of 23-25lbs.
This makes the string more repulsive, and therefore better to use. Remember, high tension doesn't necessarily mean high repulsion, so don't fall for this common misconception. Many beginners in badminton strings often think that high tension means high level, but this is not true.
Kizuna Z58 Premium: Manufacturer Description
Specifications
Control – 9
Durability – 5
Repulsion power – 10
Shock absorption – 9
Hitting sound – 10
Description:
Ultra-Durable 0.58mm Badminton String
Industry ever top-fine 0.58mm gauge finally appeared.
Playing with the Kizuna Z58P results in an ultra-high rebound, with a good hitting sound and crisp strikes.
It is recommended for those who do not have much power.
※ Gauge display is compliant with the guidelines of the Japan racket industrial cooperatives.
Material: High Strength Nylon Multifilament
Side Yarn: High Strength nylon / Blading Processing
Length: 10m (33ft)
Gauge: 058mm
Key Properties: High Repulsion
Kizuna Z58 Badminton Stringing Fees
Badminton Stringing Cost – RM50 ( String + Labour ) Nett
Frequently Questioned Answers
---
How to make an appointment?
To check the availability of our stringing slots, please click on the "Book" button.
You can also click on this link to book for badminton stringing.
https://errbadmintonrestring.my/member/stringing-appointment/
When booking through our appointment system, you can choose to collect your racket on the spot or on the same day.
The color of the string and its corresponding price are indicated in our appointment system for all badminton stringing services.
Please make an appointment before coming so that we can provide you with the proper badminton stringing service.
Note: We accept walk-ins for badminton stringing, but please note that professional badminton stringing requires additional time. This is in accordance with our rules for providing professional stringing services. All members are required to book an appointment online before visiting our facility.