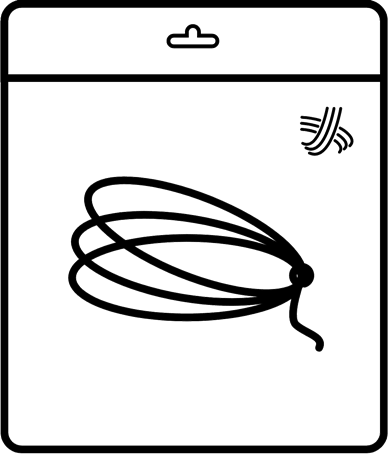 Yonex BG66 Force Badminton String Review in Johor Bahru (JB) Malaysia
By ERR Badminton Stringing
This is a review of the BG66 Force racket restring by ERR Johor Bahru, Malaysia.
Welcome to
Yonex BG66 Force String Review by ERR Badminton Stringing JB
The Yonex BG66 Force badminton string was launched after the BG66 Ultimax. Although both strings have the same outer diameter of 0.65mm, they are very different. According to our records and surveys, most Malaysian leisure badminton players know that the BG66UM can produce a good hitting sound and provide excellent repulsion, but the common issue is that the tension loss is too fast, especially with thin strings. Some players may be familiar with this problem.
Therefore, we typically recommend the BG66F racket restring for intermediate players. When compared to the BG66UM, they generally feel that their racket is more durable when using this string, particularly when they do a lot of smashing. According to the manufacturer's specifications (Yonex), they claim that the durability of both the BG66UM and BG66 Force badminton strings are the same. However, we decided to conduct our own testing to learn more. We prefer not to rely solely on the manufacturer's specifications.
Review by Eric: I used to string my Li-Ning N80ll badminton racket with Yonex BG66 Force at 28 lbs. I noticed that the string provides excellent shock absorption when I'm smashing, and I also feel more control when defending. After 2 weeks, the tension is still 'crisp'.
Below are the DT test results of the BG66 Force badminton restring experiment at 28 lbs.
First Day 59 – 62 DT
Second Day 57 – 59 DT
Third-Day 53 – 58 DT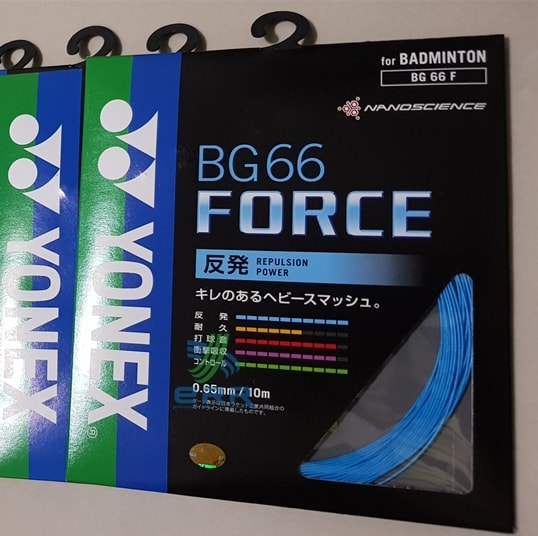 BG66 Force String Review by ERR Badminton Restring Taman Desa Jaya JB
From our playing experience, we noticed that the BG66 Force badminton string feels a bit stiffer than the BG66UM. However, this is not due to reduced repulsion but rather because the shock absorption is good. When the shock absorption is good, the string can provide more power and this is noticeable when smashing. Additionally, if the shock absorption is good, the string's surface will be covered with a thicker coating, which is why the smashing sound of BG66 Force is not as good as Yonex BG66UM.
Finally, BG66 Force is still able to provide good repulsion when hit, which can help improve your badminton game. This string provides you with another option when trying to find the best string for your needs. After our experiments and tests, we concluded that the BG66 Force string's durability is better than the BG66UM. As part of our testing, we gave both types of BG66F and BG66UM with the same tension at 26 lbs to an ERR member. The BG66 Force badminton string lasted for 11 weeks of playing before breaking, while the BG66UM lasted for only 8 weeks. In conclusion, BG66 Force is more durable than BG66UM.
Based on our records, the BG66UM racket restring is still one of the best-selling strings in Malaysia. BG66UM is able to provide good repulsion, but the downside is that the string's lifespan is short. Ultimately, it all depends on what you are looking for in a string. If you want good repulsion and hitting sound, then BG66UM is the best option. However, if you want a string with more shock absorption, and durability to save cost, then the BG66 Force racket restring is the one for you.
Is Yonex BG66 Force not better than BG66 Ultimax?
When we hear and feel a "crack" sound, it indicates that the tension has been lost in the string. To prevent this, many players request an increase in tension of 1-2 lbs when sending their racket for restringing. We always suggest that players communicate their problems to our stringer, Mr. Eric. By doing so, he may be able to find a solution to your problem.
Only after he has heard and understood the problems you are facing, will he know how to best help you. This could involve adjusting the strings or increasing the tension, as not all players have the same problems. ERR Badminton Restring Johor Bahru is known for having good knowledge of racket restringing. In addition, our stringing machine, the Yonex Protech 8, is the world's number one machine and is calibrated for accuracy. All of our stringing tool sets are also of the highest quality from Yonex, Japan.
Increase Badminton Stringing Knowledge for Everyone
By the way, Mr. Eric is a certified badminton coach in Johor Bahru Malaysia. We always encourage people to share their concerns and not be afraid to admit they don't know everything. It's important to help yourself first so that others can help you. Eric is always on the lookout for new techniques in badminton racket restringing, and he is not the type to just make money by doing restringing. He always advises his customers on the best string for their needs and lets them decide. Eric has his customers' interests at heart. We want to emphasize that the BG66 Force racket restring is not for everyone, as it is based on individual needs. However, the demand for this string is quite high.
Mr. Eric said, 'As a good stringer, it's not about how unique your stringing method is, or how many certificates you've acquired. The most important thing is whether you understand what the player needs and wants from their badminton game. Additionally, you need to know how much time you are willing to spend understanding their needs.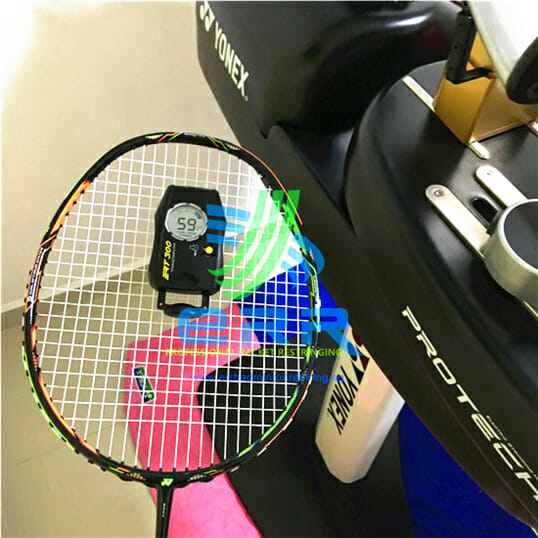 Yonex BG66 Force Manufacturer Description
Description
The BG66F Realize the "POWER" with a thin gauge.
Material: Nylon Multi-filament + Special Blend Nylon Coating
Length: 10/200m (33/656 ft)
Gauge: 0.65mm
Key Properties:
High Repulsion
Medium Feeling
Made in Japan
Chong Wei is one of the greatest badminton talents of all time. His remarkable achievements at the top of the game over many years have earned him the title of Datuk and the Malaysian Prime Minister has described him as a national hero.
As a former world number one, Chong Wei has won several gold medals, including victories at the 2006 Commonwealth Games in Melbourne and the 2010 Commonwealth Games in Delhi.
BG66 Force Badminton Stringing Fees
Badminton Stringing Cost – RM45 ( String + Labour ) Nett
Frequently Questioned Answers
---
How to make an appointment?
To check the availability of our stringing slots, please click on the "Book" button.
You can also click on this link to book badminton stringing.
https://errbadmintonrestring.my/member/stringing-appointment/
When booking through our appointment system, you can choose to collect your racket on the spot or on the same day.
The color of the string and its corresponding price are indicated in our appointment system for all badminton stringing services.
Please make an appointment before coming so that we can provide you with the proper badminton stringing service.
Note: We accept walk-ins for badminton stringing, but please note that professional badminton stringing requires additional time. This is in accordance with our rules for providing professional stringing services. All members are required to book an appointment online before visiting our facility.