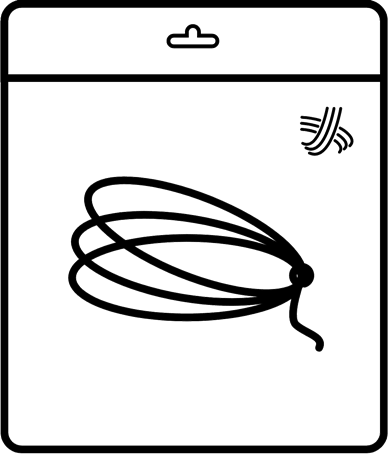 Yonex BG65 Titanium Badminton String Review in Johor Bahru (JB) Malaysia
By ERR Badminton Stringing
BG65 Titanium is an upgrade of the BG65 string.
Welcome to
Yonex BG65 Titanium String Review by ERR Badminton Stringing JB
This is BG65 TI badminton restring review:-
The coating on this string is slightly different and it definitely shows an improvement compared to the BG65. Additionally, the common issue with the BG65 badminton string is its slippery surface coating, which causes the string not to return to its original position after being hit, especially at low tension.
However, with the BG65 Titanium string, it feels more stable and less slippery. Overall, it performs well when compared to the BG65 string. We have also received a lot of positive feedback from players who love its durability and ability to withstand many smashes over a long period of time.
Review by Eric: When I restring my NTU friends' rackets with the BG65 TI badminton string, they commented on how good and durable their racket feels. I usually string this racket at 28 lbs and use it for a lot of smashing. Despite the heavy use, the racket lasts longer and is easy to control.
Here are the results of the DT tests for the BG65 TI badminton string restring experiment at 28 lbs.
First Day 54 – 56 DT
Second Day 52 – 55 DT
Third-Day 49 – 51 DT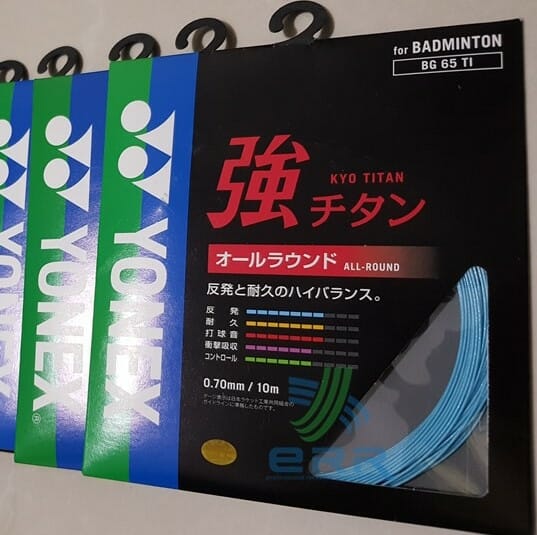 Product Review: Yonex BG65 Titanium Badminton String
Some players have commented that the BG65 TI badminton string gives a nice "ping" sound when hit, despite it being slightly thicker than other strings that typically produce that sound. Our research shows that the BG65 TI string is often requested by "stiff" players who like to smash. We have also found that there is a quality difference between manual and digital stringing machines when it comes to BG65 TI restringing.
When restrung with a manual machine, the string may not feel as good during play due to the thicker string needing a longer time to expand. This can waste time and affect the overall consistency of the string. We have decided to use our digital stringing machine, the Yonex Protech 8 with a pre-stretch mode to prevent tension loss. Using this machine, the process of BG65 TI badminton restringing goes smoothly and the tension does not drop as fast after playing numerous games.
BG65 Titanium String Review for Players Who Need a Longer String Lifespan
The Yonex BG65 Titanium badminton string produces a clear and crisp sound when smashed, which is indicative of its suitability for players who love to smash. However, intermediate players have reported tension loss when the string is restrung at low tension. To avoid this issue, we prefer to use Yonex's digital stringing machine with the pre-stretch mode. With this machine, the BG65 TI string retains its tension and offers great durability and power when hit on the sweet spot.
It can withstand up to 20 sessions of continuous smashing by players who consistently hit the sweet spot. Overall, the BG65 Titanium string is a great choice for players looking for durability. Our Certified Stringer, Mr. Eric, can also help leisure players choose the most suitable string for their racket. Furthermore, Mr. Eric is a Certified Badminton Coach in Malaysia, who has experience in restringing rackets for his students.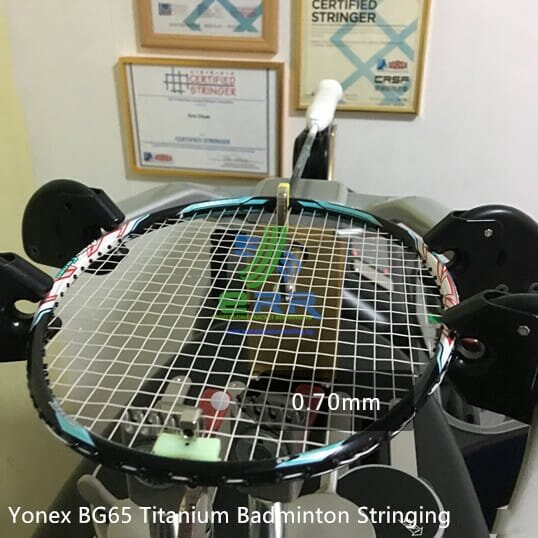 Yonex BG65 Titanium Badminton String: Manufacturer's Description and Features
Description
The titanium hybrid coating compound offers a sharp and comfortable feel upon impact.
Designed for hard hitters.
Material:
MULTIFILAMENT / HYDRO TITANIUM
Length:
10m (33ft)
Gauge:
0.70mm
Key Properties:
Durability
Hard Feeling
Made in Japan
BG65 Titanium Badminton Stringing Fees
Badminton Stringing Cost – RM45 ( String + Labour ) Nett
Frequently Questioned Answers
---
How to make an appointment?
To check the availability of our stringing slots, please click on the "Book" button.
You can also click on this link to book badminton stringing.
https://errbadmintonrestring.my/member/stringing-appointment/
When booking through our appointment system, you can choose to collect your racket on the spot or on the same day.
The color of the string and its corresponding price are indicated in our appointment system for all badminton stringing services.
Please make an appointment before coming so that we can provide you with the proper badminton stringing service.
Note: We accept walk-ins for badminton stringing, but please note that professional badminton stringing requires additional time. This is in accordance with our rules for providing professional stringing services. All members are required to book an appointment online before visiting our facility.