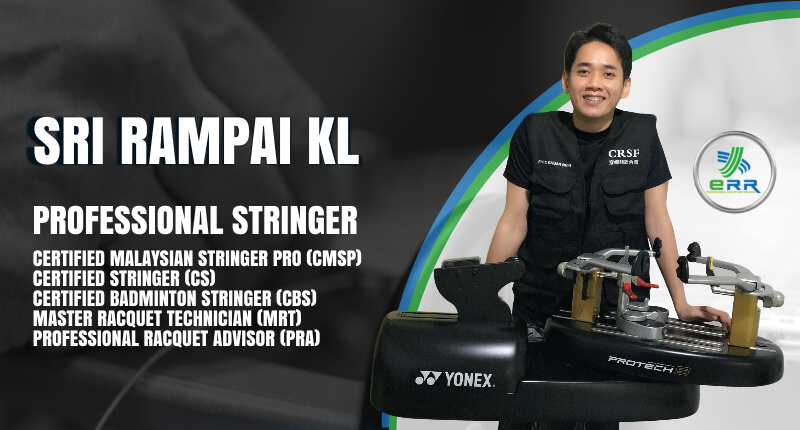 In recent years, the neighborhood of Sri Rampai in Kuala Lumpur has witnessed growing interest in badminton as a popular pastime and competitive sport. With new clubs opening and residents taking up the game, there is increased demand for top-quality racket stringing services in the area. If you want to buy a badminton racket at the best reasonable price, we are always there for you.
ERR Badminton Stringing Sri Rampai answers that need by providing world-class professional badminton stringing near Sri Rampai, KL. Our master stringers have over 12 years of experience serving elite players across Malaysia. When you choose us, you can trust your racket will be strung to optimize power, control and feel. Read on to learn why we are the best choice for premium stringing services to improve your performance.
The Advantages of Professional Stringing
Getting your racket regularly strung by professionals gives you key benefits:
Longer lasting strings that maintain tension better
Maximized explosiveness and power on smashes
Dialed-in control for touch shots and net play
Consistent tension across the full racket face
Ideal calibration tailored to your playing style
Prevent injury from incorrect tension
Enhanced comfort and playability
Prolonged lifespan of your racket frame
With expert stringing, you get perfectly calibrated tension matched to your needs. This gives you the consistent response and control needed to excel.
Our Stringing and Racquet Advise Expertise
With over 12 years of experience serving Malaysia's and Singapore top athletes, ERR Badminton Stringing Sri Rampai delivers technical excellence:
Our stringers have obtained Master Stringer certifications
We use advanced German Stringing Machines for precision
Our clients range from amateur enthusiasts to national players
Meticulous attention is given to every specification and detail
Our quality standards meet global benchmarks of excellence
We deeply understand the science and craft of optimized stringing tension and calibration. You can trust us fully with your racket.
Customized Stringing Process in our Badminton Shop Near Sri Rampai
Every racket receives personalized care and attention:
Consultation to understand your playing style, skill level, needs
Selection of the ideal strings and tension for you
Computer-aided stringing for consistent precision
Thorough quality checks before delivery
Fast turnaround, typically within 24 hours, appointment with 1 hour
We are committed to providing bespoke professional services tailored to you. Our consultations ensure perfectly fitted strings to match your power, control and feel preferences.
Why Choose ERR Badminton Stringing Near Sri Rampai?
For precise badminton stringing in Sri Rampai, ERR Badminton Stringing is the top choice because:
Trusted by KL's Best – We are the trusted go-to by elite local and national players.
Stringing Specialists – Racket stringing is our sole focus, not just a side business.
World-Class Craftsmanship – Our certified stringers are meticulous masters of their craft.
Quality Workmanship – Our standards meet the highest international benchmarks.
Lasting Improvements – Our clients notice better power, control, feel and touch.
To take your game to the next level, trust the dedicated experts at ERR Badminton Stringing Sri Rampai. Contact us today to schedule your stringing.
Frequently Asked Questions of Setapak Indah Badminton Stringing Shop
Here are answers to some common questions:
Ideally every 2-4 weeks depending on play frequency. Restring when tension drops 10%+.
Rates start at RM30 for basic string. Premium strings cost more based on types.
Usually within 24 hours. Or 1 hour on the spot with appointment.
Yes, please visit our online sports store to make a purchase, and you may self-collect if you wish. We focus solely on precision stringing services and do not sell equipment. However, we can recommend where to buy gear
Please contact us if you have any other questions!
Visit us to book an appointment with our expert stringers. We are conveniently located within Sri Rampai.
The Best Badminton Shop and Stringing Services Near Sri Rampai
For the highest quality badminton stringing and buy badminton racket near Sri Rampai, KL, choose ERR Badminton Stringing. Our certified and skilled stringers deliver optimized stringing guaranteed to improve your power, control and feel.