Craftsman Racquet Stringing Services
Craftsman racquet stringing services not only help players have a better quality of stringing but also help them find the right professional stringing services.
Welcome to
Craftsman Stringing Services KL Malaysia
Most people wonder about the quality of ERR's Craftsman Stringing Services. As well-known professionals, all stringing services are carried out by our master stringer. Our commitment to excellence has positioned us as the leading racquet stringing service in Malaysia for the past 10 years.
ERR Badminton Restring is located in Kuala Lumpur, Malaysia, and we are the first professional stringing service to combine coaching expertise with exceptional stringing techniques. We use our knowledge to help more people instead of just making it a business. We offer various custom stringing services for our members, but most members prefer our master stringer's advice as he has deep knowledge of badminton and can help every player get the right string and tension for their game.
At our stringing service center, we don't just claim to be the best – we continually strive to improve our members' experience by providing the best craftsman racquet stringing services.
The benefit of our craftsman stringing services including
Custom Racquet Stringing Services
Professional Racquet Advice
Craftsman Restringing Services
Professional Advice on Badminton Stringing
Our professional craftsman racquet stringing services are carried out by our Master Stringer, Mr. Eric Chuar, who is also well-known for his badminton coaching expertise in Malaysia.
Expert Stringing Advice from Experienced Stringers
True badminton enthusiasts understand that playing the sport properly is more important than having a certification. The same goes for racquet stringing services and any advice regarding racquets. It requires a lot of experience to understand a player's level and strengths. If a professional stringer rarely plays badminton, they won't be able to grasp what the player truly needs, as the badminton world is constantly changing.
For instance, players' speeds are becoming faster and faster. Stringing certifications are standard everywhere, but badminton playing knowledge is not, and it is continuously evolving. When it comes to stringing, regardless of a professional stringer's certifications, there are only three things to consider: string type, string bed stiffness, and racket balance.
What matters most are the playing and stringing experiences. That's why our professional stringer offers racquet stringing services at an affordable price, hoping to share expert stringing advice and professional badminton knowledge with more and more players in Malaysia and Singapore.
Professional Craftsman Racquet Stringing Services
We understand that having the right string tension and string type is important for the performance of your badminton racquet. That's why we offer professional racquet stringing services by experienced stringers who know exactly how to optimize your racquet's potential. Our professional stringers have years of experience and have strung thousands of badminton racquets for players of all levels.
We always pay attention to the details and quality of our professional stringing service. Every racquet is strung with the utmost care and attention to detail. As is well known, ERR uses the best brands, string models, and stringing methods to ensure that every racquet is strung to the highest quality.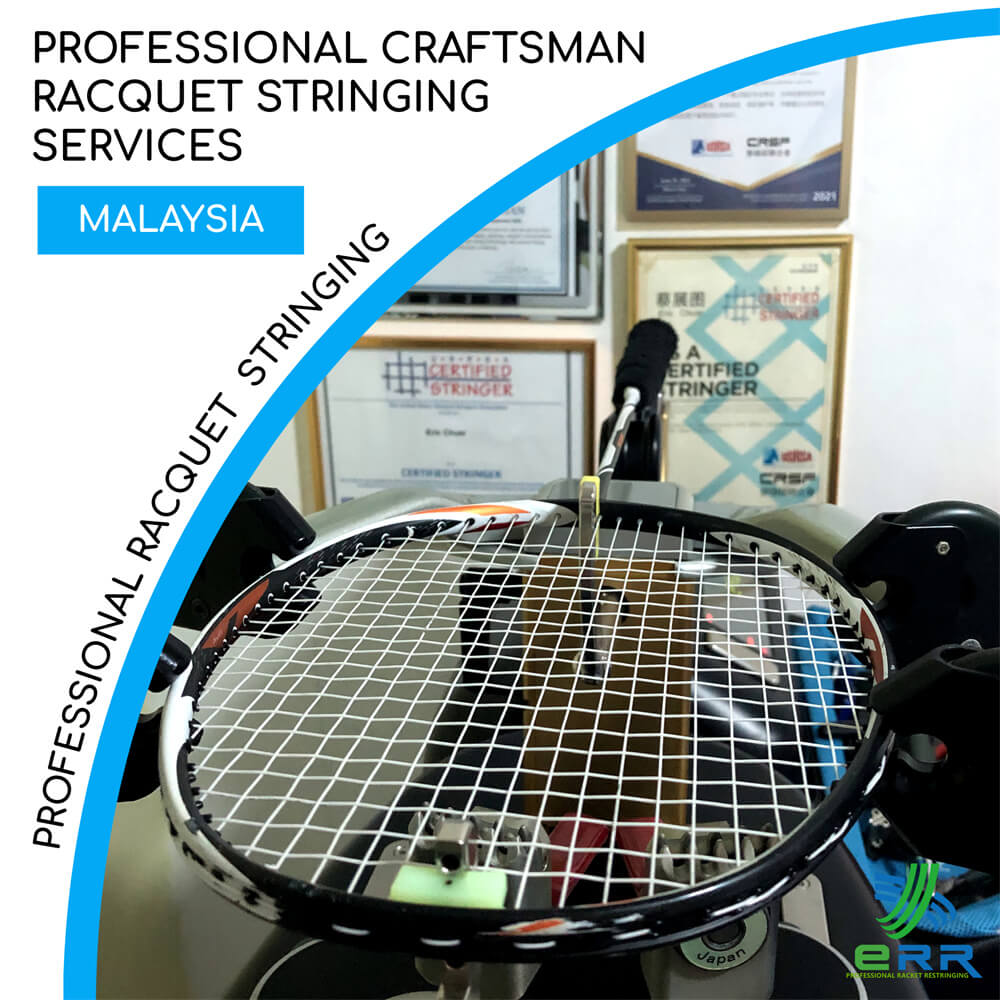 Craftsman Racquet and Restringing Services for Professional Players
We proudly offer professional badminton players the best in racquet and restringing services. Our experienced stringer will work with members to ensure their racquet is optimized for maximum performance. We carry a wide range of racquets from leading brands, so you can find the one that is right for you. Our stringer will help players decide on the right weight, balance, and string pattern for their racquet so that they can get the most out of their game.
Not every player knows what racquet they should use. Sometimes, even if someone knows there may be a better racquet for them, they hesitate to change from the one they're used to because they fear their performance may worsen after the change. That's why our professional stringers are available to help our members choose the right racquet and stringing, especially in Kuala Lumpur (KL) Malaysia.
Custom Racquet Stringing Services
Our custom racquet stringing services always help players choose the right string, stringing patterns, and tension. Our experienced stringers use the best stringing machines, tools, and technologies in badminton to ensure your racquet is strung to perfection and professionally done.
Professional Racquet Advice and Selection
Our professional racquet advice is designed to help players and members find the perfect racquet model and balance for their individual playing styles. Our professional stringers will guide them through the process of selecting the best racquet and stringing to maximize their performance on the court. Buying a racquet is not expensive, but choosing the right one is not easy.
Craftsman Restringing Services
We also offer craftsman restringing services to our members, as well as new members. We check their previous stringing experiences and help them perform custom racquet stringing. Our professional stringer also assists them in making any necessary adjustments to improve their gameplay or make them feel more comfortable using the racket, enabling them to play better.
Professional Advice on Badminton Stringing
Our master stringer is not only stationed in our shop to provide stringing services but he also frequently coaches and competes in badminton at a high level. This enables him to provide genuine professional advice on badminton stringing. As he understands the needs of players and can identify their weaknesses, he can use our professional craftsman stringing services to help them improve.
Helping More Malaysia Players to have professional Stringing
Our intention with craftsman racquet stringing is not to claim that we are the best, but rather to help raise the badminton standard in Malaysia by providing everyone with good and professional stringing services. The current Malaysia stringing industry is focused solely on making money and lacks quality. We aim to change this by improving Malaysia's stringing standard and continually making it better.
Question about Craftsman Racquet Stringing Services?
We receive many inquiries from existing and new members who are interested in our craftsman racquet stringing services. However, due to our large membership base of over 2000 CPS members, it is not feasible to answer each query individually. Therefore, we encourage them to review our "Stringing FAQ" page, where they can find answers to the most common questions. This page has already addressed almost 99% of frequently asked questions.