Grip Repairs & Replacements Services
Badminton grip repair and replacement services are provided by professional stringers under ERR Badminton Restring KL Malaysia.
Welcome to
Professional Grip Repairs and Replacement KL Malaysia
Welcome to ERR Badminton Restring KL Malaysia. We specialize in professional grip repair and replacement services, primarily catering to players who seek improved aesthetics and quality for their badminton and tennis rackets. Our expert stringers understand the importance of a comfortable and secure grip for players of all skill levels.
Grips can become slippery, deteriorate, or become insecure after prolonged periods of disuse, making it difficult for players to perform at their best. Our experienced professional stringers are dedicated to providing flawless badminton grip replacement services for our members, utilizing only the highest quality grips and tools to ensure a secure and comfortable fit in your hand. We offer an extensive selection of grips, including soft PU grips, tacky grips, towel grips, and a range of thicknesses for overgrips, among others.
The benefit of our professional grip repair and replacement services including
Change New Badminton Grip
Badminton Handle Wrap Repair
Remove Badminton Grip and Replacement
Professional Handle Repair Services
Our grip replacement and repair services are performed by Mr. Eric Chuar, our USRSA Professional Racquet Advisor who is widely recognized for his expertise in badminton coaching in Malaysia.
Grip Replacement Services by Professional Stringer
Our professional stringers have completed thousands of grip replacement services for a diverse range of clients, including members, badminton training students, and weekly game participants. Many people assume that replacing a badminton grip is easy. However, this perception depends on their familiarity with the sport.
Casual players or those with limited knowledge may be satisfied with a grip that simply functions and doesn't look too bad. On the other hand, professional players and stringers demand perfection in grip replacement services. They focus not only on the grip's quality but also on the wrapping technique and the final appearance.
At ERR Badminton Restring Kuala Lumpur (KL) Malaysia, we take pride in our commitment to excellence. Nearly 300 members trust our professional stringers for exceptional grip replacement services each month, and we strive to ensure that every grip is secure, comfortable, and aesthetically pleasing.
Professional Grip Repair and Replacement Services
During our grip repair and replacement services, we explain to our members that there are various types of badminton grips, but selecting the best one depends on personal preference. Although there are only a few types of grips, each with similar features, the ideal choice for your racket varies based on individual needs. Some members have expressed concerns about towel grips, as they can become stiff after just a few uses. Our stringers recommend trying a Karakal grip, which has provided an improved experience for some.
However, those with sweaty palms may need to change their grip more frequently. In reality, no badminton grip will last indefinitely, as sweat continuously penetrates the grip material. Our advice is to replace grips regularly, as comfort and the ability to play well are more important than the small cost of a new grip. When looking to save money, it's crucial to prioritize what matters most.
Handle Replacement for Badminton Racket
Our handle replacement services are primarily designed for badminton rackets with cracked handles. Although this is a rare occurrence, our professional badminton stringer still receives about 20 rackets each year for handle replacement. Sometimes, the wooden handle can break easily due to poor wood quality. We have prepared various handle sizes for badminton handle replacement. As a company focused on providing the highest standard of service, we ensure that each handle replacement is of top quality.
After completing a badminton racket's handle replacement, we perform swing tests, check the balance point and weight, and provide this data to our members to ensure everything is in order. Our professional stringer's commitment to quality over the past 10 years has earned him a loyal following of members who appreciate his dedication to excellence rather than merely conducting business.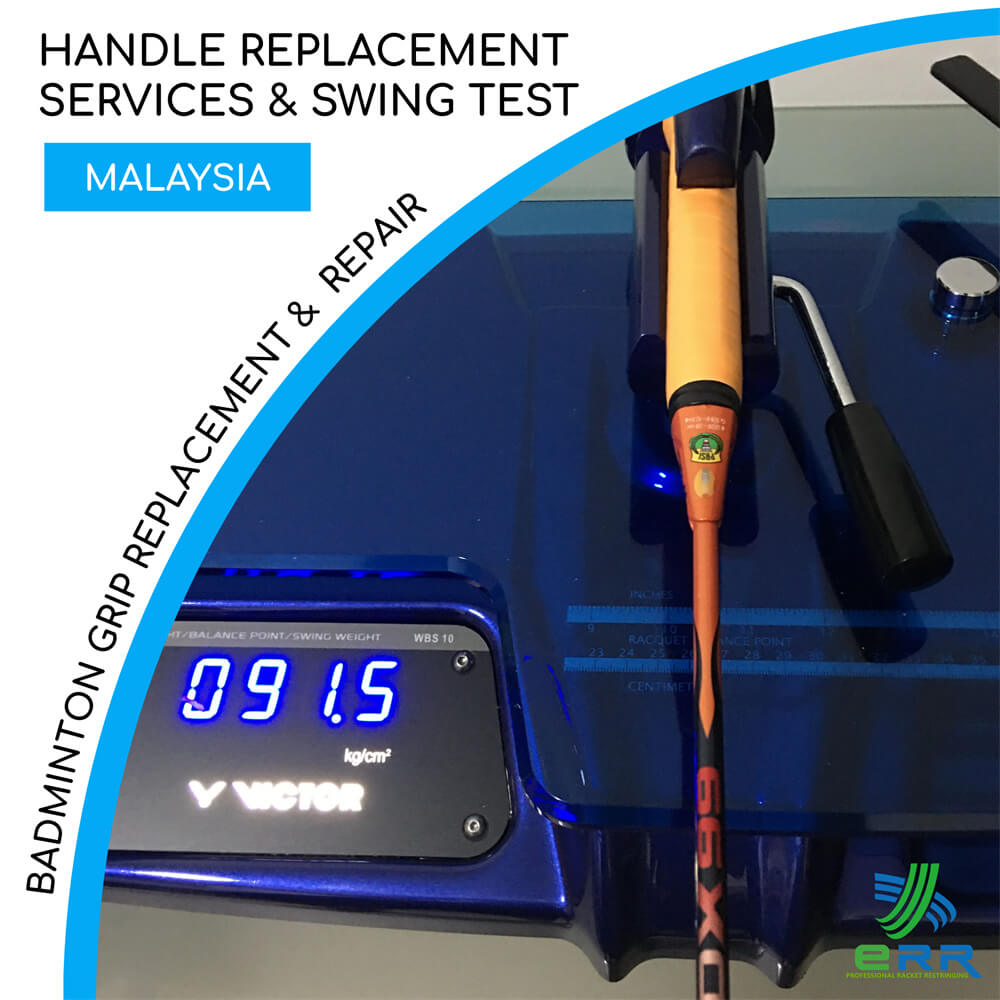 Change New Badminton Grip
We aim to provide badminton grip replacement services for players of all levels. Some players may not know how to change the grip for themselves or their children, while competitive players might require a higher-quality grip or professional wrapping. By entrusting this task to us, they can save time and ensure a clean, perfect grip replacement. Changing a badminton grip can sometimes be time-consuming, especially when striving for flawless results.
Badminton Handle Wrap Repair
Some players may struggle with wrapping their badminton handles because they rarely change them. This is where our badminton handle wrap repair services come in. We help alleviate their concerns, ensuring a clean and well-maintained grip. Our professional service guarantees a perfect condition handle wrap, allowing them to enjoy a better gaming experience with their newly wrapped badminton handles.
Remove Badminton Grip and Replacement
Many of our members are uncertain about how to remove and wrap badminton grips. We assist our members by removing and replacing grips in perfect condition. Sometimes, tasks may seem easy to complete, but the end result may differ from expectations. With our professional services, we ensure that our grip replacements meet high standards in both appearance and quality, delivering the best possible outcome.
Professional Handle Repair Services
Our professional handle repair service is designed for all members experiencing racket handle cracks. Sometimes, an expensive racket may suffer from an accidental crack in the handle, making it wasteful to throw it away. The best solution is to replace the handle, which can restore the racket to a like-new condition, particularly important for costly, branded rackets.
Helping More Malaysian Players to have professional Badminton Services
Our goal is to help an increasing number of players access professional badminton services in KL Malaysia. It is well-known that many badminton services in the current market charge high fees while delivering poor quality, even with certification. This is where our professional services come in, ensuring that every badminton player can enjoy reasonably priced services while maintaining high standards.
Question about Professional Stringing Services?
We are thrilled to see a high level of interest in our professional grip replacement services from both current and new members. With over 2000 CPS members, though, it can be quite challenging to address each inquiry on an individual basis. To make information more accessible, we've established a "Stringing FAQ" page on our website. This resource covers the most common questions related to our stringing services, effectively addressing almost 99% of the typical concerns.