Li Ning Halbertec 8000 badmintno racket review by ERR Badminton Restring Malaysia. Li Ning recently introduced a new line of badminton rackets called the Halbertec series. The flagship of this new lineup is the Halbertec 8000, a control-oriented racket designed for advanced and professional players. In this in-depth review, we will take a close look at the specs, technologies, performance and ideal user of the Halbertec 8000 badminton racket.
If you really love using Li-Ning rackets, you can give this one a try. It's heavy, but it doesn't feel that way to me because I find a little head heaviness is good for generating power.
Overview of the Li Ning Brand like Badminton, String, Player, Shoe and Accessory
Li Ning is one of the top badminton brands alongside big names like Yonex and Victor. Founded in 1989 and named after Chinese Olympic gymnast Li Ning, the company has a long history of producing quality rackets and equipment for players of all levels.
While not as prominent as Yonex outside of Asia, Li Ning badminton rackets have a loyal following among recreational and professional players. As everyone knows, Li-Ning has been a sponsor of the China national team for many years.
Introduction to the Halbertec Series Badminton Rackets
The Halbertec series is Li Ning's newest lineup of badminton rackets. According to Li Ning, the design takes inspiration from ancient Chinese weapons like the halberd and principles of Tai Chi, erm.. same like us, pattern more than badminton. The Halbertec rackets are engineered to provide a balance of solid defensive abilities with precise attacking power. This Li-Ning Halbertec 8000 racket is used by Fu Haifeng, a former national player from China known for his powerful smashes.
The Halbertec 8000 is the flagship of the series and caters to advanced and professional players looking for optimum control. The Halbertec 5000 and 2000 models will be released later to offer options for developing players.
Overview of the Li-Ning Halbertec 8000 Badminton Racquet and Tension
The Halbertec 8000 is a control-oriented racket suitable for singles players who value precision and consistency. With a head-light balance and medium-stiff flex, it allows good maneuverability without compromising stability. Let's take a detailed look at the specs and technologies that make up this racket.
Specifications
Head Size: 88 sq inches
Frame: Med Carbon Fiber; Size 355-360cm
Length: 27 inches
Weight: 3U (85-89 g) or 4U (80-84 g) or so call (3U G5; 4U G5)
Balance: Slightly head light (Balance Point about: 301mm)
Stiffness: Medium
Flex: Hard (Similar to BX700, softer than BX800)
String Pattern: 18 x 20
Grip: T1100+ Polyurethane + non woven (First in Tectonic line)
Grip Length: 215mm
Grip Size: S1
6.8mm Shaft
Recommended Tension: Up to 30 lbs
Release Date: 2022 end of the year
Technologies
ACC-Rif Tech – Reinforces key areas to optimize flex and response
HDF Shock Absorption – Dampens vibrations for better control
Hark Flexible Shaft – Provides stability through the swing
Medium carbon fiber construction – High Desnsity Carbon Fiber
T1100 and TB Nano
Color Options
The Halbertec 8000 comes in a stylish pink and turquoise color scheme. The pink and green hues are designed to represent the racket's blend of defense and offense.
Look and Feel of LiNing Halbertec 8000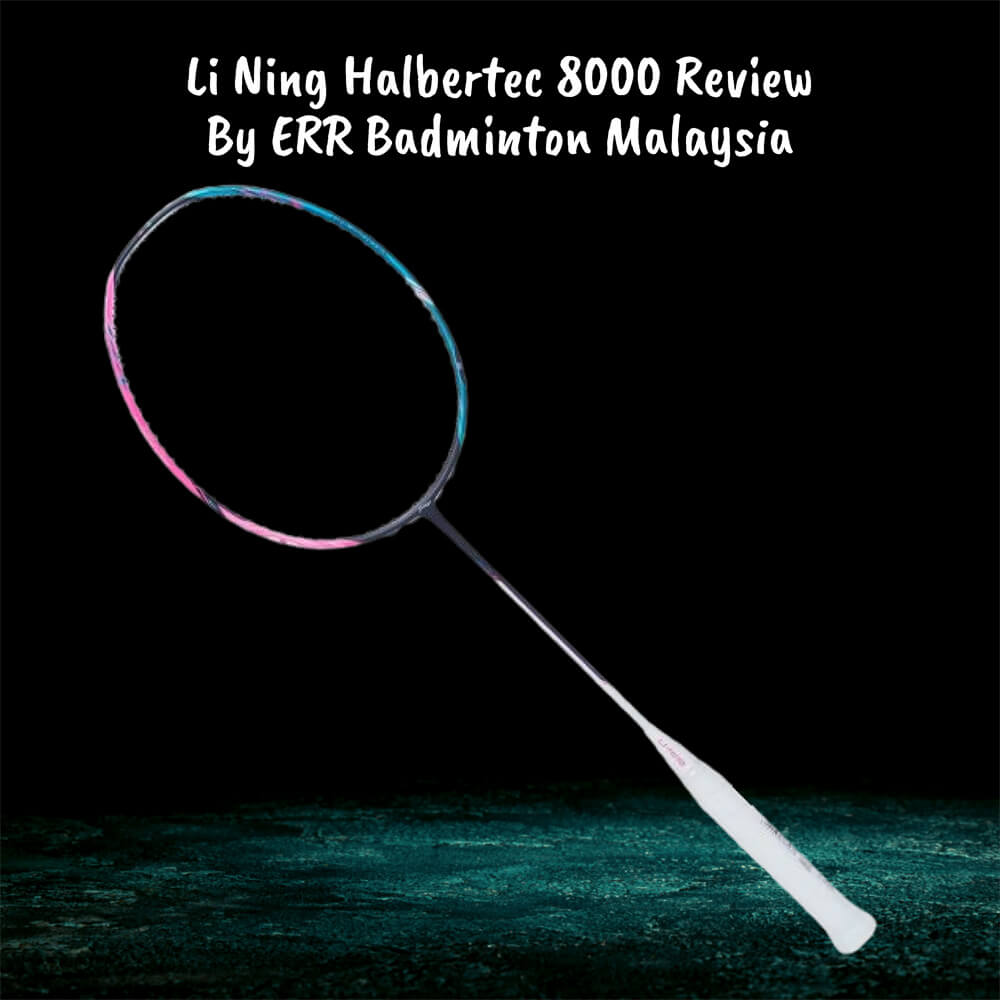 The Halbertec 8000 features a nicely done paint job and finishes you'd expect from a premium Li Ning racket. The pink and turquoise colors work well together and the inclusion of holographic turquoise gives it a modern, eye-catching look on the court.
Upon visual inspection, the rounded edges of the grommets make them look slightly less premium than other Li Ning models like the AxForce 80. But the finishing is still excellent with the dotted decals around the shaft adding nice detailing.
In terms of weight and balance, the 3U version has a mass around 87-89 g making it suitable for singles players looking for good maneuverability. The slightly head-light balance gives it a quick feel through the swing. In hand, the racket feels evenly balanced rather than extremely head light.
The medium-stiff flex offers a good blend of control and power. It has a crisp, responsive feel on contact unlike some Li Ning rackets that tend towards a softer, more muted response. While not overly stiff, it still provides nice touch on placements and net shots.
Playtesting and Performance
We rigorously playtested the Halbertec 8000 over several weeks, tracking its performance across different strokes and game situations:
Control
The medium-stiff flex gives the Halbertec 8000 predictable control and accuracy even on fast-paced rallies. Touch shots like drops, net kills and around-the-head returns come off well and it's easy to direct the shuttle precisely.
Power
With its head-light balance the racket lacks the plow-through of a head-heavy smash but can still produce good power with proper timing. For quick attacking shots like smashes and drives, the racket performs admirably.
Maneuverability
The quick feel from the 3U weight makes the racket easy to wield and maneuver. Response is snappy allowing for reactive shots and changes of direction. The head-light balance also makes it easier to generate racket head speed.
Defense
Defense is a strength thanks to the good stability and controlled response. The racket performs well on blocks, parries, lifts and slices. While shots close to the frame may lack depth, it's very controllable.
Durability
No issues were noticed with durability of the frame or grommets after repeated use. The construction quality lives up to Li Ning's reputation. The 18 x 20 string pattern holds tension well allowing great feel over time.
Li Ning Halbertec 8000 Comparison to Other Rackets Yonex and Victor
How does the Halbertec 8000 stack up against other popular models from Li Ning and competitors? Here are some key comparisons:
More control-focused than head-heavy Li Ning models like AxPower 80
Quicker feel through the swing than BladeX 800 but less powerful
More flexible and forgiving than the head-heavy Astrox 99
Lacks the plow-through of a Yonex Arcsaber 11 but easier on the arm
The racket suits singles players who want maneuverability without compromising stability on defense. It doesn't have the explosive power of a head-heavy racket but provides excellent blend of control and quickness.
Pros and Cons of Li Ning Halbertec 8000 Badminton Racquet
Pros
Great blend of control, quickness and stability
Precise and predictable response
Excellent defensive capabilities
Easy maneuverability and swing speed
Durable construction and string holding ability
Cons
Lacks the explosive power of a head-heavy racket
Shots close to frame may lack depth
Needs good timing to generate maximum power
Conclusion and Recommendation of Li Ning Halbertec 8000 and Price by Professional Coach and Stringer
Eric's Review: To me, string stung at 27lbs, really feel that this racket is actually not bad. Although I love Yonex very much, many of my friends know that my coaching racket and my daily game racket are Li-Ning. I feel that Li-Ning racket quality is really good, especially when you go with professional stringing. The hitting sound can really surprise you. So, for Li-Ning Halbertec 8000 it's worth buying, i just feel that it's a little expensive, haha, the Price in Malaysia is about RM700 to RM890, Singapore price for Li Ning Halbertec 8000 is about S$270 to 350 Singapore dollar, sibeh expensive.
The Li Ning Halbertec 8000 is an excellent control-oriented racket well-suited to singles players who rely more on shot-making than brute power. With its forgiving yet crisp response, good stability and easy maneuverability, it brings a great blend of attributes to the court.
The racket should appeal to developing players looking to improve control and intermediate players prioritizing consistency and precision over maximizing power. The head-light balance also reduces arm stress making it a good option for veteran players.
Given its premium build quality and performance characteristics, the Halbertec 8000 provides good value at its price point. We give it our strong recommendation as one of the top control rackets currently available. It earns its place among Li Ning's stable of quality rackets.
Frequently Asked Questions
The Halbertec 8000 is ideal for singles players who rely more on control, consistency and shot-making rather than maximize power. Its blend of maneuverability, stability and forgiving response suits developing players looking to improve control as well as intermediate players prioritizing precision.
As a head-light racket, the Halbertec 8000 cannot match the explosive power of head-heavy rackets. However, it can still generate good power with proper timing and technique. The racket favors controlled power over maximum power.
Key technologies like ACC-Rif Tech, HDF Shock Absorption System, and the Hark Flexible Shaft optimize the flex, damping vibrations, and stability to provide exceptional control with the Halbertec 8000.
Yes, the Halbertec 8000 performs very well on defensive shots like blocks, parries, lifts and slices. Its stability, controlled response, and easy maneuverability make it a great choice for defensive players.
With its premium build quality, technologies, and excellent blend of control, stability, and quickness, the Halbertec 8000 provides good value for its price point. It compares well to other rackets in its class.
Li Ning Halbertec 8000 Knowledge Test by Our Professional Stringer
Smart Badminton Player – Advancing Your Badminton Career in Malaysia & Singapore
From my perspective as a Master Racquet Technician and Professional Badminton Stringer, it's clear that expertise and commitment are key in badminton. Scoring perfectly here isn't just about being smart, it shows a real insight into the sport. This success is your stepping stone to thriving in the dynamic badminton environments of Malaysia and Singapore. Keep your passion alive and your practice consistent to soar high in your badminton endeavors.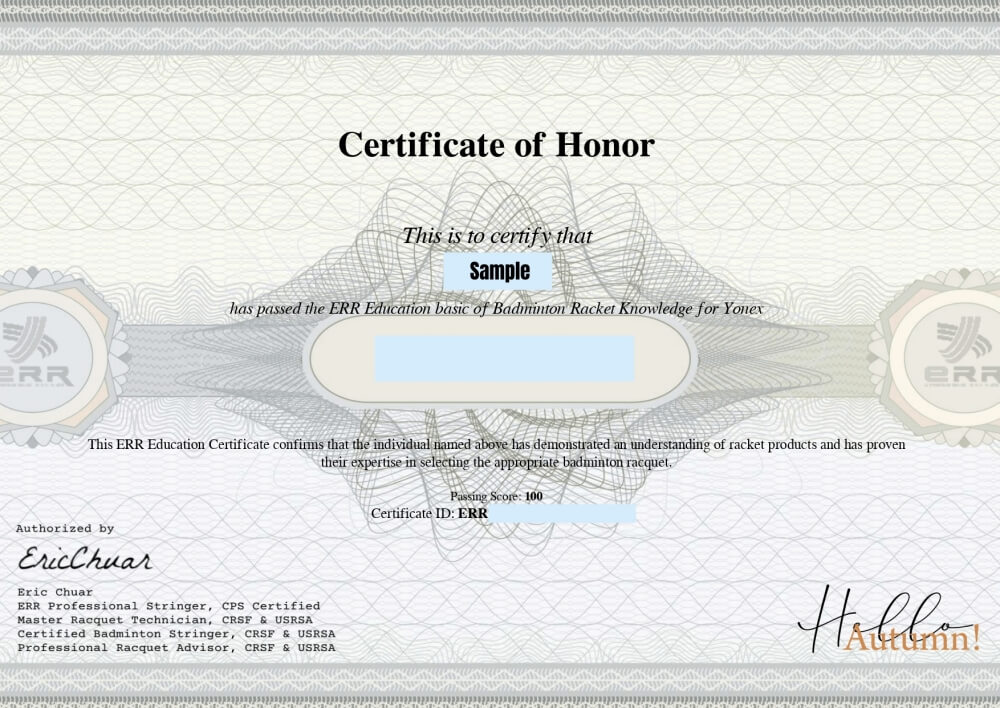 Back to the stringing home page.