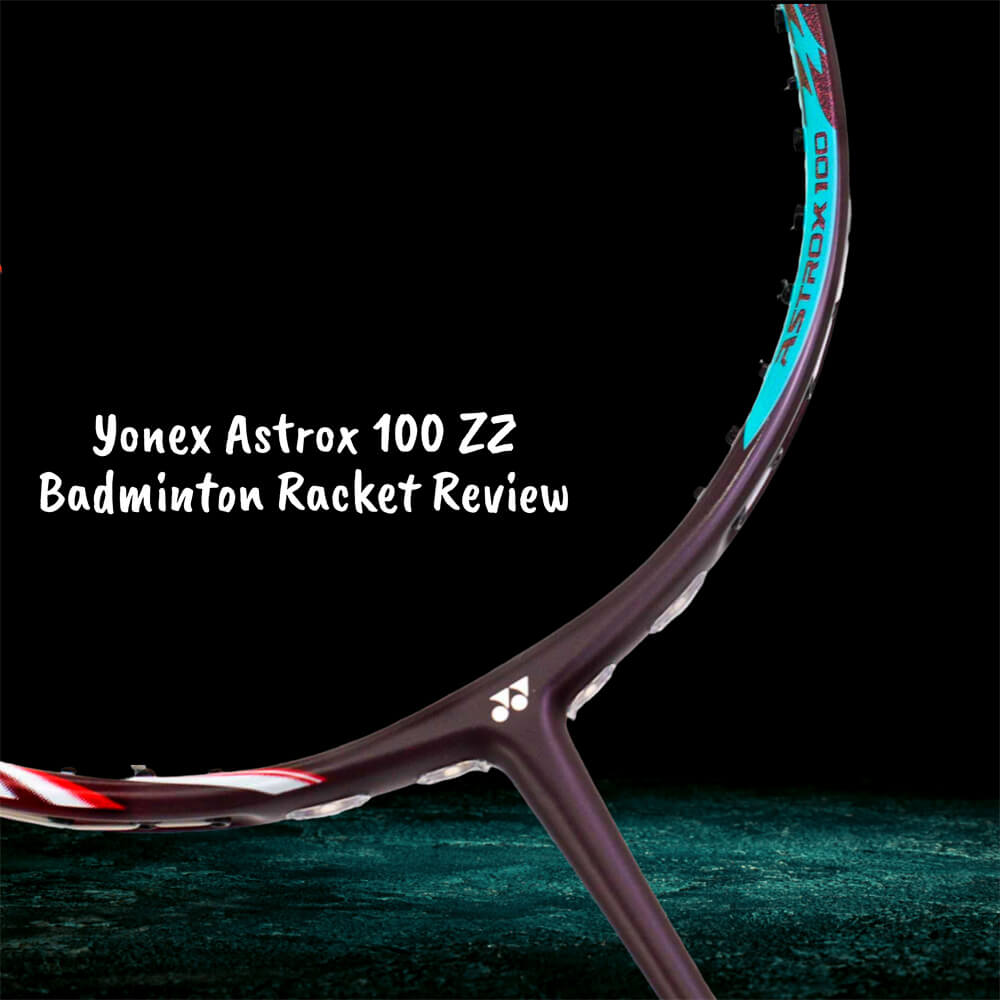 Yonex Astrox 100 ZZ Badminton Racket Review by ERR Badminton Restring Malaysia, also for Singapore, as you all love to buy rackets from Malaysia. The Yonex Astrox 100ZZ is the pinnacle of innovation and performance in the Astrox series. Do you still remember the first Astrox 99 that was used by many national players like Lee Chong Wei, the green-colored one? Now, a new one has come out again with Dark navy color.
Yonex is truly creative in making every badminton lover excited to buy their racket. The racket launch is sometimes faster than the iPhone, I feel, haha. As Yonex's this time the new flagship racket used by world champion Viktor Axelsen, it incorporates the latest technology to deliver devastating power along with pinpoint control. Actually this is Yonex racket head weight is slightly head-heavy racket can be single and doubles player
Detailed Overview of Yonex Astrox 100 ZZ Specs and Technology

As a professional stringer and a badminton coach, for this new racket 100zz review, i won't conceal anything. If it's good, I'll definitely say so. If it's not suitable for me, I'll express it in a polite way, but the final decision is yours. Yonex pulled out all the stops when designing the Astrox 100 ZZ. Here are the key technology labels for this racket:
Revolutionary Frame Design of Astrox 100ZZ Badminton Racket
The HM graphite, tungsten, and nanometric frame provides a solid feel while generating speed for faster swings.
The addition of black micro core technology reinforces the frame to deliver explosive power on contact.
The stiffer extra stiff frame gives the Astrox 100 ZZ unmatched control and precision on shots.
The isometric head frame shape increases the sweet spot by 20% over a conventional oval shape for more forgiving off-center hits.
Innovative Solid Core Shaft of Yonex Astrox 100ZZ
The shaft incorporates NM graphite for lightweight strength and stability.
A solid core design produces instant snapback for quick racket recovery after each shot. This allows better control of steep angle smashes.
The hyper slim shaft profile significantly reduces drag through the air for quicker swing speeds and reaction time.
Optimized Balance and Weight Powerful Racquet
Strategic placement of weights gives the racket a head-heavy balance for powerful smashes while maintaining maneuverability.
The 83-88g weight is lighter than previous Astrox models for improved racket handling and defense.
The 10mm longer handle provides extra reach and leverage for attacking distant shots.
The racket integrates Yonex's patented rotational generator system to centralize power in the racket head.
Ergonomic Features Review of the Astrox 100ZZ
The built-in T-joint stabilizes the frame while counterbalancing the weight of the racket head.
The redesigned energy boost cap support to your thumb directs flex and reduces twisting for accuracy, easy to get the shuttle.
The racket frame has a half matte, half glossy finish for an elegant look and reduced glare.
The Astrox 100 ZZ comes strung with high-end Yonex strings for optimal performance out of the box.
Playing Experience and Performance Yonex Astrox 100ZZ Badminton Racket
With its cutting-edge design, the Astrox 100 ZZ delivers an exceptional playing experience unmatched by previous rackets.
Powerful Smashes with Control
The solid feel of the frame generate power from compact swings. Full-power smashes feel easily controllable. The steeper smashed angle rewards proper technique with winners.
Supreme Touch and Finesse
The pinpoint precision of the badminton racquet provides excellent touch on net shots, drops, and kills. The instant snapback control makes placing delicate shots precisely a breeze.
Lightning Fast Reaction
The swift, smooth swing speed enables reacting and returning shots easily. The racket excels in rapid-fire shot exchanges around the net.
All-Court Maneuverability
Despite its head-heavy balance, the racket moves quickly to reach shots on all areas of the court. The slim design slices through the air with minimal drag.
Reduced Vibrations
The solid core minimizes vibrations and provides a very comfortable, solid feel on each shot. The racket feels lively and responsive in the hand.
Expanded Sweet Spot
The re-engineered isometric head shape offers forgiveness on off-center hits. The sweet spot feels decently sized for powerful and accurate shots.
Comparisons to Other Great Racquet of Astrox Series
The Yonex badminton Astrox 100ZZ combines the best elements of other models in the Astrox series:
The ZZ is faster swinging than the Astrox 99 while generating equal or greater power.
It provides more precision and control compared to the Astrox 88D while retaining the same head-heavy balance.
The racket has a stiffer flex than the Astrox 77 for extra power and stability on hard drives and smashes.
Final Recommendation on the Cost from Professional Stringer And Coach
Eric's Review: This Yonex badminton racket, to me, is quite stiff, especially the stringbed. Overall, even when I dropped the tension to 27lbs, it still feels stiff and heavy. Maybe it's because I've stopped playing for a while. It's better to choose the 4U version if you really like it. Actually, the feel of a racket varies from person to person, so you may want to try it.
The sound when hitting is not bad. However, if it's too stiff, it's not suitable for casual players like me. Although I'm also a badminton coach, if I don't maintain my fitness level, this racket isn't easy to use. I might get injured if I don't play for a long time and then suddenly use it when I start my casual badminton game again. The price of new Astrox 100 ZZ Malaysia price is about RM650 to 800, Singapore dollars about $180 to $220.
So for the Yonex Astrox 100ZZ represents the pinnacle of innovation in professional badminton rackets. It delivers unprecedented levels of power and control while maintaining high speed and maneuverability. For intermediate to advanced players seeking the latest cutting-edge performance, the Astrox 100ZZ stands in a class of its own. We highly recommend this exceptional racket for competitive players demanding maximal power and pinpoint precision to dominate the court.
Frequently Asked Questions
The Astrox 100 ZZ incorporates Nanometric technology which enhances the carbon fiber bonding to maximize stiffness in the frame for explosive power on smashes and clears.
The Energy Boost Cap on the Astrox 100 ZZ frame stabilizes the racket face to prevent twisting. This gives players more control and pinpoint accuracy on delicate shots like drops and net kills.
Using advanced Nanometric technology, Yonex made the Astrox 100 ZZ shaft 60% thinner than average. This hyper slim design significantly reduces aerodynamic drag for quicker swing speeds and reaction time.
The Astrox 100 ZZ shaft is made with Namd graphite containing nanotubes which increase flex and snapback after each shot. This fast recovery produces extreme power on smashes.
The isometric head shape on the Astrox 100 ZZ enlarges the sweet spot area over 20% in all directions. This expanded sweet spot gives more forgiveness for shots hit away from the racket center.
Yonex Astrox 100ZZ Knowledge Test by Our Professional Stringer
Smart Badminton Player – Advancing Your Badminton Career in Malaysia & Singapore
As a Professional Stringer and Certified Badminton Stringer, i know that skill and passion make a top player. Passing this test proves you've got the smarts and a real feel for the game. This sets you up for success in the competitive badminton courts of Malaysia and Singapore. Keep that drive going, and you're sure to have a winning badminton career ahead.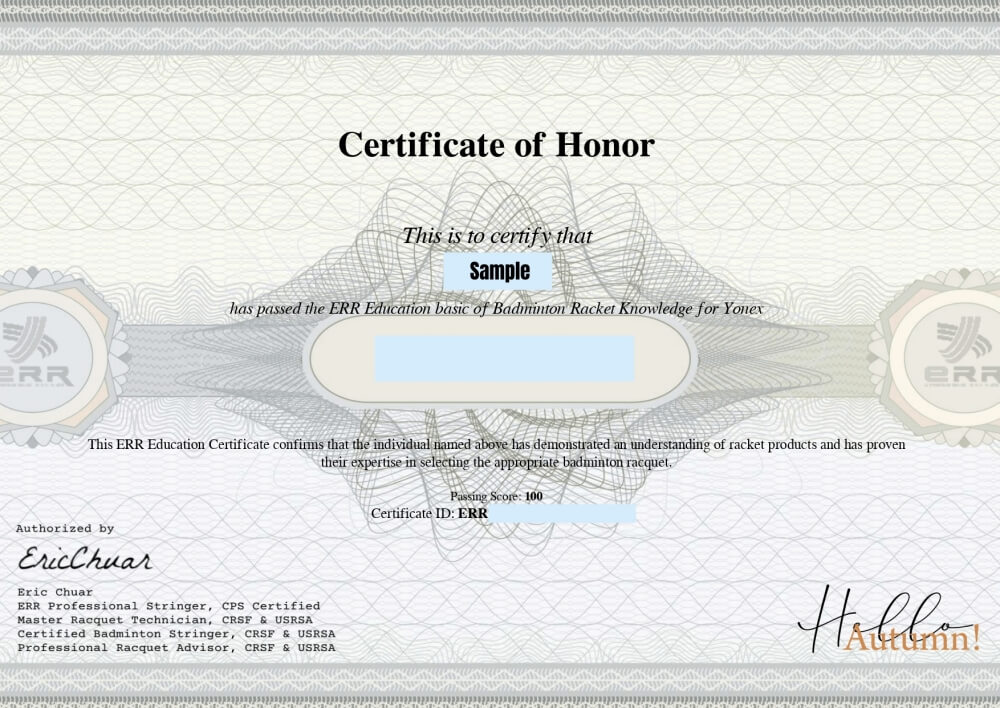 Back to the stringing home page.
Back to the stringing home page.