The Newest edition Yonex Nanoflare 800 Pro badminton racket review by ERR Badminton Restring Malaysia. Initially, when Nanoflare was first launched, it was relatively quiet as this racket is specially designed for players who prefer speed and a balanced racket. Do you remember the Armotec 900 racket from Yonex? It seems to employ a similar technique. However, for me, the specific series of Yonex badminton rackets isn't as important as how the racket feels on the court. If the racquet feels solid, only then can I choose the right one. As i don't care much about speed racket, even balanced or any marketing label, in short it just a racket.
The Yonex Nanoflare 800 Pro is the latest high-end badminton racket from the renowned Japanese brand, Yonex. Engineered for speed and power, this racket is ideal for aggressive attackers looking to overwhelm their opponents.
An Overview of the Nanoflare 800 Pro and String Malaysia and Singapore
The Nanoflare 800 Pro badminton racquet features several key technologies to deliver lightning-fast racket head speed and excellent repulsion power:
Aero Frame – The smooth, aerodynamic frame shape reduces drag for enhanced swing speed, not those type of thin frame.
Isometric Head – Creates a 7% larger sweet spot for more accurate and powerful shots.
Wide Profile – Improves stability and repulsion across the strings.
Sonic Flare System – A combination of cutting-edge high modulus graphite materials like M40X and HMG for incredible shuttle acceleration.
Ultra PE Fiber Shaft – Extremely lightweight yet highly resilient materials in the shaft improve handling.
Super Slim Shaft – Minimizes air resistance without compromising feel, can be stiff shaft.
With its head-light balance, not head heavy type, stiff flex, and abundance of speed-boosting technologies, the Nanoflare 800 Pro is designed for fast, attacking badminton, the racket frame is quite solid and looks secure too.
Detailed Specifications on Nanoflare Series Racket
Flex: Stiff
Balance: Head Light
Level: Advanced/Professional
Weight: 4U
Grip Size: G5
Length: 675mm (10mm longer than standard)
String Tension: 20-28 lbs
Frame: HM Graphite, M40X, Super HMG, Copper
Shaft: HM Graphite, Super HMG, Ultra PE Fiber
Joint: New Built-in T-Joint
Colors: Deep Green
Made In: Japan
Yonex Nanoflare 800 Racket Playing Experience and Performance
Here's an in-depth look at how the Nanoflare 800 Pro badminton racquet performs in key areas:
Power
The Nanoflare 800 delivers tremendous power thanks to technologies like its aero frame, M40X graphite, and Super HMG. The head-light balance also promotes fast swing speed for smashing power. Wide profile adds stability for aggressive shots.
Control
Control is enhanced by the Isometric head shape that enlarges the sweet spot by 7%. This makes it easier to hit accurate shots even on fast exchanges. The shaft dampens vibrations for a more controlled feel on contact.
Maneuverability
With its super slim shaft and 10mm longer length, the Nanoflare offers excellent reach and quick racquet head acceleration. The slim design reduces air resistance for greater maneuverability and increased swing speed.
Comfort
The 4U weight is suitable for most players to wield comfortably in these Yonex nanoflare series. Seldom do people choose 3U, as the Nanoflare series is designed for balance and increased speed. The G5 grip size fits average-sized hands well. Technologies like the Energy Boost Cap improve comfort during play.
Ideal Players Who Should Buy Yonex Nanoflare 800
The Yonex Nanoflare 800 Pro is best suited to:
Intermediate to advanced badminton players
Aggressive attacking style players
Singles and doubles players
The stiff flex and fast feel of the racket complements players with an aggressive, offensive style of play. The technologies provide the power, control and speed for winning shots.
Pros and Cons of Badminton Racket NF800 Pro
Pros
Lightning fast racket head speed like a good smash
Powerful smashes and drives
Large sweet spot for accuracy
Reduced air resistance
Excellent vibration dampening
Cons
Stiff flex may cause fatigue
Not for defensive players
Price Little Expensive
Final Recommendation on the Cost from Professional Stringer And Coach on Yonex Nanoflare 800 Pro
Eric's Review: This racket is actually advertised as headlight, and it really makes the racket feel quite solid. Sometimes, for those of us who are used to head-heavy rackets, switching to a balanced racket might feel a bit unfamiliar. However, I will still use this racket because sometimes our hands don't have full energy every day. If I have wrist pain or an injury, I will switch to this Yonex Nanoflare 800 Pro as it's quite balanced and lightweight.
The frame hitting sound is also quite solid. Although when I initially switched to a lighter head racket, my smash might not have been as sharp, after using it for some time, I can probably get the feel and perform as normal. The price is about RM650 to RM800, and in Singapore, it's about SGD200 to SGD250.
For intermediate to advanced players with an aggressive playing style, the Yonex Nanoflare 800 Pro is an excellent choice. The abundance of speed and power boosting technologies allows you to hit lightning-fast shots to overwhelm opponents. From all-out smashes to quick drives and angled shots, the Nanoflare 800 Pro delivers the speed and control aggressive players need.
Overall Rating: 4.5/5
I hope this detailed review gives you a comprehensive look at the specs, technology and playing experience of the Yonex Nanoflare 800 Pro badminton racket. Let me know if you have any other questions!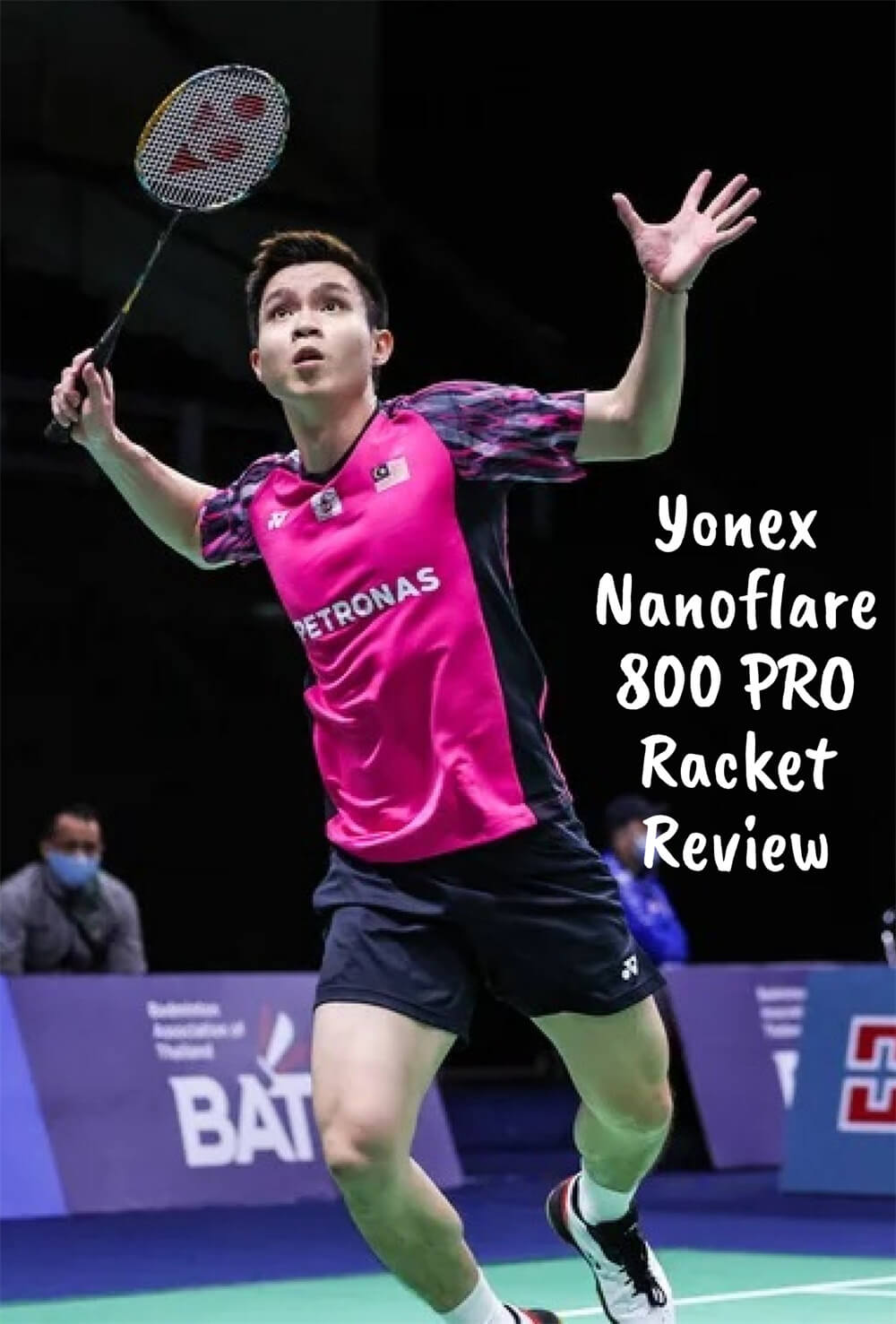 Frequently Asked Questions
The Nanoflare 800 Pro is optimized for intermediate to advanced level players with an aggressive and attacking style of play. Its technologies deliver the speed, power and control needed for offensive play in both singles and doubles matches. The stiff flex also suits aggressive players.
Key technologies like the Aero Frame, Sonic Flare System, Ultra PE Fiber shaft, and Super Slim Shaft boost speed and power. The Aero Frame reduces drag for faster swing speed. The Sonic Flare System provides maximum shuttle acceleration via cutting-edge graphite materials. The Ultra PE Fiber shaft is lightweight yet highly resilient. And the Super Slim Shaft minimizes air resistance.
Power comes from technologies like the head-light balance for quick swings, the Aero frame shape, use of M40X graphite, and the wide profile frame for stability on aggressive shots. The frame materials provide repulsion power and the balance promotes fast racquet head speed.
The Isometric head shape enlarges the sweet spot by 7% compared to a conventional round head shape. This allows for more accurate shot placement and control even during fast exchanges. It also provides power across a larger sweet spot area.
The Nanoflare 800 Pro comes in a 4U weight, which is suitable for most players. The G5 grip size will fit average-sized hands very well. Yonex does not offer additional size options for this model.
Yonex Nanoflare 800 PRO Knowledge Test by Our Professional Stringer
Smart Badminton Player – Advancing Your Badminton Career in Malaysia & Singapore
As a Certified Badminton Stringer and Master Racquet Technician, i get how much it takes to win at badminton. Getting all the answers right shows you're smart and really get the game. It means you've got what it takes to make it big in Malaysia and Singapore's badminton scene. Keep playing hard and loving the game, your badminton adventure is just getting started.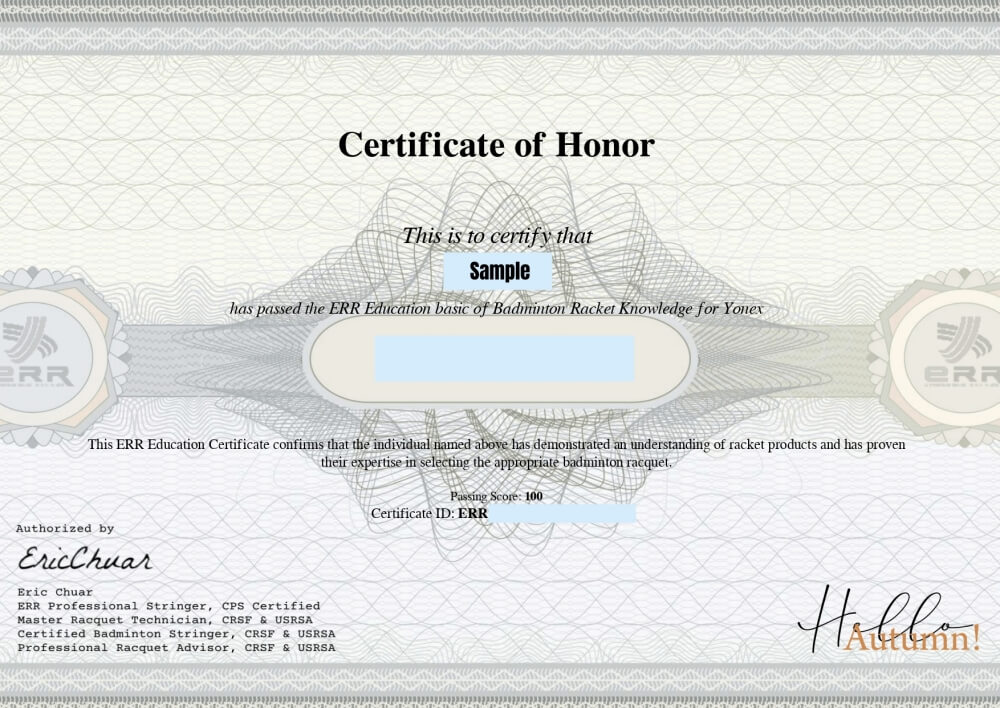 Back to the stringing home page.