Yonex Nanoflare 800 Tour Badminton Racket Review by ERR Badminton Restring Malaysia. The Yonex Nanoflare 800 Tour is an innovative new badminton racket designed for power and control. Have you heard of the Nanoflare series? Actually, this series seems to be the second generation of the Armotec line.
As one of the leading brands in badminton equipment, Yonex consistently produces high-quality rackets suited for players of all skill levels. In this in-depth review, we will examine the key technologies, performance, and strengths and weaknesses of the Nanoflare 800 Tour model.
Yonex Nanoflare 800 Tour Specs and Innovative Technologies Review
The Nanoflare 800 Tour racket has the following specs:
Weight: 4U (83g avg) and 3U (88g avg)
Balance: Head light
Frame: Nanocell NEO graphite, HM graphite, copper
Shaft: HM graphite, Super HMG
Length: 10mm longer than standard Yonex rackets
String Tension: 4U – 20-28 lbs, 3U – 21-29 lbs
Color: Original Deep green
This racket utilizes several groundbreaking technologies developed by Yonex:
Nanocell NEO – This resilient yet flexible high new graphite material provides a controlled flex for additional power and feel.
Isometric Head Shape – The square shape enlarges the sweet spot by 7% for more control and stability.
Sonic Flare System – The M40X graphite generates maximum acceleration for lightning-fast smash power.
Super Slim Shaft – Vastly reduces air resistance for faster swing speed and maneuverability.
Energy Boost Cap – Prevents shaft twisting and increases stability for better control.
Super HMG – This ultra strong new graphite material further boosts power and stability.
REXIS Shaft – Precisely molded for optimized energy transfer and performance.
Built-in T-Joint – Eliminates head twisting and increases overall control.
Performance and Feel of Badminton Racket
With its innovative design features, the Nanoflare 800 Tour provides a blend of power, control, and smooth feel:
Power – The Sonic Flare system provides incredible smash power with fast acceleration. The frame is capable of withstanding high-tension stringing for additional power.
Control – The Isometric head shape and Energy Boost Cap give it great control and stability on touch shots and net exchanges.
Maneuverability – The Super Slim shaft and head-light balance allow faster swing speeds and reaction time.
Comfort – The flexible Nanocell NEO material and REXIS shaft absorb vibrations well for a smooth and comfortable feel.
Balance – With a 4U and 3U weight option, players can choose between a maneuverable head-light balance or a more stability-focused even balance.
Strengths and Weaknesses of Yonex Nanoflare 800 Tour Badminton
Strengths
Massive smashing power from any spot on the court
Excellent control and stability for net shots
Large sweet spot provides forgiveness on off-center hits
Outstanding touch and finesse on drop shots
Weaknesses
Stiffness takes some adjusting from flexible rackets
Heavier than ultralight rackets under 80g
Not as quick and maneuverable as head-heavy rackets
Recommended Player Types and Customer
The Nanoflare 800 Tour is best suited for:
Aggressive baseliners who attack with strong smashes
Doubles specialists who value control at the net
Power hitters looking to add control and stability
Intermediate to advanced players ready for a stiffer racket
It may not be ideal for beginners or players looking for a super lightweight and maneuverable racket.
Comparable Yonex Rackets and Nanoflare 800 Tour Badminton Racket
The Nanoflare 800 Tour compares closely to these other top Yonex rackets:
Yonex Arcsaber 11 – Similar blend of power and control but more flexibility
Yonex Astrox 99 – Heavier head and more smash power but less stability
Yonex Duora 10 – Greater maneuverability but less power and control
Nonoflare 800 Tour Conclusion and Recommendation by Professional Stringer and Coach
Eric's review: Actually, this badminton racket, when compared to the Yonex Nanoflare 800 PRO, is quite similar, to be honest. However, it is lighter, but the feel isn't as good as the NF800PRO. Nonetheless, the repulsion, flexibility, and wide profile frame design are all about the same. In terms of hitting the shuttle and the repulsion, if you opt for professional stringing service, it's also about the same.
The price of this racket is much cheaper than the Nanoflare 800 PRO, at around RM650 to RM800, and the Singapore price is about SGD 230. For me, I have to say that this racket is just for those times when my hand hurts after using my Li-Ning N903, which is an old, head-heavy racket.
With its innovative wide profile frame design and technologies, the Yonex Nanoflare 800 Tour provides an impressive combination of power, control, and stability. It excels at powerful baseline smashing while also offering great finesse at the net. We recommend it primarily for intermediate to advanced players seeking a blend of offense and control. Aggressive attacking players and doubles specialists will appreciate the excellent power and large sweet spot this racket provides. While it may be too stiff and heavy for ultra-competitive singles players, the Nanoflare 800 Tour is a top choice for club players looking to add power and stability to their game.
Frequently Asked Questions
The Nanoflare 800 is ideal for intermediate to advanced aggressive baseliners, doubles specialists, and power hitters looking to add control and stability to their game.
Key technologies like Nanocell NEO graphite, Sonic Flare System, and Isometric head shape give the Nanoflare 800 more flex, acceleration, and an enlarged sweet spot for power and control.
The Nanoflare 800 offers a blend of power, control and stability similar to the Arcsaber 11 but with more smash power than the Astrox 99 yet less maneuverability than the Duora 10.
Key strengths are the massive smashing power, control and feel for net shots, large sweet spot, and excellent touch on drop shots.
The Nanoflare 800 is likely too stiff, heavy, and advanced for beginner players. It's better suited to intermediate or advanced players looking for more power and control.
Yonex Nanoflare 800 Tour Knowledge Test by Our Professional Stringer
Smart Badminton Player – Advancing Your Badminton Career in Malaysia & Singapore
As a Certified Badminton Stringer, i see how much work and skill goes into being great at badminton. Scoring top marks means you're not just clever, you really understand the game. It shows you're ready to shine in Malaysia and Singapore's exciting badminton spots. Keep loving the game and working hard, it's your ticket to a great badminton future.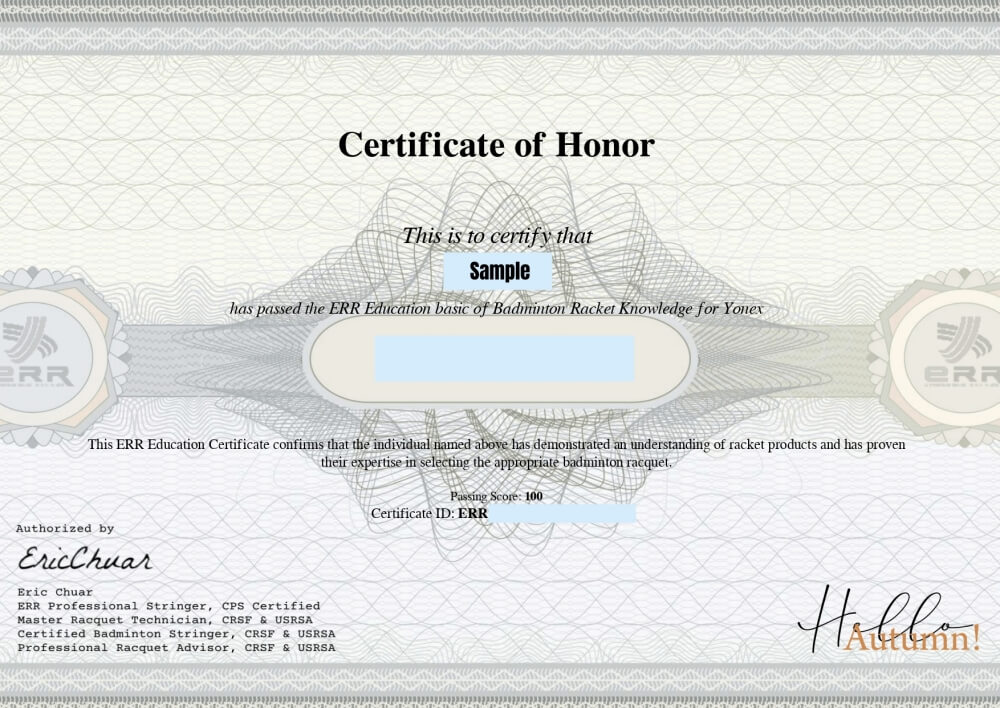 Back to the stringing home page.