Yonex Nanoflare 1000Z badminton racket review by ERR Badminton Restring Malaysia. Yonex has always pushed the boundaries when it comes to their premium Z series rackets. Past models like the Arcsaber Z-Slash, Voltric Z-Force 1, and Nanoray Z-Speed have all helped badminton players break world records and taken their game to the next level. Especially after Covid, they launched many new strings and rackets for smash, tour, Nanoflare 700, and more.
The latest addition, yonex has combined the new racket Yonex Nanoflare 1000Z in 2023, aims to continue this tradition of high-performance equipment designed for speed and power. After extensive testing and hours on the court, I believe this racket delivers on that promise. By showcasing this racket with a compact frame, Sonic Flare system, Speed-Assist bumper, and Ex-Hyper MG technology, it should be a pretty good racket. While it takes time to adjust to, advanced players will appreciate the Nanoflare 1000Z's unmatched blend of quickness and control.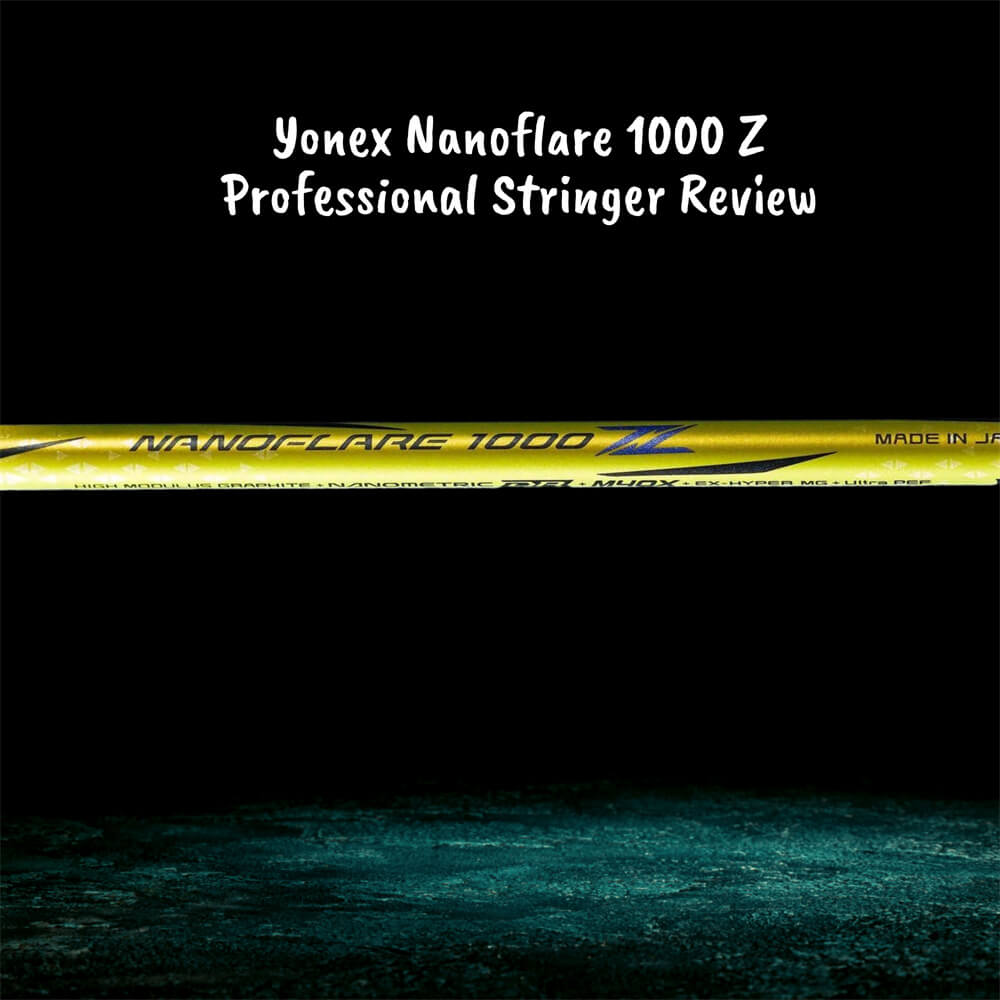 First Impressions of the Yonex Nanoflare 1000Z Badminton Racket
Straight out of the box, the Nanoflare 1000Z makes a striking impression with its bold lightning yellow color scheme and shiny holographic shaft. Some subtle design touches also stand out:
The massive T-joint provides stability and reassurance at impact
Easter egg decals on the frame are a fun, unexpected detail
The glossy "Z" logo on the shaft makes a statement this is a special racket
With a frame thickness of 12.7mm, this is the chunkiest Yonex I've ever measured. That extra mass comes in handy on powerful shots. The handle is also quite long at 18cm, ideal for two handed players.
Clearly, the Nanoflare 1000Z badminton racquet means business as a state-of-the-art racket built for competition.
Technical Specifications and Features of Yonex Nanoflare 1000
As a premium racket handcrafted in Japan, the Nanoflare 1000Z utilizes the highest quality materials and technology:
Extra stiff flex – For maximum snapback and explosive power
Compact head size – Increased swing speed while retaining control
Recessed grommets – Improve aerodynamics and racket speed
Speed assist bumpers – Reduce frame warping at impact for better repulsion
Weighing in at 4U, the 1000Z yonex badminton racket may seem surprisingly light at first for such a head-heavy looking frame. But reducing mass helps deliver on the promise of lightning quick racket head speed. Advanced carbon materials like Nanometric DR and M40X optimize the power-to-weight ratio.
Custom Stringing and Setup for Yonex Nanoflare 1000 Z Badminton Racket
I strung my test racket with Yonex BG66 Ultimax strings at 26/28 lbs tension on my reliable Yonex Protech 8 Series Stringing Machine. The tight weave held up impressively well at this professional level tension. For even more explosive power, Yonex recommends pairing the 1000Z with their Exbolt 65 strings to provide fastest smash.
The 4U version is rated for tensions of 20-28 lbs, while the 3U can handle 21-29 lbs. For better control, I'd advise starting at the lower end of those ranges if you are still getting used to the crisp response.
Adding some strips of racket tape built up the handle and provided a better counterbalance to the head-light balance. This improved stability on off-center hits.
Playing Performance and Characteristics of Players with Yonex Nanoflare 1000Z Racket
After the initial adjustment period, the Nanoflare 1000 series proves itself as a top tier racket that lives up to the Z series hype. Here are some playing characteristics that stood out:
Lightning quick response – The shuttle really shoots off the strings with explosive speed
Crisp and stiff feel – You can feel the ball bite with instant feedback
Ideal for doubles – Aggressive intercepting and counterattacking shines
Punishes technique errors – Only precise contact and timing results in control
The 1000Z takes time to master compared to other Yonex rackets. At first, everything seemed to spray wildly off the strings as I mistimed my swings. But dialing in the timing reveals the unmatched blend of speed and control this racket provides in the hands of a skilled player.
The stiffer frame does demand near perfect technique. But once grooved in, the 1000Z excels on defense, quick reaction shots, and absolutely rockets drop shots cross-court. My doubles partner appreciated the added firepower!
Comparison to Other Popular Yonex Rackets
It's tempting to compare the 1000Z to other famous Yonex models. But it has its own unique playing characteristics:
Not as head-heavy as the Voltric Z-Force 2 and Astrox 100ZZ
Faster swing speed than Astrox or Arcsaber
Crisper feel than the Nanoray Z-Speed
This demonstrates the Nanoflare 1000Z racket design carves out its own niche. While not quite as forgiving or powerful as some other options, its blend of speed, stiffness, and control is highly appealing to aggressive attacking players.
Final Verdict from Our Professional Badminton Stringer for New Yonex Nanoflare 1000Z
Eric's Review: This new Nanoflare high-end Yonex racket at first I thought it was quite head-heavy for 4U, but ended up feeling quite nice to use, just right. No wonder the Indian player Lakshya Sen uses this; it's quite stiff, but the flexibility is just right, slightly heavier than the Arcsaber 11. But the frame design with the stiff shaft makes the Nanoflare 1000z lightning fast.
The new Nanoflare series 1000Z 4u and 3u requires several hours of adjustment time as you learn to control its crisp power and explosive speed. Patient, persistent players will be rewarded with surgically precise attacks and record for the fastest smash. Less experienced competitors may want to try a more forgiving model first.
For those seeking the ultimate attacking weapon, the 1000Z belongs in your bag. Yonex has delivered yet again with this Z series entry, upholding their reputation for boundary-pushing performance.
Frequently Asked Questions
The Nanoflare 1000Z uses Nanometric DR technology in its frame which combines firm shuttle hold and high repulsion for extra power and stability.
The ISOMETRIC square-shaped head increases the sweet spot size by 7% compared to a conventional round frame, providing greater control without sacrificing power.
Ultra PE Fiber is extremely lightweight yet strong enough to withstand high forces. This allows for maximum shock absorption and stability in the shaft.
The Energy Boost Cap allows the shaft to flex which ensures maximum effect of the Namd graphite material, increasing stability by preventing the shaft from twisting.
The Speed Assist Bumper on the lower frame contains rigid material that resists warping, reducing frame distortion to improve repulsion andpower.
Yonex Nanoflare 1000Z Knowledge Test by Our Professional Stringer
Smart Badminton Player – Advancing Your Badminton Career in Malaysia & Singapore
With my experience as a Certified Badminton Stringer and Master Racquet Technician, I know that being good at badminton takes serious skills and hard work. Getting a perfect score shows you're not just smart, but you really get the game. It means you're set to do great in Malaysia and Singapore's tough badminton scene. Keep up the passion and hard work to build a great badminton life.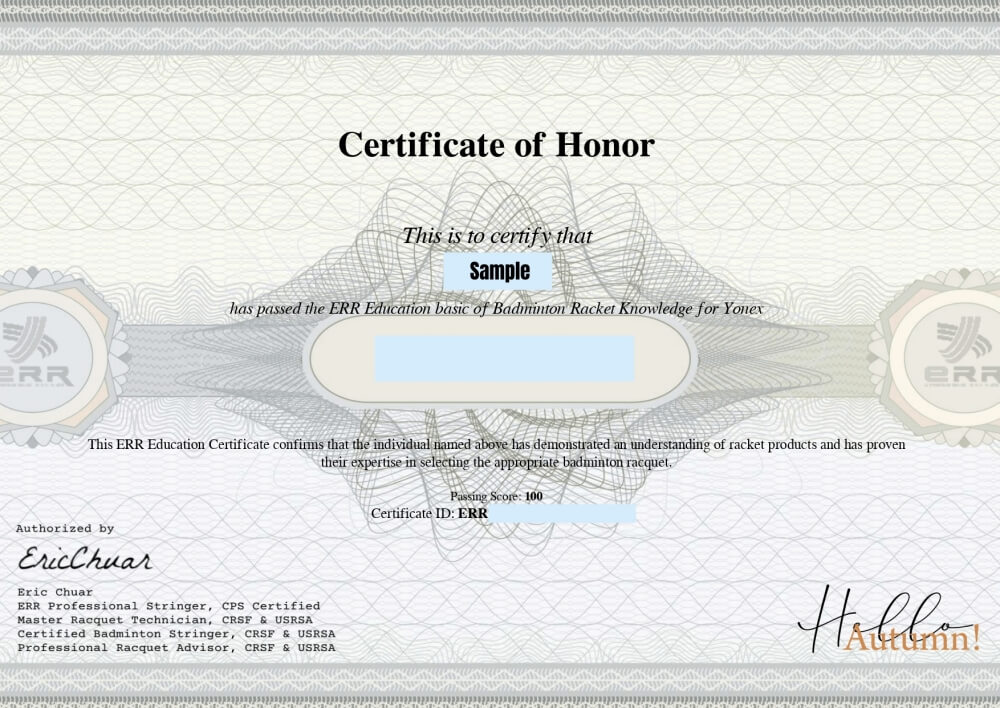 Back to the stringing home page.