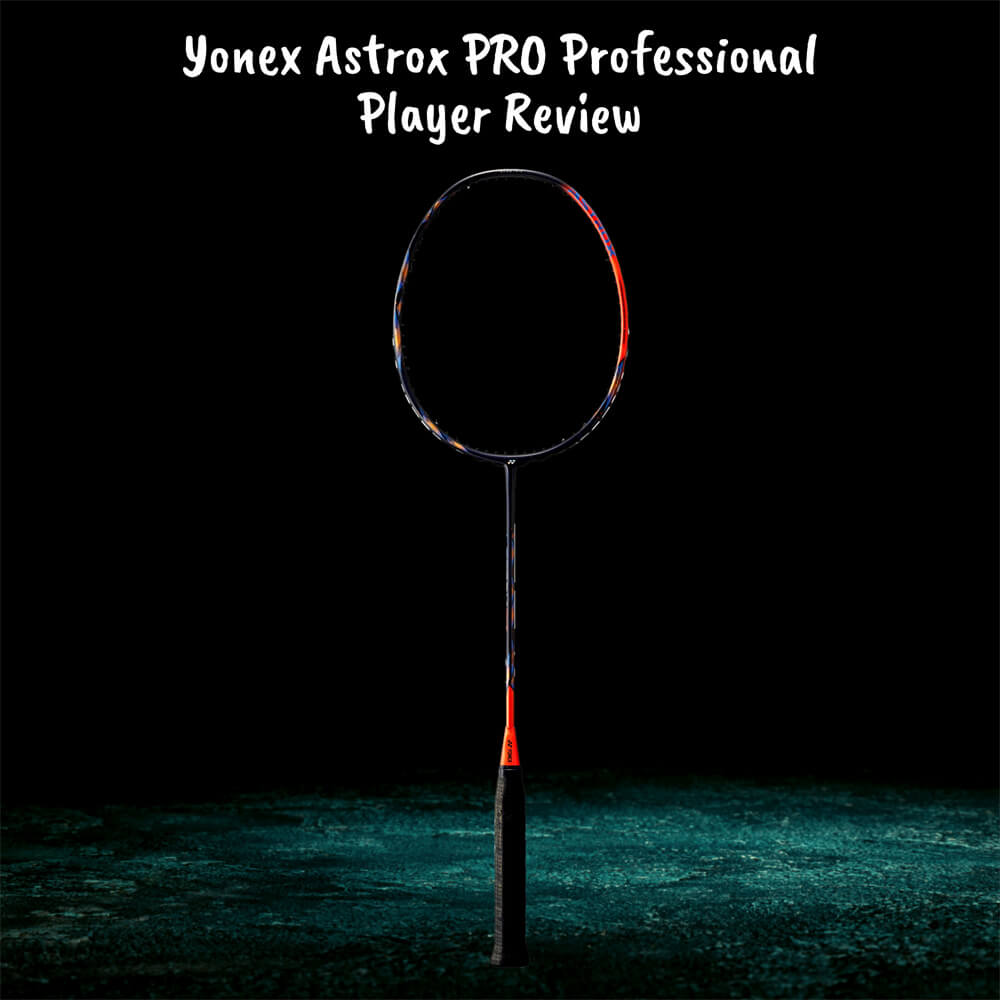 ERR Badminton Restring Malaysia presents a review of the latest Yonex Astrox 77 Pro badminton racquet edition. The new Yonex Astrox 77 PRO is the latest iteration of the ever-popular Astrox 77 model in 2021 head-heavy Astrox loved by many players and professionals alike. In this comprehensive review, we'll take an in-depth look at the specs, racket head, technologies, playing experience, and suitability of the Astrox 77 PRO to help you determine if this racket is right for your game.
Introduction to the Background of Yonex Astrox 77 PRO
Yonex is a trusted brand known for producing high-quality badminton racquets used by top players worldwide. The Astrox series sits at the pinnacle of Yonex's racket lineup, incorporating the latest innovations and materials. Models like the Astrox 88S PRO and Astrox 99 PRO have proven popular with professional players seeking control and power.
The Astrox 77 PRO updates the previous Astrox 77 model with new features while retaining its hallmark versatility and feel. It's designed to provide an ideal balance of pro felt, good power, power smash, control, and smoothness for intermediate to advancing players.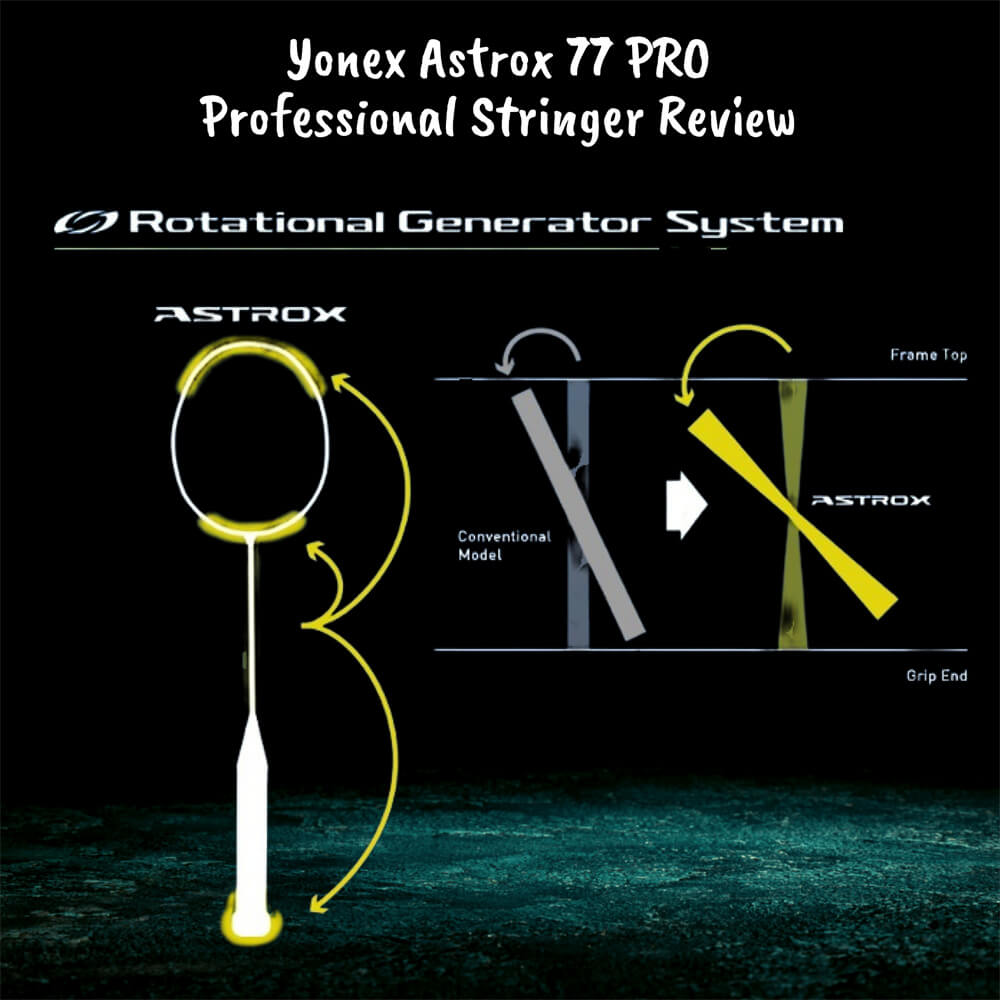 Key Specs and Technologies of Yonex Astrox 77 PRO Badminton Racket
The Astrox 77 PRO integrates useful updates while keeping the frame design and balance fans expect. Here are the notable specifications and technologies:
Frame:
HM Graphite + Namd Material – This revolutionary new graphite greatly improves flex and energy return on impact.
AERO+BOX Shape – Combination of box and aero shapes for solid feel and fast swing speed.
ISOMETRIC Head – Enlarges the sweet spot by 7% for added forgiveness and control.
Shaft:
Super Slim Profile – Drastically cuts air resistance for quicker swings.
Flex Technology – New Flex Fuse resin provides better shock absorption for a comfortable feel.
Weight Distribution:
Rotational Generator System – Strategic balance for smooth transitions between shots.
Energy Boost Cap:
Uniquely designed to maximize flex while stabilizing the frame face.
Playing Experience and Performance for Astrox 77 Pro Review
We thoroughly play tested the Astrox 77 PRO to evaluate key elements of its playing experience:
Power
Easier power generation than higher-end Astrox models. Suitable even for intermediate players.
Flex Fuse resin and Namd graphite provide excellent energy return from shots.
Power level falls below Astrox 88/99 models but sufficient for all-around play.
Control
Precise shot placement aided by rotational balance and ISOMETRIC sweet spot.
Slim, fast feel allows quick adjustments for defensive shots.
Maneuverability
Super lightweight shaft and aerodynamic frame produce very fast swing speed.
Quick racket reflexes to reach shots and change directions.
Comfort
Flex Fuse resin in the T-joint absorbs vibrations for comfortable arm-friendly feel.
Smooth, fluid sensations on both forehand and backhand shots.
Recommended Players to use Astrox 77 Pro in Malaysia and Singapore
With its blend of speed, power, and control, the Astrox 77 PRO is ideal for:
All-round players seeking balance in all aspects of play, easy to play.
Intermediates progressing to faster rackets with more power.
Control-focused players who find the Astrox 88/99 too stiff.
Doubles players who rely on quick reflexes at the net.
Strings and Tension for Astrox 77 PRO
Yonex recommends:
Control Focused Players: Yonex Aerobite Strings, BG80, 19-27 lbs tension
Power Hitters: Yonex Exbolt 65 Strings, 20-28 lbs tension
Lower tensions in the 19-25 lb range enhance power and comfort. Higher tensions from 25-28 lbs provide extra control and spin.
Weighing the Pros and Cons of Yonex Astrox 77 PRO
Pros
Great all-around balance of power, control, and speed.
Lightning fast swing speed and maneuverability.
Expanded sweet spot provides forgiveness on off-center hits.
Cons
Lacks the extreme power of higher-end Astrox models.
Pro version only slightly different from original Astrox 77.
Comparing the Astrox 77 to the New Astrox 77 Pro
In my previous rackets reviewing the Yonex Astrox 77 badminton racquet, i covered the key features and performance of this popular all-around model. Now with the release of the updated Astrox 77 Pro, many players are wondering exactly how the two compare. Here I'll highlight the main similarities and differences between the Astrox 77 and Astrox 77 Pro:
Visual Differences
The Astrox 77 originally came in bright yellow and metallic blue color options. The new Astrox 77 Pro introduces a glossy "High Orange" scheme with purple decals. While the color change may not affect performance, the Pro has a sleek, professional aesthetic.
The Astrox 77 Pro racket Yonex also now features the Energy Boost Cap Plus found on other high-end Yonex rackets. It has a flatter profile than previous generations for a cleaner look.
Flex Fuse Technology
A key upgrade not visible to the eye is the integration of Flex Fuse resin in the throat of the racket. This shock-absorbing resin enables better vibration damping for a more comfortable and arm-friendly feel on shots.
Measurable Specs
In terms of measurable specs like head size, weight, balance, and frame thickness, the Astrox 77 Pro remains very similar to the previous Astrox 77. The shaft diameter increased slightly from 7mm to 7.1mm but this minute change doesn't impact performance.
Playing Experience
When play testing the Astrox 77 Pro against the Astrox 77, I found the Pro to feel marginally faster and softer. The Flex Fuse resin seems to add some extra flex and comfort. In terms of power and control, the Pro plays practically identical to the standard Astrox 77.
Overall, the Astrox 77 Pro retains the buttery smooth, easy playing characteristics of the Astrox 77. It provides a touch more speed and a softer, more arm-friendly feel. For Astrox 77 users happy with their current racket, the upgrade may not be warranted. But those seeking just a slight performance boost will appreciate the Pro edition.
Professional Stringing and Tension
I strung both rackets with my usual Yonex Aerobite strings at 27lbs mains and 29lbs crosses. Both rackets string up smoothly without any problems. Yonex suggests the same string and tension recommendations apply to the Pro as the original Astrox 77.
The Verdict by our Professional Stringer
Yonex succeeded in taking an already great all-around racket in the Astrox 77 and enhancing it just a bit further. While the upgrades aren't huge, the Astrox 77 Pro offers incremental improvements in speed, power, and arm comfort. For new purchasers, it's worth choosing the Pro. But Astrox 77 users shouldn't feel pressured to switch unless seeking marginally more flex and responsiveness. Both versions of the Astrox 77 shine as ideal control-focused rackets suitable for club players to pros.
Let me know if you need any other specific comparisons between the Astrox 77 and Astrox 77 Pro! I'm happy to expand this section further with additional details and insights from play testing both rackets extensively.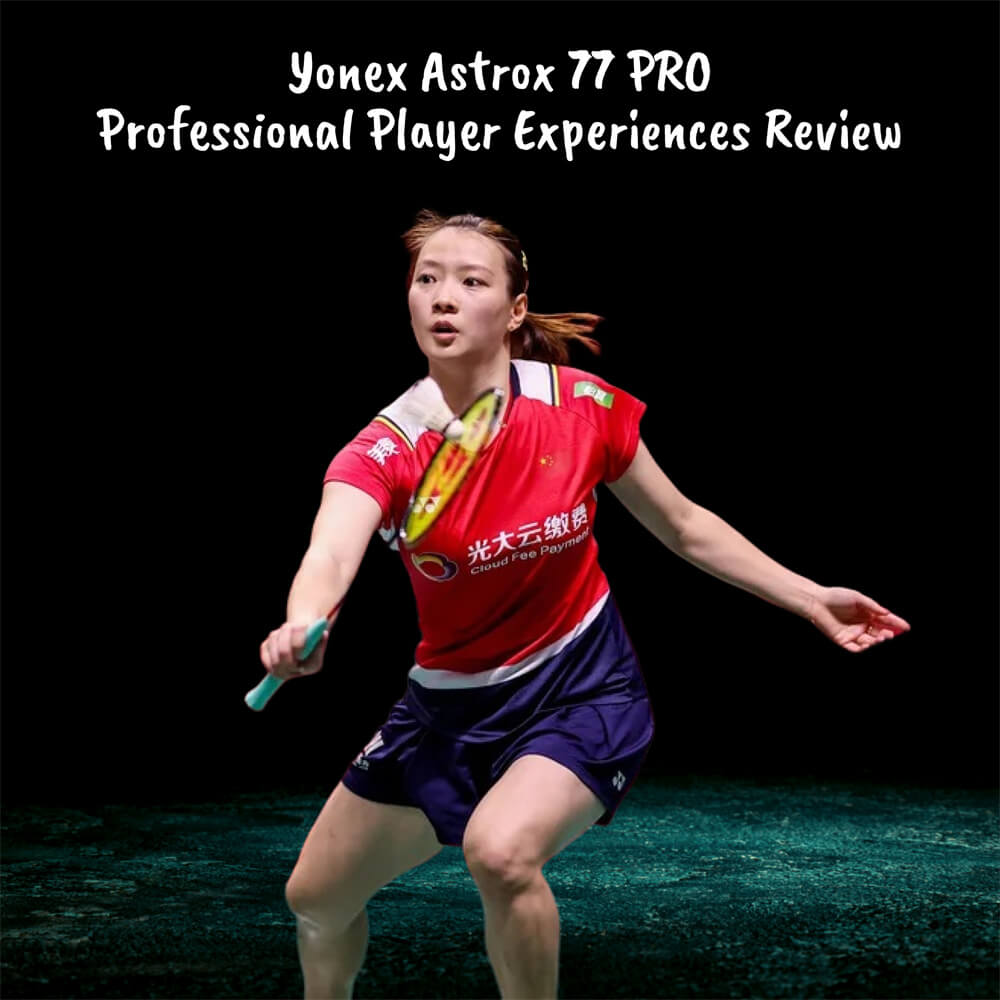 Star Given and Review from Our Professional Coach and Stringer for Yonex Astrox 77 Pro
Eric's Review: This new racket actually feels different compared to the first version of the Astrox 77. I prefer this one more due to its stiffness and repulsion, everything is just nice. At that time, everyone knew the Astrox 77 was merely a mid-range racket designed to support the Astrox 88D and Astrox 88S, and the Astrox 99 kept upgrading. Yonex's marketing is quite impressive, to be honest. Fortunately, this racket really is not bad; it's not too stiff like before, the head weight is just right, and it's quite easy to generate power with a smash. You see, this racket is used by professional players, now so many players are using it, player like An Se Young, Chen Yu Fei, Muhammad Rian Ardianto, Fajar Alfian, Huang Ya Qiong, Huang Dong Ping. mostly women, and I don't know why, but there must be a reason they favor this racquet. I also like the racket feels, perfect racket for women maybe, but I'm not a woman, haha.
As a professional badminton coach and stringer, the Yonex Astrox 77 PRO receives our rating of 4.0/5 stars as a top notch all-around racket. While it doesn't match the plow-through power of the Astrox 88/99, it provides outstanding blend of speed, precision, repulsion, and arm-friendly comfort. The upgrades in the Pro version are relatively minor but still deliver a slightly faster, softer hitting feel. For intermediate and advancing players seeking an agile, forgiving racket to take their game to the next level, the Astrox 77 PRO is an excellent choice.
Frequently Asked Questions of Yonex Astrox 77 PRO
The Astrox 77 Pro has an even balance and all-around medium flex, giving it a very smooth and fluid feel on both forehand and backhand strokes. It provides a nice blend of power, control and stability without feeling too stiff or flexible. Many players describe the Astrox 77 Pro as buttery smooth and easy to swing.
The Astrox 77 Pro has an even balance, meaning the weight is distributed pretty evenly throughout the head and shaft. This gives it great versatility for different playing styles rather than an extreme head light or head heavy configuration.
With its forgiving sweet spot and fast maneuverability, the Astrox 77 Pro is ideal for intermediate players looking to advance their skills as well as developing juniors. The blend of control and power also suits competitive club players. It gives a bit more power than a beginner racket but doesn't have the stiff feel some advanced rackets have.
The Astrox 77 Pro comes with a choice of 3 grip sizes: G4 (4 1/4 inches), G5 (4 3/8 inches) and G6 (4 1/2 inches). The grip size should be chosen based on the player's hand size and personal comfort. Those with smaller hands may prefer G4 while larger hands suit G5 or G6.
The versatile and quick feel of the Astrox 77 Pro makes it a great option for both singles and doubles play. The fast swing and enhanced maneuverability help when moving around the court for singles. The enlarged sweet spot also provides the forgiveness needed at the net for doubles.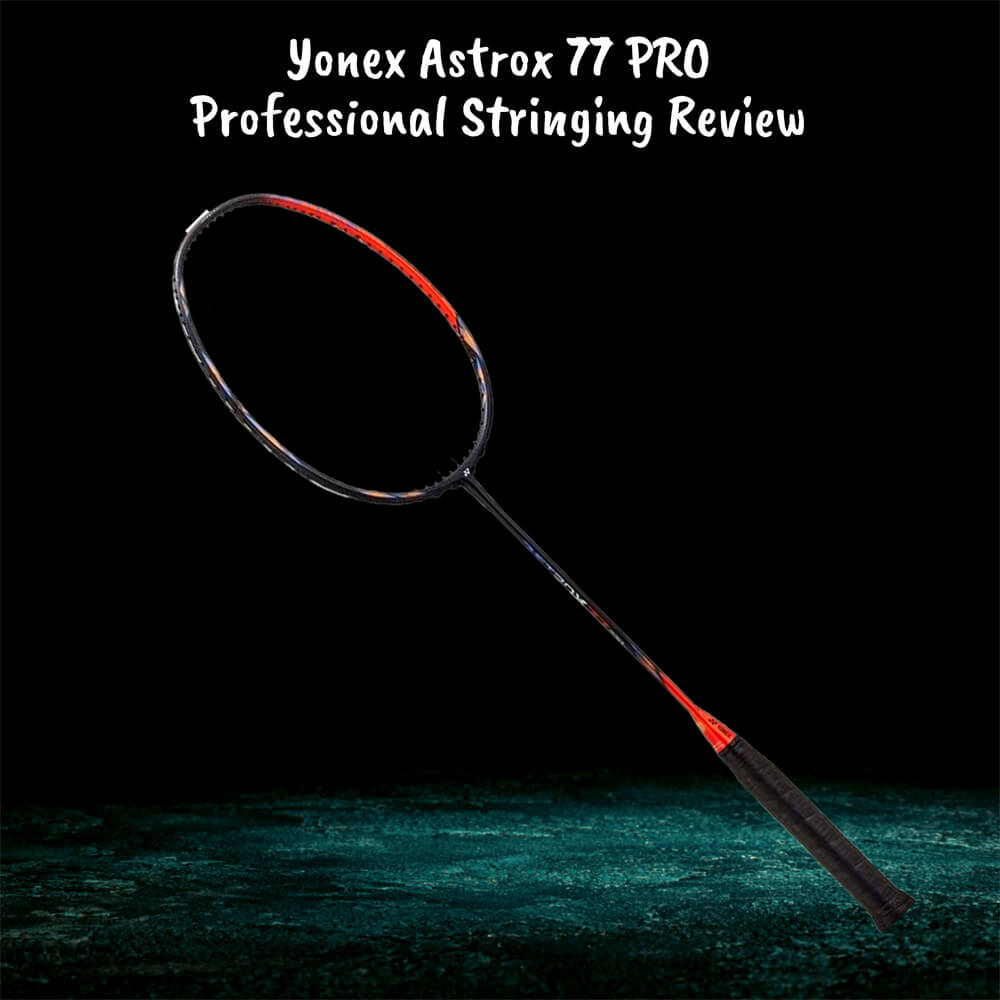 Yonex Astrox 77 Pro Knowledge Test by Our Professional Stringer
Smart Badminton Player – Advancing Your Badminton Career in Malaysia & Singapore
As a Professional Stringer and Master Racquet Technician, i understand the importance of skill and dedication in badminton. Achieving full marks in this assessment demonstrates not just intelligence, but also a deep understanding of the game. This accomplishment positions you as a smart badminton player, ready to excel in the competitive arenas of Malaysia and Singapore. Keep nurturing this passion and commitment to ensure a thriving career in badminton.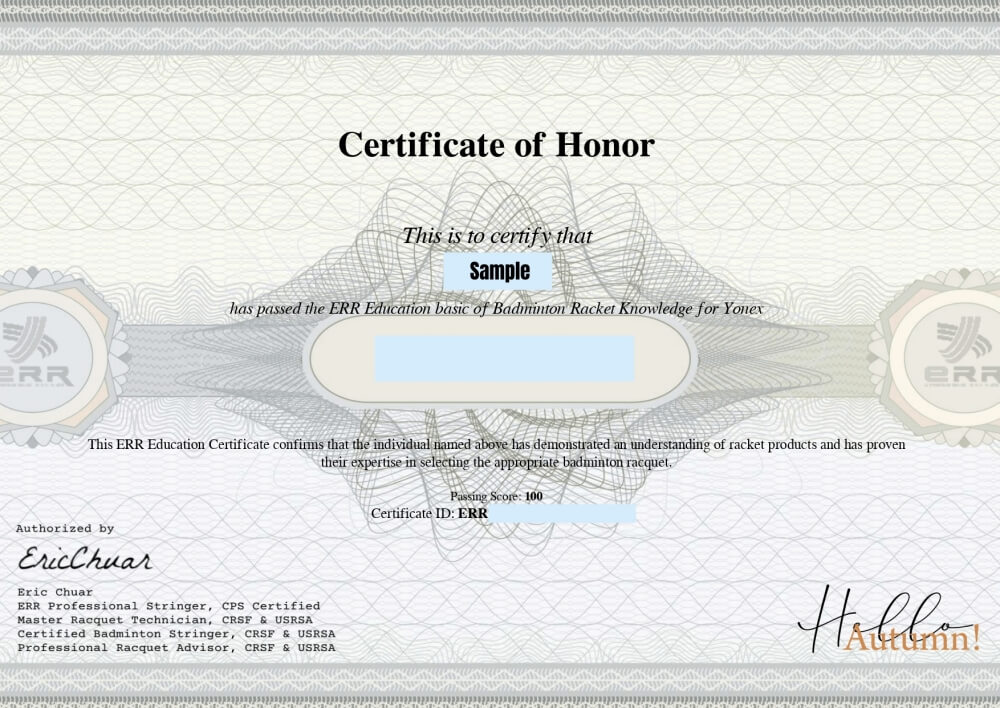 Back to the stringing home page.