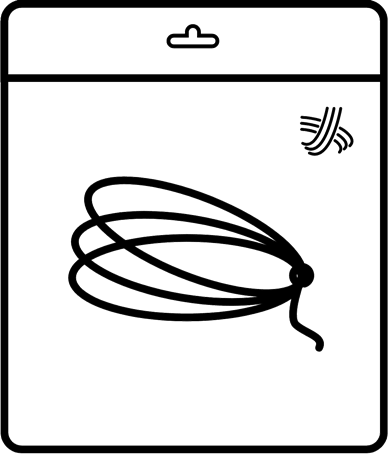 Li-Ning LN70 Extreme Badminton String Review in JB Malaysia
By ERR Badminton Stringing
Here is a review of the Li-Ning LN 70 EXTREME badminton stringing by ERR badminton restring in JB Malaysia.
Welcome to
Li-Ning LN 70 Extreme String Review by ERR Badminton Stringing JB Malaysia
This badminton string is one of the new strings with a special feature designed for players who typically use durable strings. Normally, if you use a thicker string, it's only for durability.
However, sometimes, even though a string is durable, it may lack repulsion. If you feel that Yonex BG65 is too soft and lacks repulsion, the Li-Ning LN70 Extreme string may become your new favorite.
Review from Eric: This string feels very different from other thick strings. In addition to its durability, you will experience a satisfying hitting sound, powerful repulsion, and excellent control, all in one. If you're looking for a string that offers both durability and repulsion, this is a great option.
Although the Li-Ning LN 70 Extreme badminton string is thick, you will still be able to feel a soft-hitting sensation.
However, here are the results of the DT tests conducted on Li-Ning LN 70 EXTREME badminton stringing at 27lbs:
First Day 69 – 67DT
Second Day 67 – 64DT
Third-Day 65 – 62DT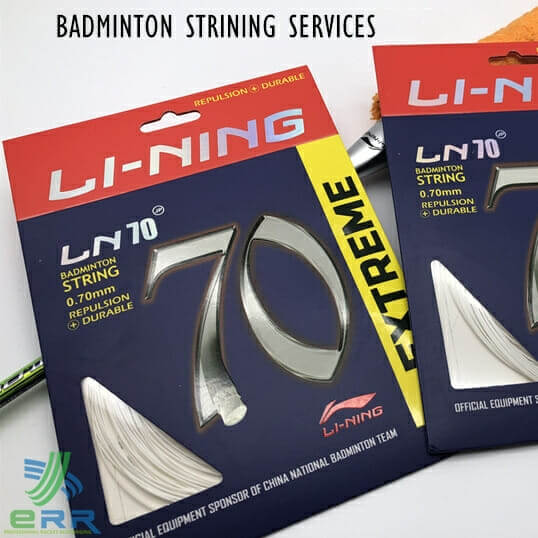 Li-Ning LN 70 Extreme Badminton Stringing at Taman Desa Jaya JB
Normally, with most thicker strings, you won't feel anything special. The main purpose of such strings is typically to provide durability and affordability. However, with the Li-Ning LN 70 EXTREME, you will experience a fantastic hitting sensation. Some players are used to using thicker strings, and when they switch to thinner strings like Yonex BG66 Ultimax, they may feel that their shots lack power.
In fact, thicker strings like the Li-Ning LN 70 EXTREME can provide more power to professional players. Why? Because professional players train almost every day, focusing on their fitness, strength, and agility. So when they send their racket for restringing, they typically choose a thicker string that doesn't necessarily have a good hitting sound like a thinner string, because they prioritize power over sound.
Li-Ning LN 70 Extreme: More Durable
What professional players need is a string that provides good control, because they already have plenty of strength. For leisure players at an intermediate level, they typically use thicker strings for their spare rackets or in training, and thinner strings for games. The advantage of thick strings is that they can last longer, whereas if you use thin strings that break quickly, they can become quite expensive. The Li-Ning LN 70 Extreme badminton string is considered one of the most durable strings available, with a great hitting sensation.
Many young men who are still pursuing their badminton dreams, even while in college or as working adults, continue to train regularly. However, if their strings keep breaking after just a few training sessions, they will end up paying a lot for both training and stringing fees. That's why we often recommend that our members who are still in training use the Li-Ning LN70 Extreme string on their rackets, as it lasts longer compared to thinner strings.
Badminton Stringing: Actually Can Save More
In Malaysia, everything is expensive, but not all products are of good quality, even when we pay more. That's why our certified stringers always bring in the highest quality strings for our members. We don't offer low-quality, cheap strings for our members, because it's pointless to do so. When members use cheap strings on the badminton court, they will be able to tell whether the string is good or bad. We always try out the Li-Ning LN 70 EXTREME ourselves and only add it to our string list if we believe it's a good string.
This Li-Ning LN70 Extreme string is an excellent choice for players who use plastic shuttlecocks and play outdoors. When playing outdoors, there is a higher chance that the string will break easily. Sometimes, the player may use the racket frame to pick up the shuttlecock from the rough floor, which can cause the racket frame to rub against the floor and break. In such cases, we recommend that the player installs an outdoor tape during their stringing appointment, and choose a thicker and more durable string so that it lasts longer.
Li-Ning LN 70 Extreme: Manufacturer Description
Description:
Super durable badminton string
The Li-Ning LN70 Extreme string is made with heat-resistant and high-intensity fabric both on the inner and outer layers, making it super durable.
-Li-Ning's Deep-Re-Dipping technology significantly improves durability and prevents tension loss at the same time.
-Li-Ning's special hit-absorbing coating provides a fantastic hitting sensation.
-Soft-hitting feeling.
Control – 9
Durability – 10
Repulsion Power – 8
Hitting Sound – 8
Shock Absorption – 8
Gauge:
0.70mm
Material & Structure
Core: High Polymer Nylon Multifilament
Outer: Heat-resistant & High Intensity Nylon
Coating: Compound Nylon
Key Properties:
Super durable badminton string.
Li-Ning LN 70 Extreme: Badminton Stringing Fees
Badminton Stringing Cost – RM45 ( String + Labour ) Nett
Frequently Questioned Answers
---
How to make an appointment?
To check the availability of our stringing slots, please click on the "Book" button.
You can also click on this link to book badminton stringing.
https://errbadmintonrestring.my/member/stringing-appointment/
When booking through our appointment system, you can choose to collect your racket on the spot or on the same day.
The color of the string and its corresponding price are indicated in our appointment system for all badminton stringing services.
Please make an appointment before coming so that we can provide you with the proper badminton stringing service.
Note: We accept walk-ins for badminton stringing, but please note that professional badminton stringing requires additional time. This is in accordance with our rules for providing professional stringing services. All members are required to book an appointment online before visiting our facility.