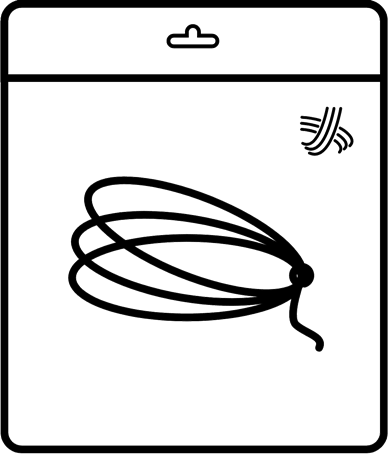 Maxbolt MBS 66 Badminton String Review in KL Malaysia
By ERR Badminton Stringing
The Maxbolt MBS 66 badminton string is one that can provide a stiff feeling and ultimate repulsion.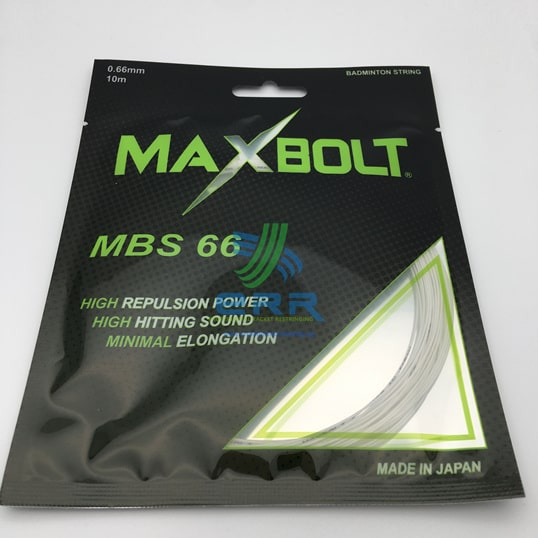 Welcome to
Maxbolt MBS 66 String Review by ERR Badminton Stringing KL Malaysia
If you usually use Yonex BG66 Ultimax and find that the strings need to be strung at a high tension to prevent tension drop after a few games, you may want to try this badminton string, as it offers high repulsion and durability.
The repulsion of the Maxbolt MBS 66 with its 0.66mm gauge is different from other badminton strings like Yonex BG66. You can feel that the string is not too soft and offers a stiffer feeling with a solid hitting sound.
The performance of each string depends on the individual player's playing style, and proper stringing method is especially important for the Maxbolt MBS 66 string.
Review from Eric: You can feel a strong repulsion when the string is restrung at 24-26 lbs. The repulsion is suitable for my needs when smashing and defending.
Furthermore, the optimal tension range for the Maxbolt MBS 66 is between 24-26lbs, but it can be adjusted based on the individual's level and fitness.
Here are the results of a Maxbolt MBS 66 badminton string tension experiment, tested at 26lbs on a Lining N80II
First day: 57 – 59 DT
Second day: 56 to 58 DT
Third day: 53 to 57 DT
Maxbolt MBS 66 Badminton Stringing in Setiawangsa KL Malaysia
Many new badminton strings have been launched in recent years, including the Maxbolt MBS 66 racket string. However, many leisure players are not up to date with these new products. While it is true that manufacturers saw an opportunity to earn money by selling these strings, we should also consider the possibility that these strings may be of better quality or more affordable. We could use them to enhance our playing performance.
If you have been using a string with a 0.66mm gauge and have experienced issues such as the string breaking easily, being too soft, or lacking feel, you may want to try the Maxbolt MBS 66 string. With advancements in string technology, there is a string out there to suit every player's needs.
If you find that Yonex strings like BG66 are too expensive and break easily, the Maxbolt MBS 66 racket string may be a suitable and cost-effective alternative. Just because you have not tried the Maxbolt MBS 66 racket string does not mean it is not a good option. Sometimes, we become accustomed to one thing and are afraid to make changes, but since we regularly replace our strings, there is nothing to fear.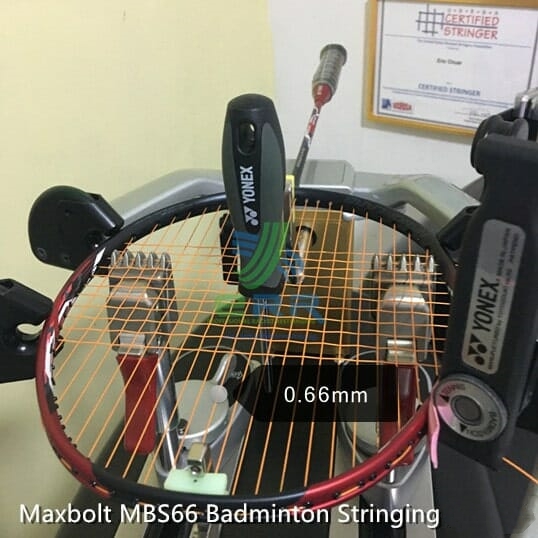 Maxbolt MBS 66 Manufacturer Description
Specifications
Repulsion – 10
Durability – 8
Control – 7
Hitting Sound – 7
Shock Absorption – 6
Gauge: 0.66mm
Maxbolt's advanced technology delivers supreme resilience and crisp hitting sound with its 0.66mm gauge. The string is made of nylon multi-filament with patented high-strength quarto-fiber wraps.
Made in Japan
Maxbolt MBS 66: Badminton Stringing Fees
Kindly refer to our String List for pricing
Frequently Questioned Answers
---
How to Make an Appointment?
To view our stringing schedule, please click the 'Book Now' button.
You can also directly book badminton racquet stringing services through the following link: Click Here to Book
In our online booking system, you can choose the option for immediate or same-day racquet pickup.
The booking interface will display the colors of various strings as well as the corresponding price information.
To provide a more professional service, it is recommended that you make an appointment in advance.
Things to Note:
We also accept stringing requests from walk-in customers, but this will require additional processing time. Therefore, it's recommended that you make an online appointment before coming to the store.