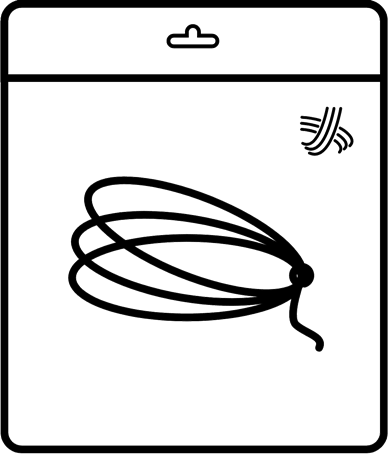 Victor VBS-66 Nano Badminton String Review in Johor Bahru (JB)
By ERR Badminton Stringing
The VBS 66 Nano badminton string from Victor is a combination of both repulsion and durability types of string.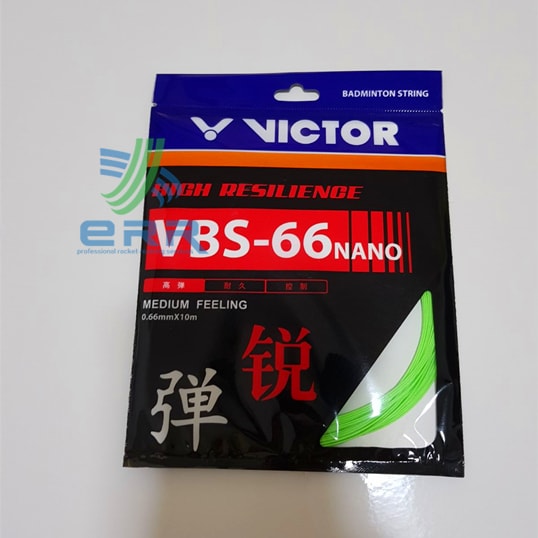 Welcome to
Review of Victor VBS-66 Nano String by ERR Badminton Stringing JB
Herewith VBS 66 Nano badminton string review:-
If you still remember the Yonex BG 66 badminton string, both string gauges are probably about the same. However, if you have tried both strings, you will notice a difference between the two. Firstly, the VBS 66 Nano will likely feel "medium," while the Yonex BG 66 will feel "soft." How do you decide which string is suitable for you? Our advice is this: If you want repulsion but also need more control on netting and lobbing than the 0.66mm gauge string can provide, we believe the Victor VBS 66 Nano can help you.
Review from Eric: This string feels good when strung between 24-26 lbs and suits my needs for both repulsion and control. Most would describe its feel as 'medium'.
Below are the DT test results for Victor VBS 66 badminton string restring experiments at 26 lbs.
First Day 52 – 56 DT
Second Day 50 – 53 DT
Third Day 51 – 52 DT
Victor VBS-66 Nano Badminton Stringing in Taman Desa Jaya JB
If you feel that the Yonex BG 66 is too soft to provide good control, then the VBS 66 Nano is likely a good choice for you. However, this doesn't mean that the string is the best option or suitable for everyone, as every player has different needs. Some may like the VBS 66 Nano, while others may not.
We received comments from our members who have been using the BG 66 for a few years but felt that the string lost tension too quickly. After gathering more details, we found that the member was not used to the string, and the tension was too high for them to handle. We advised them to try the Victor VBS 66 Nano at a lower tension, and after a few months, they reported feeling happy and comfortable with the string and found it easy to lob to the baseline.
As a stringer who is also a badminton player, it's important to understand what the player wants with regard to their racket and string, instead of simply recommending a popular string or one used by a national player.
Choose the Right Badminton String for Yourself
The most important thing is to help players choose the right tension, string, and racket. Try to put yourself in their shoes so that you can understand their needs better. By doing this, you will be able to better understand their needs after they've used the racket and restring that you've provided. We had a beginner member who was using a Yonex Z-Force II with 3UG4.
As some of you may know, this racket is head-heavy, and the member didn't even realize they had chosen the wrong racket until we informed them. They would often request the BG 66 Ultimax string at 27 lbs without realizing the mismatch with their level of play. We didn't know they were beginners until later when we became closer, and out of respect, we didn't tell them the truth. Our stringer arranged to play a game with them to assess their level of play and recommended they buy a more balanced and lighter racket instead of the Z-Force II.
After some time, the member purchased a Nanoray series racket, and we strung it with VBS 66 Nano. From that point on, trust and friendship developed between us which is not easy to come by. Our stringer is also a certified badminton coach in Malaysia, which means he knows more than just stringing. This is why we can ensure our members always get the string and tension most suitable for them.
Victor VBS-66 Nano Manufacturer Description
Specifications
Control – 7
Durability – 8
Repulsion power – 9
Hitting sound – 7
Gauge: 0.66mm
The VBS-66 Nano is a high-tech string wrapped with nylon multifilament. Its core is based on nano technology, which provides excellent resilience and increases string control.
Made in Japan
It's made retainers the string feel.
Victor VBS-66 Nano Badminton Stringing Fees
Badminton Stringing Cost – RM40 ( String + Labour ) Nett
Frequently Questioned Answers
---
How to make an appointment?
To check the availability of our stringing slots, please click on the "Book" button.
You can also click on this link to book badminton stringing.
https://errbadmintonrestring.my/member/stringing-appointment/
When booking through our appointment system, you can choose to collect your racket on the spot or on the same day.
The color of the string and its corresponding price are indicated in our appointment system for all badminton stringing services.
Please make an appointment before coming so that we can provide you with the proper badminton stringing service.
Note: We accept walk-ins for badminton stringing, but please note that professional badminton stringing requires additional time. This is in accordance with our rules for providing professional stringing services. All members are required to book an appointment online before visiting our facility.