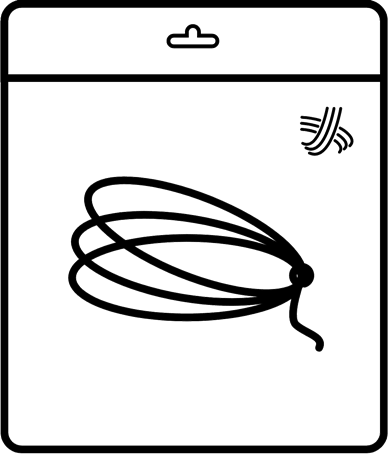 Felet Ultra Sonic 63 Badminton String Review in Malaysia
By ERR Badminton Stringing
Felet Ultra Sonic 63 badminton stringing was reviewed by ERR badminton restring JB Johor Bahru. Although this badminton string may seem like a new brand from Felet, it is actually not. Do you still remember the "Fleet" brand in Malaysia? Felet is the new name for Fleet.
Welcome to
Felet Ultra Sonic 63 String Review by ERR Badminton Stringing in JB Malaysia
Felet has recently launched a new thin badminton string with the feature of an "incredibly hitting sound". If you are currently using a badminton string like Kizuna Z63 or BG66UM and feel that the string is a bit boring with nothing special, and you want to try something new, then Felet Ultra Sonic 63 badminton stringing might be a great new option for you.
Eric's Review: Normally, I prefer using thinner strings for my leisure games. This string performs well for front needs. Durability is a concern for me, but it is not bad as it can last about 2-3 months for my leisure games.
Felet Ultra Sonic 63 badminton string although is thin, but suits the intermediate players who need more power and repulsion.
However, below are Felet Ultra Sonic 63 badminton stringing at 25lbs experiment DT tests:-
First Day 57 – 55DT
Second Day 54 – 53DT
Third-Day 54 – 52DT
Badminton Stringing at Taman Mount Austin
You may not be familiar with the Felet brand in Malaysia. The Fleet brand's focus is to support young athletes at the state level, ex-national players, and some players who have achieved good results in badminton. This is how they have gained popularity in the past 10 years. And this time, Felet has invested more budget into marketing and design to attract more customers. Just like this Felet Ultra Sonic 63 badminton string, which is made with materials from Japan, it is really worth trying out for those who need racket restringing services.
Those who are familiar with badminton equipment from Malaysia would know that most Fleet rackets and strings are manufactured in Taiwan and China, meaning that the materials used are often not from Japan. However, Felet Ultra Sonic 63 uses purely Japanese technology and materials. If you previously felt unsatisfied with Fleet badminton strings due to the use of low-budget materials, this time they are using high-quality ones. If you prefer a thinner string with a solid hitting sound, you may want to try it out and have it professionally strung.
Many people worry that thinner strings will not be durable, but with this string, you can feel the durability at a higher level than any other thin string. Why? The coating uses a specially designed cross-braided outer wrap to create a stronger shell and improve toughness, thus increasing durability.
Felet Ultra Sonic 63 has more durability compared to other thinner strings
When talking about thin strings, most players will worry that if the string is too thin, it will cause more bounciness and difficulty to control at the front net. However, Felet Ultra Sonic 63 can produce outstanding results in terms of control. Our certified stringers always explain to our members that the string and stringing are not the same. This is why proper racket restringing is important to ensure the best performance for your racket.
If a leisure stringer uses their own stringing method to string the Felet Ultra Sonic 63 badminton string, the resulting output and hitting feel will be very different from what professional stringers can achieve. What's different? Most players with no knowledge in stringing will only notice the difference in the "string type and tension", but there are many other factors that can affect the overall performance of the racket. This is why it's important to have your badminton equipment professionally strung.
Actually, it's not true that only professional stringers can achieve the best results. For example, our certified stringers can string rackets like the BG66 Ultimax at 26lbs, resulting in a very solid hitting sound that is difficult to find elsewhere, even in professional badminton shops in Malaysia. This is a proven result and feedback from our members and competitive players.
Stringing and badminton stringing are different
So, don't think that as long as you've chosen the right string and tension, you can send it to any stringer for stringing and expect the same solid hitting sound. This is not possible. For instance, if you're using the Felet Ultra Sonic 63 badminton string and it's strung by a leisure stringer who is not accredited in stringing, the hitting sound might not impress you.
The reason why a leisure stringer who is not accredited in stringing might not produce an impressive hitting sound is because they lack a proper foundation in badminton stringing. They may not even know how to string a racket using the correct method. This is similar to playing badminton – if you don't have a proper foundation in the basics such as footwork, wrist movement, and generating power, no matter how strong or powerful you are, you won't be able to play well.
If you get a racket restring using Felet Ultra Sonic 63 and have it strung by our certified stringer, and if you're not a beginner, you will likely notice a difference when you play on the court. The durability of the string will probably last longer, resulting in a more solid hitting sound, and the tension will hold longer and drop slower compared to a string job done by a leisure badminton stringer.
Felet Ultra Sonic 63 – Manufacturer Description
Description:
Incredibly Hitting Sound (Nano Technology)
SUPREME CORE
High Modulus Polyamide multifilament dipping UHMW Polumer glue, increasing strength and durability.
CROSS LINK BRAIDED WRAP
A thinner line made with super fine yarns offer an excellent repulsion power and great high pitch hitting sound. Specially cross braided outer wraps to create stronger shell and toughness to increase durability.
Texture surface has better control and playability, unique tri-copolymer fusion process, let string super powerful also comfortable during hitting.
BENEFITS
-Outstanding repulsion power
-Incredibly hitting sound
Power – 10
Control – 9
Hitting sound – 10+
Durability – 10
Gauge:
0.63mm
Felet Ultra Sonic 63 Badminton Stringing Fees
Badminton Stringing Cost – RM40 ( String + Labour ) Nett
Frequently Questioned Answers
---
How to make an appointment?
To check the availability of our stringing slots, please click on the "Book" button.
You can also click on this link to book for badminton stringing.
https://errbadmintonrestring.my/member/stringing-appointment/
When you book an appointment through our system, you can select whether you'd like to collect your racket on the spot or on the same day.
The corresponding price and string color are clearly displayed in our appointment system for all badminton stringing services.
To ensure that we provide you with the proper badminton stringing service, we kindly ask that you make an appointment in advance.
Note: We accept walk-ins for badminton stringing, but please note that professional badminton stringing requires additional time. This is in accordance with our rules for providing professional stringing services. All members are required to book an appointment online before visiting our facility.