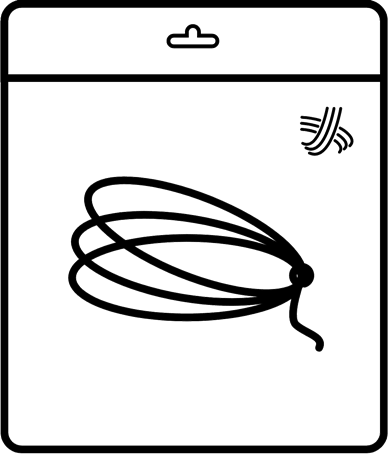 Kizuna Z63 Premium Badminton String Review in JB Malaysia
By ERR Badminton Stringing
The Kizuna Z63 racket can be restrung with one of the popular strings from the Kizuna brand in Malaysia. You will likely feel that the string's repulsion is good, especially for leisure badminton players who need more power in their shots.
Welcome to
Kizuna Z63 Premium String Review by ERR Badminton Stringing Malaysia
This string is well-suited for most leisure badminton players who prefer more repulsion power. Additionally, Kizuna strings are fully manufactured in Japan.
The string's diameter gauge is 0.63mm, which is thin, but does this mean its durability is low? Not necessarily, it depends on the tension and playing style. If you know how to set the tension properly, you will likely enjoy this string.
Review from Eric: The repulsion is excellent when strung at 24-26lbs and the hitting sound is crisp. I will use this string for my weekly games.
However, here are the results of the Kizuna Z63 badminton restring experiment DT test at 26lbs.
First day: 56 – 59 DT
Second day: 52 to 55 DT
Third day: 52 to 53 DT
Kizuna Z63P String Feedback from Leisure Badminton Group
Although the Kizuna Z63P string is thin, some players feel that it has better repulsion than the BG66 Ultimax. As we all know, the Yonex BG66 Ultimax is good for repulsion only on the first day after it is strung. After the second or third time you play, the hitting sound of the string diminishes. However, the Kizuna Z63 premium badminton string can hold tension better if it is strung properly using the correct badminton stringing method.
When choosing the right badminton string for yourself, it's important to understand which tension and string gauge are best suited to your playing style. If you're considering the Kizuna Z63 racket for restringing, you should compare the string gauge thickness to that of your previous string. For example, if your last string was BG65 Titanium, which has a thickness of 0.70mm, then the difference of 0.07mm between the two strings is quite significant. So, please consider this before making the change.
Kizuna Z63P String Feedback from Leisure Badminton Group
Why is this important? Generally, when a badminton string's thickness is changed, the player will need some time to adapt to it. Even small changes in string thickness can require the player to hit with the string 2-3 times to get used to the new hitting sound and contact point, as well as the string feeling, which can range from medium to hard, and so on.
If you were previously using a string gauge similar to Yonex BG66UM or BG66 Force, then you can probably try stringing your racket with Kizuna Z63. If you find that the Yonex BG66 Force is a bit stiff and you're looking for more repulsion, then try the Kizuna Z63 badminton restring. You will likely feel an improvement in your game.
Kizuna Z63 Premium Manufacturer Description
Specifications
Control – 9
Durability – 8
Repulsion power – 10
Shock absorption – 8
Hitting sound – 9
Description:
By a thin gauge of 0.63mm, you can experience a pleasant pretend excl.
This string produces a firm, high-hitting sound and a sharp feel at impact, allowing you to fully realize the power of its repulsive force.
Kizuna Z63 Premium Badminton Stringing Fees
Badminton Stringing Cost RM45 ( String + Labour ) Nett
Frequently Questioned Answers
---
How to make an appointment?
To check the availability of our stringing slots, please click on the "Book" button.
You can also click on this link to book for badminton stringing.
https://errbadmintonrestring.my/member/stringing-appointment/
When booking through our appointment system, you can choose to collect your racket on the spot or on the same day.
The color of the string and its corresponding price are indicated in our appointment system for all badminton stringing services.
Please make an appointment before coming so that we can provide you with the proper badminton stringing service.
Note: We accept walk-ins for badminton stringing, but please note that professional badminton stringing requires additional time. This is in accordance with our rules for providing professional stringing services. All members are required to book an appointment online before visiting our facility.