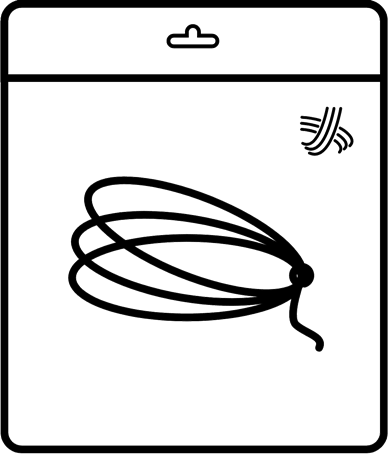 Li-Ning No.5 Badminton String Review in JB Malaysia
By ERR Badminton Stringing
This Li-Ning No.5 badminton string is suitable for players who like more power from their string.
Welcome to
Li-Ning No.5 String Review by ERR Badminton Stringing Johor Bahru
Some players are capable of generating plenty of power on their own, so they will need a string that provides minimal power, allowing them to have better control over their shots.
Review from Eric: This string helps me to have more control, so when I need to play with control or I don't want my string to break too quickly, I will string it at my preferred tension.
If players choose a thinner string, it will not help them to generate more power in their shots. Why? Thin strings release the shuttlecock too quickly after impact, which means they cannot absorb all the power generated by the player. This is why most higher-level players prefer thicker strings like Li-Ning No.5 or BG80 because they want good control and more power to suit their playing style.
Below are the DT test results for the Li-Ning No.5 badminton string restrung at 28 lbs.
First Day 59 – 62 DT
Second Day 55 – 59 DT
Third Day 53 – 56 DT
Li-Ning No.5 Badminton Stringing in Taman Desa Jaya JB
Some players are not accustomed to using thin strings because they feel that although the hitting sound is good, their shots lack power compared to thicker strings. This is why most professional players in the world rankings use thicker strings. For example, former world No.1 doubles player Fu Hai Feng uses Li-Ning No.5 string.
Many leisure players misunderstand how to choose the right string. They may check what strings their favorite professional players use and try to use the same ones. However, this is not the right way to choose a string. Strings should be chosen based on your playing style, whether you focus on attack, control, or other factors. What's most important is finding a string that feels comfortable for you.
For example, some players may prefer Li-Ning No.5 string and request us to restring their badminton racquet with it. However, when they return, they may tell us that the Li-Ning No.5 string is too stiff for them, and they are having difficulty hitting the shuttlecock to the baseline. In such cases, we advise them to switch to a thinner string or lower the tension to better suit their playing style.
Is There Any Difference Between Yonex NBG95 and Li-Ning No.5?
Every badminton player has a different playing style. We also have some members who prefer Yonex NBG95 string instead of Li-Ning No.5 string. Restringing a badminton racquet is not difficult, but helping players choose the right string can help them play better. Although the thickness of Yonex NBG95 and Li-Ning No.5 strings is the same, we have some members who prefer Li-Ning No.5 badminton string, while others prefer NBG95 string.
We can only say that string choice is individual. If you feel comfortable with a particular string, then it's the right choice for you. However, if you find it difficult to hit the baseline or return shots as you intend, there could be a few factors to consider. Firstly, your string may be too stiff for you, and you should lower the tension. Secondly, the string may not be suitable for your playing style, and you should try other strings until you find the right one.
A third factor could be that the string is too old, meaning you have kept it in open public for more than three months without using it. In such cases, you should change to a new string, and you will feel better. It's important to note that the most expensive string may not necessarily be the best one for you. The key is to choose the right string that can help improve your performance.
Li-Ning No.5 Manufacturer Description
Specifications
Control – 8
Durability – 8
Repulsion power – 8
Hitting sound -7
Shock Absorption – 7
CORE: Heat-Resistant, High-Intensity Nylon MultifilamentOUTER: Heat-Resistant, High-Intensity Nylon
COATING: Compound Titanium Hybrid
DIAMETER: 0.69mm
A badminton string with a diameter of 0.69mm and a titanium hydride coating that provides the perfect blend of durability and repulsion power. It features a heat-resistant, high-intensity nylon fiber core and braiding layer, combined with a unique multi-rotation braiding technology, resulting in unrivaled performance. The No. 5 badminton string delivers a firm, hard-hitting sound and feel.
Li-Ning No.5: Badminton Stringing Fees
Badminton Stringing Cost – RM50 ( String + Labour ) Nett
Frequently Questioned Answers
---
How to make an appointment?
To check the availability of our stringing slots, please click on the "Book" button.
You can also click on this link to book badminton stringing.
https://errbadmintonrestring.my/member/stringing-appointment/
When booking through our appointment system, you can choose to collect your racket on the spot or on the same day.
The color of the string and its corresponding price are indicated in our appointment system for all badminton stringing services.
Please make an appointment before coming so that we can provide you with the proper badminton stringing service.
Note: We accept walk-ins for badminton stringing, but please note that professional badminton stringing requires additional time. This is in accordance with our rules for providing professional stringing services. All members are required to book an appointment online before visiting our facility.