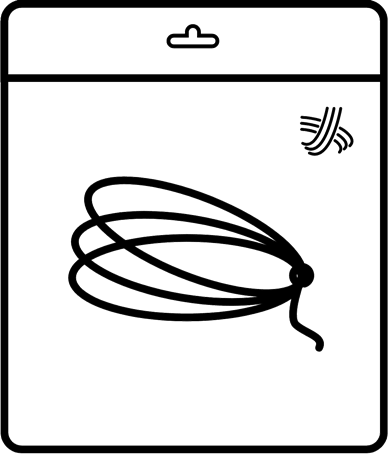 Victor VBS-63 Badminton String Review in Johor Bahru (JB)
By ERR Badminton Stringing
This Victor badminton string has a gauge of 0.63mm. While it is thinner than BG66, you can still experience a medium feeling with the VBS 63.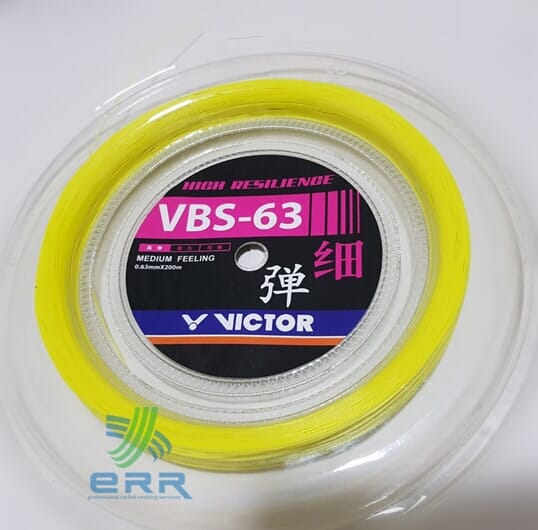 Welcome to
Victor VBS-63 String Review by ERR Badminton Stringing JB
Herewith VBS 63 badminton restring review:-
Thinner strings are usually not labeled as having a "medium feeling" because most manufacturers label them as having "more repulsion". This is because players are generally attracted to strings with greater repulsion. However, the combination of the VBS63 badminton string has still attracted many players, some of whom have switched from using BG66 to VBS63.
Review from Eric: It feels great when strung between 24-25lbs and produces a solid repulsion sound. I highly recommend adult leisure players to give it a try.
Our members typically choose a tension between 24-26lbs as they believe it provides greater repulsion while also being comfortable to use.
Below are the Victor VBS 63 badminton restring experiment DT tests at 24lbs:
First Day 43 – 49 DT
Second Day 45 – 47 DT
Third Day 40 – 43 DT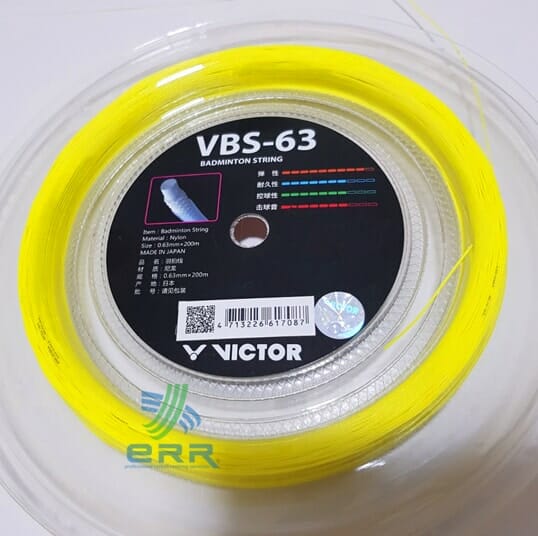 Victor VBS-63 Badminton Stringing in JB Taman Desa Jaya
We currently have a group of intermediate players who prefer our VBS 63 racket restringing services. For the past few years, they had been using BG66 Ultimax for their rackets. However, since we introduced the VBS 63 badminton string to them, they have been extremely pleased with its performance and continue to use it today. It's important for a player to stick with a string model that feels good to them, as this means their body has already adapted to it. Initially, many of our members were unsure about which type of string was most suitable for them.
Furthermore, many of them have been playing badminton for many years. Generally, a good player should be able to determine which string suits them best. It's difficult to identify mistakes made during a game if you keep changing your string, as players may not know whether the mistakes were caused by using the wrong string or their lack of skills.
This is a common issue faced by leisure badminton players and is one reason why their playing skills may not improve despite playing for many years. With the VBS 63 badminton restring, we always conduct a survey check with the user to obtain feedback and opinions. We believe that helping our members find the right string is more important than asking them to train more or buy another racket.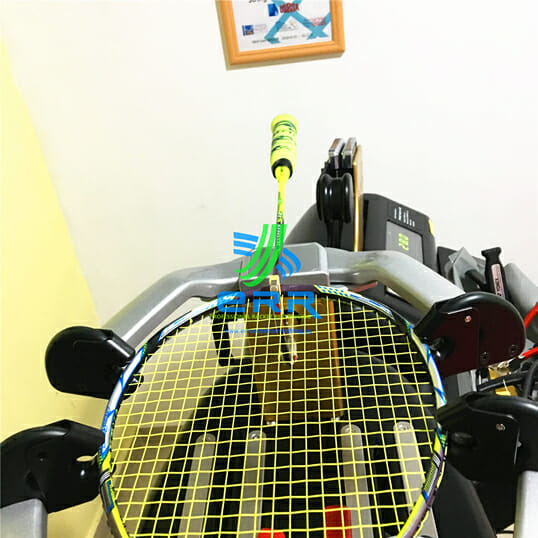 Choose the Right Badminton String to Adapt to Your Playing Style
One of our members asked us if there was a string that could increase power and swing speed. While it is possible to increase power with the right string, swing speed is more dependent on the badminton racket than the string. To better understand this member's playing style, our Certified Stringer, Mr. Eric Chuar, watched him play and found that he had a slow swing.
We advised the player to buy a new racket that is lighter in weight, has a bigger frame, and has a stiff shaft. He followed our recommendations and found that the VBS63 string complimented his new racket perfectly, making him feel more comfortable on the court than ever before. He acknowledged that he had finally found the right racket and string that suited his playing style.
This is why we always remind ourselves that as good stringers, we should not blindly follow the claims made by string manufacturers. Most of the time, they will promote their strings by saying that they are used by top players like Lin Dan or that they have high repulsion, while also claiming that BG66UM is good.
However, the most important thing is to choose the right string for your customer so that they can appreciate your service and become a long-term customer for many years to come. Imagine having to change your string every time it bursts and then having to get used to a new one all over again. This can be frustrating and it's not a scenario that most people would enjoy.
Victor VBS-63 Manufacturer Description
Specifications
Control – 7
Durability – 7
Repulsion power – 9
Hitting sound – 7
Gauge: 0.63mm/ 22GA Length
VBS-63 is a 0.63mm string wrapped with high-strength multifilament, providing a crisp and powerful hitting sound.
VBS-63 is made from high-strength nylon fibers, which provide excellent resilience and durability, resulting in a comfortable hitting feel.
This string is suitable for players who are seeking good placement and high control.
Victor VBS-63 Badminton Stringing Fees
Badminton Stringing Cost – RM40 ( String + Labour ) Nett
Frequently Questioned Answers
---
How to make an appointment?
To check the availability of our stringing slots, please click on the "Book" button.
You can also click on this link to book badminton stringing.
https://errbadmintonrestring.my/member/stringing-appointment/
When booking through our appointment system, you can choose to collect your racket on the spot or on the same day.
The color of the string and its corresponding price are indicated in our appointment system for all badminton stringing services.
Please make an appointment before coming so that we can provide you with the proper badminton stringing service.
Note: We accept walk-ins for badminton stringing, but please note that professional badminton stringing requires additional time. This is in accordance with our rules for providing professional stringing services. All members are required to book an appointment online before visiting our facility.