As everyone aware, ERR badminton Restring love to explore everything about badminton especially stringing machine. The Yonex Precision 5.0 is one of the most popular stringing machines for badminton players looking to accurately string their rackets at home or open a sport store. In this in-depth stringing machine review, we'll take a close look at the features, performance, durability and overall value of this badminton stringing machine to see if it meets the needs of serious players and amateur stringers.
Introduction to the Yonex Precision 5.0 Stringing Machine Review
As a mid-range priced stringing machine, the Precision 5.0 offers high-end performance and consistently reliable stringing capabilities suitable for everyone from amateur stringers to professional players. Key features include:
Sturdy steel frame construction able to withstand years of heavy use
Rotational mounting system for quickly maneuvering the racket
Wide 20-90 lbs string tension range to accommodate all play styles
Diamond-coated string gripper for unmatched stringing accuracy
Precise tension calibration for consistent string beds
For badminton players looking to save money by stringing their own rackets at home, the Precision 5.0 provides professional-grade stringing using by world-class Yonex stringing team with minimal hassle. In this comprehensive review, we'll cover everything you need to know about this popular racket stringing machine and whether it meets the needs of discerning players.
High Build Quality and Durability Badminton Racquet Stringing Machine
Right off the bat, the durable build quality of the Yonex Precision 5.0 stands out. The heavy-duty steel frame can withstand the rigors of regular use in even the busiest stringing shops without loosening or deteriorating over time. Weighing in at around 32 kg, the machine stays firmly planted on the table or floor while stringing.
Several design elements also make the stringing process easier and streamlined:
360-degree rotational mount – Allows quick racket positioning during stringing and braking system
Tension adjustment dials – Placed conveniently within easy reach on the front panel
Fixed parallel clamps – Designed to smoothly glide strings into place without slipping
String length meter – Takes the guesswork out of determining correct string lengths
It's clear the Precision 5.0 was designed by engineers familiar with the intricacies and pain points of racket stringing. These thoughtful touches help optimize and simplify the stringing workflow.
The durable industrial build and optimized design means the Precision 5.0 will continue churning out evenly strung rackets for years of regular use. It's built to withstand the demands of amateur and professional stringers alike.
Precision String Tension Accuracy and Consistency Control Panel
Arguably the most important capability for any badminton stringing machine is the ability to install strings at precise, consistent tensions across the full string bed. Here the Precision 5.0 shines thanks to several ingenious design features:
Wide tension range – String tensions adjustable from 20-90 lbs accommodate all play styles and string types preferred by players and professionals, easily adjustable with a one-click.
Precision tension calibrator – The digital calibrator ensures string tension always matches the set tension precisely within +/- 1 lb accuracy.
Diamond-coated string gripper – The gripper is coated in diamond particles to gently "bite" into strings. This prevents any slippage or loosening when clamping at high tensions up to 90 lbs.
Parallel jaw design – The string clamps utilize parallel jaws to distribute pressure evenly along the string. This prevents damage or indentations to the string.
The combination of these features enables the Precision 5.0 to install main and cross strings at exactly the right tension every time. Players consistently report the Precision 5.0 gives them the precise string bed tension they want for optimal power, control and feel.
Intuitive String Clamping System Tennis Stringing Machine
Stringing a badminton racket can be a tedious and complex process. However, the Yonex Precision 5.0 incorporates several design elements to make string clamping smooth and frustration-free:
Rotational mounting – The racket mount swivels a full 360 degrees to quickly orient the racket head as needed when stringing.
Roller-guided clamps – The string clamps utilize a wheel-guided track system to smoothly glide strings into the jaws at the touch of a lever.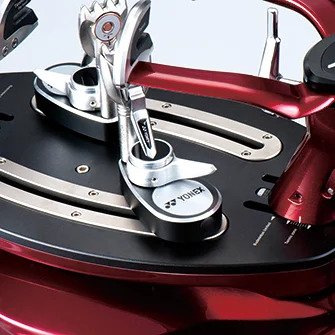 Parallel jaw design – As mentioned the parallel jaws evenly grip strings without leaving dents or crimps.
Convenient levers – Ergonomic levers allow quick locking and release of strings when clamping.
Combined together, these features minimize snags, tangles, and complications when stringing rackets. The process becomes quick, efficient and streamlined even for beginners learning the craft.
Superior Stringing Performance with Racquet Frame Supports
In terms of real-world performance, how does the Yonex Precision 5.0 actually perform when stringing rackets? Here are some of the key benefits and capabilities experienced users highlight:
Consistent tension across string bed – Thanks to the precise tension calibration and diamond gripper, strings are installed at the exact same tension from the outer mains to the last cross string.
No string deformation – The parallel jaw design prevents clamp indentations, crimps, and markings on strings.
Faster stringing times – With effortless clamps and rotational mount, complete string jobs take 10-20 minutes less compared to basic machines, which increase stringing efficiency by 15% at least.
Intuitive operation – Even those new to stringing can produce professional-quality string beds within just a few uses of the machine.
Extended string life – Precise clamps don't deform strings, allowing them to last longer before breaking.
Control over power levels – Variable tension settings let players fine tune power and control as desired.
The performance benefits add up to unmatched quality, consistency, and created to increase stringing efficiency – everything you could ask for in a stringing machine.
The consensus is clear – the Precision 5.0 punches far above its weight class, delivering exceptional professional-grade performance and usability at an affordable price point.
Durable Construction Built to Last
With its industrial steel frame, frame supports are easily adjustable, fortified string clamps, and durable components, the Yonex Precision 5.0 is built to provide years of reliable service even under heavy daily use. Players report getting 5+ years of consistent performance with minimal maintenance or repairs required.
Steel frame – The heavy gauge steel construction prevents flexing or movement while stringing. It also resists knocks and bumps.
Reinforced clamps – The string clamps utilize steel reinforcement to maintain perfect parallel alignment even after thousands of string jobs.
Sealed bearings – Protection from dust and debris allows the internal components to operate smoothly for years.
Minimal maintenance – Users mention only having to occasionally clean and lubricate for flawless performance.
The Precision 5.0 holds up admirably even under the demanding workloads of professional stringing shops and sports facilities. It's a true workhorse machine designed for longevity stringing service.
Helpful User Tips
Here are some tips from experienced Precision 5.0 owners for getting the most out of the machine:
Use a high-quality stringing awl to weave strings through grommets cleanly without fraying.
Apply a light lubricant to the parallel jaw tracks periodically to maintain smooth clamp operation.
Clean accumulated debris from the diamond gripper teeth regularly using a brush and solvent.
Utilize the string length meter for consistent results when cutting strings.
Make sure rackets are firmly secured in the mounts before applying tension.
Carefully calibrate tension settings using a string tension gauge for optimal results.
Following these simple guidelines will help keep your Precision 5.0 in top working order for years of consistent stringing performance.
Excellent Value and Cost Considerations
Yonex Precision 5.0 costs Malaysia price is about RM25,000,00 to RM30,000,00. It significantly less than professional-grade stringing machines which can run from RM8000,00 to over RM50,000,00. However, it equals or exceeds performance of elite machines in areas like stringing precision, consistency, tension accuracy and ease of use.
For players and stringers seeking professional-caliber results at a more affordable price point, the value proposition of the Precision 5.0 is outstanding. Serious amateurs who want pro-shop quality stringing can achieve it with the Precision 5.0 at a fraction of the cost.
Standard warranty includes 2 years on parts and 5 years on the frame. Extended warranty options are also available for added protection on your investment, a worthwhile consideration for heavy users.
All in all, it's hard to find a more compelling value when it comes to feature set, performance, build quality and price. The Precision 5.0 delivers true professional-grade capabilities at an attractive mid-range cost.
Final Recommendation on Yonex Precision 5.0 Stringing Machine
Eric Review: For badminton players and stringers seeking a robust, high-performance stringing machine, the Yonex Precision 5.0 earns a strong recommendation. Offering unmatched capabilities and user-friendly operation in its price range, it excels at producing evenly strung, consistent string beds time after time.
With proven longevity thanks to industrial-grade construction, plus excellent value for money, the Precision 5.0 is an investment that will pay dividends for years down the road. For any serious player or aspiring stringer looking for precision results and fuss-free usability, it should be at the top of your list. The Yonex Precision 5.0 embodies everything you need in a reliable workhorse stringing machine.
Reviews From Satisfied Some Stringers on Precision 5.0
The Precision 5.0 is highly rated among amateur and professional stringers alike. Here are some highlights from verified user reviews:
"I can't believe the quality and precision for the price. Comparable machines cost twice as much."
"Super simple to use right out of the box. I was stringing rackets perfectly on my first try."
"The diamond gripper prevents any string slippage even when cranking tension up to 80 lbs."
"This machine churns out the same consistent, high-quality string jobs as my RM8000 stringing machine."
"The rotational mount makes stringing so much faster compared to my old fixed mount machine."
Frequently Asked Questions
With its industrial steel frame and reinforced components, the Precision 5.0 is built to withstand years of heavy use. Users report getting 5+ years of reliable service with minimal maintenance required.
The Precision 5.0 is designed for easy use even for complete beginners. Features like the rotational mount, string length meter, and effortless clamps minimize the learning curve. Most can produce quality string jobs on their first try.
It has an adjustable tension range from 20 – 90 lbs, allowing you to string at ultra-low tensions or crank it up to over 80 lbs for maximum power. This covers the full range of badminton stringing needs.
The precision tension calibrator and diamond-coated gripper ensure each string is installed at exactly the set tension with minimal variability across the string bed.
With professional-grade performance at an affordable price, the Precision 5.0 offers outstanding value for money. It outperforms stringing machines costing twice as much, making it a worthwhile investment for serious players.
Back to the stringing home page.