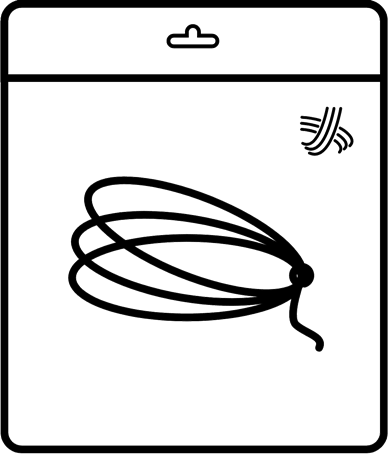 Kizuna Duratech D61 Badminton String Review in JB Malaysia
By ERR Badminton Stringing
The Kizuna Duratech D61 Premium badminton string is offered by ERR Badminton Restring Johor Bahru (JB). The Kizuna D61 string was just launched in 2019.
Welcome to
Ashaway Zymax 62 Fire Premium String Review
As you can see, the Kizuna D61 badminton string has a thin gauge of only 0.61mm, but it is still able to provide a 'hard' feeling. In the badminton string market, most thin strings can only provide a medium feeling, such as Yonex BG Aerosonic.
There are several reasons behind this. However, the Kizuna D61 string stands out for its ability to provide a harder feeling than other thin strings.
Review from Eric: The feeling of the Kizuna D61 string is quite unique as it provides a hard feeling along with good repulsion at the same time. It is recommended to string it at higher tensions of around 26-27 lbs. This string is ideal for players who prefer thinner strings but still need a hard feeling.
The Kizuna D61 badminton stringing is suitable for players who love high repulsion and clear sound strings, and it should be strung at 24-26lbs.
However, below are the results of the Kizuna Duratech D61 badminton stringing experiment, tested at 26lbs using the DT method.
First day: 57 – 60 DT
Second day: 56 to 57 DT
Third day: 55 to 57 DT
Kizuna Duratech D61 String Feedback from Leisure Badminton Group
Moreover, while some players prefer thinner strings, others do not. But why is this so? Is a thinner string suitable for you? To help you understand your needs better, here are two examples. For senior players who play more for the sake of sweating out, and whose playing style focuses more on lobbing, clear shots, baseline lifts, and seldom smashing, a thinner string would be suitable. In this case, you could try using the Kizuna Duratech D61.
Why is this so? Thinner strings are able to provide more repulsion power than thicker strings, but the tension must be set correctly. It is important to remember that a lower to medium tension is able to provide high repulsion, while high tension is more for control. Many leisure players mistakenly think that high tension means more power, but this is not the case.
So, if you are using a thinner string, setting a medium-range tension between 22-25lbs is good enough. But what if you have plenty of body strength? Is a thin string suitable for you? No, not at all. In general, if you have more power, you should choose a thicker string.
The reason for this is that if you have more power, but the string is not able to handle all of the strength you use when the shuttlecock contacts your string bed, then your string will be more prone to breaking or you won't be able to generate your full strength when hitting the shuttlecock. Regardless of your skill level, you may feel strange why you're using so much strength, but the shuttlecock still can't go fast. This is the reason why you should choose a thicker string if you have more power.
Kizuna Duratech D61 Badminton String & Stringing
The Kizuna Duratech D61 badminton string is suitable for those who are looking for higher repulsion along with a hard feeling. While most strings that provide a hard feeling tend to be thick, such as Yonex BG80 and BG80 Power, the Duratech D61 is a better option if you are comparing repulsion as its string gauge is thinner.
But how do you know if the Kizuna Duratech D61 is suitable for you? If you have previously used BG66 Ultimax or Aerosonic strings and found them to be too soft or uncomfortable due to their medium feeling, and you need more of an explosive hard feeling, then you can try the Kizuna D61 badminton stringing. This D61 string is unlike other thin strings as you will be able to feel both the hard feeling and repulsion.
Some people prefer to use thin strings but they don't want them to be too soft. That's where the Kizuna Duratech D61 comes in, as it has just been launched in the market. Some players may know that if the string is too soft, they may not be able to generate fast shuttle speeds during attacks such as smashing, unless they have very good body strength. However, if you combine this Kizuna D61 badminton string with the proper stringing method, you may be able to find more repulsion and durability in it.
Our certified stringer, Mr. Eric, always advises his members on the type of string to use in order to help them play better on the court. Eric is also a certified badminton coach in Malaysia with 16 years of experience.
Kizuna Duratech D61 Manufacturer Description
Specifications
Control – 8
Durability – 10
Repulsion power – 10
Shock absorption – 9
Hitting sound – 10
Description:
Ultra-Durable 0.61mm Badminton String
Through a special winding method, this string achieves 30% higher durability than before and has a wear resistance that is 1.5 times greater.
Length: 10m (33ft)
Gauge: 0.61mm
Key Properties: High Repulsion + Durability
Kizuna Duratech D61 Badminton Stringing Fees
Badminton Stringing Cost – RM50 ( String + Labour ) Nett
Frequently Questioned Answers
---
How to make an appointment?
To check the availability of our stringing slots, please click on the "Book" button.
You can also click on this link to book for badminton stringing.
https://errbadmintonrestring.my/member/stringing-appointment/
When booking through our appointment system, you can choose to collect your racket on the spot or on the same day.
The color of the string and its corresponding price are indicated in our appointment system for all badminton stringing services.
Please make an appointment before coming so that we can provide you with the proper badminton stringing service.
Note: We accept walk-ins for badminton stringing, but please note that professional badminton stringing requires additional time. This is in accordance with our rules for providing professional stringing services. All members are required to book an appointment online before visiting our facility.