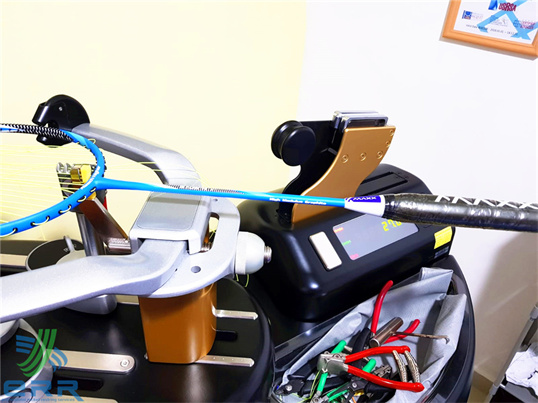 Badminton Stringing Mistakes: Must Know Your Badminton Racket String ( Malaysia & Singapore)
As you know, ERR Badminton always cares about the quality and standards of these two countries, taking them to another level.🏸 Today let's talk about something we all love but often overlook on stringing our badminton rackets. Yeah, I know it doesn't sound as exciting as discussing that latest jump smash by Viktor Axelsen or Ng Tze Yong, but trust me, it's important.
Today, we're delving deep into common stringing mistakes, understanding how strings break, and much more. So, grab a seat for free, or you may be charged soon; you're in for a ride, or else you'll surely regret it!
Important Stringing Mistake Discussion Points
The importance of avoiding common stringing mistakes
How to differentiate between natural breakage and miss hits
The significance of choosing the right string and tension
The role of stringers in the badminton world
Why You Need to Stop Making Bad Stringing Mistakes As a Players
Avoiding bad stringing mistakes in badminton is important for both your performance and the durability of your badminton rackets. Incorrectly tied knots or poor-quality clamps can lead to inconsistent tension across your string bed, affecting the accuracy and power of your shots.
Moreover, such errors can lead to premature string breakage, forcing you to restring your racket more often than necessary. Therefore, understanding the right way to string a badminton racket is not just about improve your game; it's also about saving time, effort, and money in the long run. 
Wrong Way of Tie-Off Knots by Stringers
Alibaba, the humble knot. It's not just something you do to tie your shoelaces; it's an important part of stringing your badminton racket. One common stringing mistake is tying knots the wrong way by the stringers. The knot should be secure enough to handle all the tension coming from the strings. If your knot slips or comes loose, it's game over for even tension across your racket. And don't even get me started on how that messes up your shots!
The feel of hitting shuttlecocks can be worse or different. Because a poorly tied knot can lead to inconsistent tension and can even cause your strings to snap prematurely. So, guys and gals living in Malaysia and Singapore, the knot is not just a "tie and forget" thing; it's the anchor of your strings, so please check the knots after they're strung by your stringers!
Bad Quality of Machine Stringing Clamps
Another mistake you might not even realize the stringers perform stringing by using bad quality clamps, or the clamp not even clean up for years. Actually these are the tools that hold your strings in place when string your racket. If the clamps are of poor quality or are worn out, they can slip and causing hurting the surface of the string. A slipping clamp can cause your string tension to be inconsistent, leading you to wonder why your smashes are off despite your form being perfect, feeling weird.
High-quality clamps and well maintain clamp are important for achieving that precise tension you're aiming for. So, if your stringer are more into DIY stringing, not invest in good clamps or stringing machine, you will get into trouble. Especially if you're getting it done at a sports shop, make sure they use quality stringing equipment.
Miss Hit or Natural Breakage? How Did My String Break? Badminton Player fault?
Understanding whether your badminton strings broke due to a mishit or natural breakage is key to improving your game and extending the life of your equipment. There are several possibilities that can surprisingly impact your strings, such as a mishit, incorrect stringing by the stringer, exposure to sunlight, or even weather conditions that can cause your strings to break prematurely.
Knowing your common mishitting spots on the string bed can also provide valuable insights. For instance, frequent mishits near the frame or the top of the racket head can indicate a need for technique refinement. Additionally, hitting the top, bottom, or knots of the string bed, or hitting with both sides almost simultaneously, puts undue stress on your strings, leading to premature breakage. Understanding these factors can save you the hassle and cost of frequent restringing and improve your overall performance.
Miss Hitting Spots on String bed Where Are They?
Hitting spot too high (Near the top of the racket head)
Hitting spot too low (Near the bottom of the T-Joint)
Edges near the frame
Mishits can happen to all of us, but do you know where you're most likely to mishit on the string bed? Knowing these spots can help you understand the health and quality of your strings. Frequent mishits at the high spot might indicate that your strings have possibly broken and need to be restrung.
If you're mishitting near the frame or at the top of the racket head, you might be swinging too fast, causing undue stress on those areas at the same multiple spots. Understanding your mishitting spots is important because you can inform your stringers about your issue, allowing them to find the best solution to resolve it.
Hitting Top/Bottom/Knots of the Rackets Frame
Have you ever hit a shot and heard that dreaded "ping" sound that tells you something's not right? Typically, that sound occurs when you hit the top, bottom, or knots of the string bed near the frame of the racket. These areas are not intended to be struck, and doing so can lead to your strings breaking prematurely.
This is a common mistake, particularly among beginners, and it's a quick way to damage a good set of strings. Always aim to hit with the sweet spot of the string bed to ensure that your strings last longer, your shots are more effective, and this can also help you improve your playing level.
Hitting Two Sides of the String bed
Sometimes, in our enthusiasm to execute that killer smash or make quick footwork transitions for side or overhead shots, we unintentionally end up hitting the shuttle with both sides of the string bed almost simultaneously. It might not appear to be a significant issue, but it's a guaranteed way to lose string tension rapidly and even risk breaking your strings.
If you notice this happening frequently, it's a good time to review your technique and ensure that you're making clean contact with the shuttle.
How to Spot a Yonex Fake Racket
We all appreciate branded gear, especially in Malaysia and Singapore. However, nothing can ruin your day faster than realizing that your shiny new Yonex racket is a counterfeit. Counterfeit rackets not only perform poorly but can also pose a safety risk and lead to injuries because they use cheap materials for balancing, weighing, and construction, with most of the effort focused on replicating the surface appearance.
So, how can you identify a fake? Always purchase from reputable dealers or directly from Yonex in Malaysia and Singapore. Check the serial numbers and verify them online. Scrutinize the build quality and compare it with authentic rackets. For a detailed guide on identifying fake rackets, you can refer to this comprehensive guide.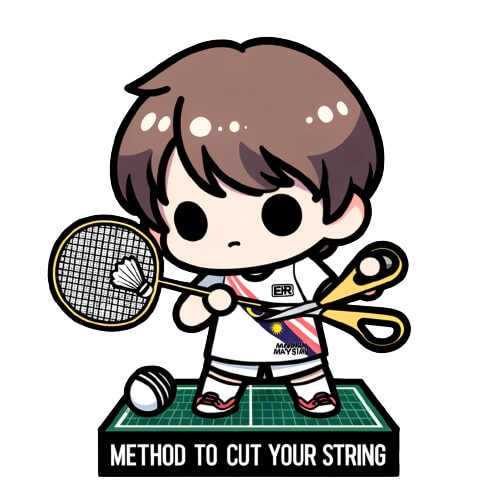 Best Method How To Cut Your Badminton Strings Out
Whether you're a casual or advanced player or someone who just likes to be prepared, a good DIY badminton kit with scissors can be a real lifesaver. But cutting out old strings isn't as simple as snipping away.
You don't want to damage the frame of the racket, right? The best method is to use a scissors to cut the excess string, starting from the center and moving outward. This ensures that tension is released gradually, reducing the risk of damaging the frame. And if you're unsure how to do it, check out this handy tutorial.
How to Choose a Badminton String
Choosing the right badminton string is a crucial aspect of enhancing your performance on the court. The type of string you select should align with your preferences, and the tension should match your skill level and playing style. Beginners may benefit from thinner strings for more repulsion, while advanced players might prefer thicker strings that offer greater control, such as Yonex BG80 string.
It's not just about the tension, the diameter or gauge of the string also plays a significant role. Thinner strings generally provide more repulsion but are less durable, while thicker strings are the opposite. Consulting with a Certified Stringer or a badminton coach, like our stringers, can provide personalized advice tailored to your needs. So, don't underestimate the importance of choosing the right string; it can easily make or improve your game!
Suggested String Types for Players
| Skill Level | Recommended String |
| --- | --- |
| Beginner | BG66 Ultimax (More Repulsion but Less Durable) |
| Intermediate | BG80 (More Durable but Hard Feeling) |
| Advanced | Exbolt 63 (More Repulsion with Less Bouncy) |
Stringing Tensions Basic Understanding That We Must Know
Lower Tensions Return
If you're just starting out or are at a lower intermediate level, opting for lower tension in part of your racket could be a good choice. Lower tension results in a "trampoline" effect when hitting the shuttlecock, making it easier to generate power. The shuttlecock sinks deeper into the string bed, making it less demanding to execute powerful smashes. However, keep in mind that while it's easier to generate power, you may sacrifice control, which can be described as being a bit "bouncy". It's akin to driving a car with excellent acceleration but not-so-great steering.Higher Tensions Return
For higher-skilled players (and I mean that in the best way possible, like professional players), higher tension is your ally. With higher tension, the shuttlecock doesn't sink too deeply into the string bed, granting you more control over your shots. However, it's important to note that higher tensions are less forgiving. If you lack the necessary skills, such as a strong foundation in badminton, you may struggle to generate power. Moreover, with higher tension, there's a greater likelihood of breaking strings if you mishit the shuttlecock. This is a common occurrence for some of our advanced ERR badminton restring customers.
Badminton Racket String Tension Guide
How Much String Tension Should I Put On My Badminton Rackets?
| Tension (lbs) | Suitable For |
| --- | --- |
| 24 | Beginners, those who want more power |
| 25 | Intermediate players |
| 26 | Advanced players focusing on control |
| 27 | Advanced players, mixed focus |
| 28 | Professional level |
| 29 | Professional level, control focus |
| 30 | Professional level, high risk |
Choosing the right tension is important for your game. The tension range on a racket is usually stated by the manufacturer. But remember, those are just guidelines. You should also consider your style of play and skill level. As a general rule, higher tension provides better control but is less forgiving on miss hits, while lower tension offers more repulsion power but less control.
Things Should Be Considered Before Stringing A Racquet
How To Select the Right Strings?
Selecting the right strings is like choosing the right partner; you want them to complement your style. If you're a power player, go for strings that offer high repulsion and durability. If you're a control freak, opt for strings that give you better feel and accuracy. You can check out a comprehensive string list here.
Diameter of String
| String Gauge (mm) | Characteristics |
| --- | --- |
| 0.58 | High repulsion, less durable |
| 0.60 | High repulsion, less durable |
| 0.65 | High repulsion, less durable |
| 0.70 | Highly durable, suited for beginners |
The diameter of the string also plays a crucial role. Thinner string offers more power and repulsion but is less durable. Thicker strings are more durable but offer less power.
How Do I Know What Tension is For Me?
This is a tough question because it varies from player to player. Your badminton coach can provide you with valuable advice based on your skill level and style of play. Generally, beginners should start with lower tension and gradually increase it as they improve. Alternatively, you can seek guidance from a professional stringer for better advice on your string tension.
What Is the Cost to String a Badminton Racket?
| Cost (RM) | String Type |
| --- | --- |
| 25 | Basic stringing and String Type |
| 30 | Basic stringing with durable string |
| 40 | Professional certified stringing with premium string |
| 50 | Professional certified stringing with premium string and customization |
It's important to consider both the cost of the string and the stringing service when budgeting for this. While it might be tempting to go for the cheapest option, remember that poor quality stringing can adversely affect your performance and may even lead to injuries. Therefore, it's advisable to get your racket strung from a Certified Stringer Malaysia and Singapore to ensure the best results.
Badminton Stringing Machine
Choosing the right stringing machine can make a huge difference in how well your racket is strung. There are various types of stringing machines available in the market, especially in Malaysia and Singapore, ranging from manual to electronic ones. Manual machines are generally cheaper but require more skill and effort to use. If the stringer is just a part-timer or lacks certification, it's best to avoid them if you want high-quality stringing.
Electronic machines offer greater accuracy and ease of use but come at a higher price point. However, even with an electronic machine, if the stringer lacks qualifications or experience, it won't ensure good-quality stringing, as it's being done by an unqualified person. The choice of machine should depend on your needs, skill level, and budget. If you're serious about your game, investing in a high-quality stringing machine and a skilled stringer can be a wise decision. For recommendations on the best stringing machines, you can check out this source.
A Good Stringer Is Always Learning in Badminton World
Badminton Stringing Course/Certification
If your stringer is someone who loves badminton and is interested in learning the art of stringing, taking a badminton stringing course can be a fantastic idea. These courses offer in-depth knowledge and hands-on training on various aspects of stringing, including selecting the right string and tension, using stringing machines, and even business aspects like customer service and inventory management. Whether the stringer is looking to become a professional stringer or just wants to string their own rackets, or string for their friends and students, stringing courses can provide valuable insights. For more details, you can check out this Certified Stringer Course.
Too Many Casual Players Only Focus on Equipment Instead String a Badminton Racket
While having the right badminton gear is important, it's equally important not to overlook the significance of skill development. I've seen many recreational players who invest significantly in high-end rackets and strings but pay little attention to enhancing their technique, building a strong foundation, or improving their fitness in badminton.
Remember, a skilled player can make an average racket shine, whereas even the best racket in the world won't compensate for a lack of skill, especially in badminton foundation. So, while it's a wise move to invest in quality equipment, ensure that you're also dedicating time and effort to improving your skills to elevate your skill level.
Tournament Stringers Always The Best
Being a stringer for a tournament is no small feat, as they have to go through multiple examinations and has passed multiple certification. These professionals work under immense pressure, often stringing hundreds of rackets in a short period. And it's not just about speed; they have to maintain a high level of accuracy and quality to ensure that each racket performs at its best.
The work of these stringers goes largely unnoticed, but it has a significant impact on the outcome of the matches. So, the next time you're at a tournament, take a moment to appreciate the hard work and skill that goes into stringing those rackets. You can learn more about what it takes to be a Master Racquet Technician.
How Long Should Badminton Strings Last?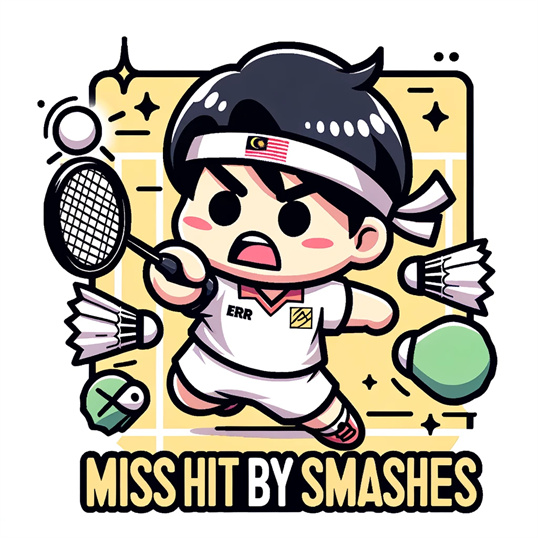 Miss hit Caused by Smashes
Smashes are the crowd-pleasers of badminton. There's nothing more satisfying than executing a perfect smash that leaves your opponent stunned. But here's the thing—smashes exert a tremendous amount of force on the strings, and frequent smashes can lead to quicker wear and tear. If you're a power player who loves to smash, you should expect to restring your racket more frequently.
The high tension and force can cause the strings to fray or even snap, especially if you're using a higher tension. So, keep an eye on your strings, and if you notice signs of wear or fraying, it's best to get them replaced before they snap in the middle of a crucial game.
Misplaced During Storage
We often focus on how we use our rackets but overlook how we store them. Incorrect storage can be a silent killer for your strings. Exposing your racket to extreme temperatures or humidity can cause the strings to lose tension or become brittle. If you're storing your racket in your car's trunk or near a heating vent, stop! These are not ideal conditions for any badminton equipment, let alone your strings. A good practice is to keep your racket in a temperature-controlled environment, away from direct sunlight or moisture.
Some players even use specialized racket cases with built-in climate control for optimal storage. It might seem like overkill, but if you're serious about your game, taking good care of your equipment should be a priority.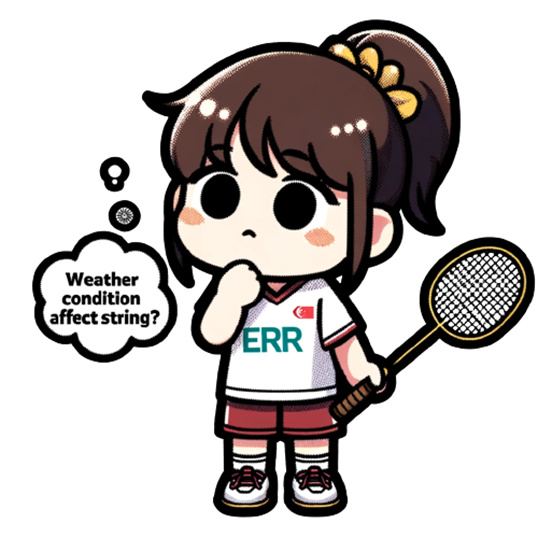 Can Weather in Malaysia and Singapore Affect Strings Condition?
The weather, although great for small talk, is quite predictable in Malaysia and Singapore, with no winter and only hot sun and rainy days. However, it can significantly impact your badminton equipment, especially your strings. High humidity can cause your strings to lose tension more quickly, making them feel 'mushy.' On the other hand, hot weather can make your strings overly dry, increasing the chances of them snapping, similar to how leaving an RSL shuttlecock out for too long and allowing it to become too dry can cause the feathers to break easily.
So, if you're playing at a higher skill level or are concerned about maintaining consistent performance and minimizing errors in every game, take note! Your strings might behave differently, and you might need to adjust your game or restring your racket accordingly.
Choosing the Wrong String Instead Right Strings
The importance of choosing the right string for your game cannot be overstated. Different strings offer different benefits, and choosing a string that's not suited for your style of play can have a significant impact on your performance. For instance, if you're a power player who loves to smash, a durable string with high repulsion will be your best bet. On the other hand, if you're a control player who relies on precise shots and placements, a string that offers better control and stability will be more suitable.
The point is, take the time to understand your needs and select a string that complements your game. It's not just about going for the most popular or the most expensive string; it's about finding the right match for you.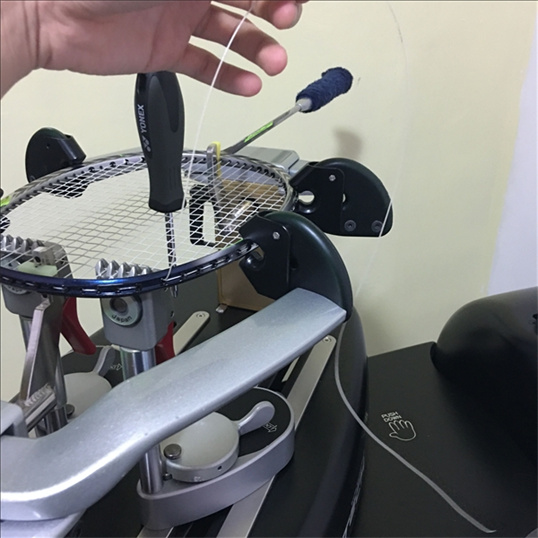 Stringer Errors
Let's face it, stringers are humans, and humans make mistakes. But when it comes to stringing a badminton racket, even a small error can have big consequences. Uneven tension, incorrect stringing pattern, or even poorly tied knots can all lead to poor performance and potential string breakage.
This is why it's crucial to get your racket strung by a certified stringer. These professionals are trained to string rackets with a high level of accuracy and quality, ensuring that you get the best performance out of your racket. If you're not sure where to find a certified stringer.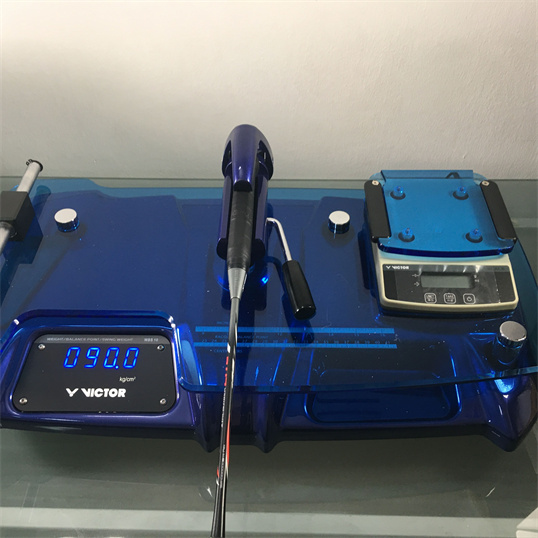 Badminton Racket Flexibility Advice
What Kind of Flexible Badminton Racket is Best for Me?
The flexibility of your badminton racket can have a significant impact on your game. Generally speaking, rackets come in three main categories: stiff, medium, and flexible. Each type has its pros and cons, and the best one for you will depend on your skill level and style of play. Flexible rackets are generally easier to use and are more forgiving, making them ideal for beginners.
They allow for easier power generation but offer less control, which can be a drawback for advanced badminton players. On the other hand, stiff rackets offer greater control and precision but are less forgiving, making them more suitable for advanced players who have mastered their technique.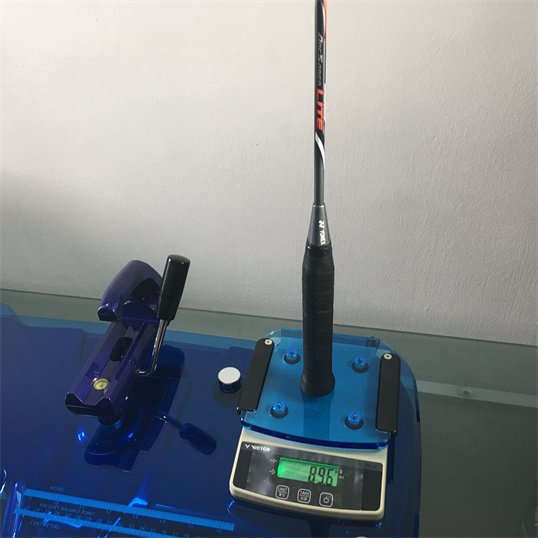 What are the Advantages of a Flexible Badminton Racket?
Flexible rackets have their set of advantages and disadvantages. On the plus side, they're generally easier to handle and offer greater power generation, especially for players who are still working on their technique. The added flexibility allows for a greater trampoline effect, adding extra power to your shots. This makes them a popular choice among beginners and intermediate players who may not yet have the skill to generate power through technique alone.
However, the downside is that flexible rackets offer less control and precision, making it harder to place accurate shots. This is why they're generally not recommended for advanced players who require a higher level of control in their game.
Conclusion
Badminton is a game of skill, whether you're an ex-national player, a current national player, a state player, or just a regular player. Precision and, believe it or not, a good deal of science are involved. The way you string your racket can profoundly impact your performance, influencing everything from the power and accuracy of your shots to the lifespan of your strings.
So, take the time to understand the intricacies of stringing, even if you're just a recreational player. Choose the right string and tension for your needs, and always ensure that your racket is strung by a certified professional. It might seem like a lot to absorb, but trust me, it's worth it. A well-strung racket can be a valuable asset on the court, providing you with the extra stability you need to compete against your opponents.
Frequently Asked Questions
Yes, in 2023, there are already many certified stringers in Malaysia and Singapore.
If you notice a loss of tension, fraying, or a change in the feel of the shuttlecock, it's probably time to have your racket restrung.
Certainly, a certified stringer ensures that your racket is strung to professional standards, ensuring optimal performance and durability.
Yes, using different strings for the horizontal and vertical strings can provide you with a unique playing experience, such as Yonex Aerobite, allowing you to customize your racket's performance to match your preferences.
Generally, feathered shuttlecocks are softer than plastic ones, making them less likely to break your strings. However, the overall likelihood of string breakage also depends on other factors like string tension and playing style.
Choosing the correct tension is crucial for optimal performance. The right tension will complement your playing style and skill level, providing the perfect balance of power, control, and durability.
If you notice visible signs of wear like fraying, or if you experience a sudden loss of tension or change in the feel of the shuttle, you'll need to replace it immediately.
Yes, having the right badminton racket is important for optimal performance. The type of racket you choose should complement your skill level, playing style, and specific needs.
Happy Playing! 🏸🌟