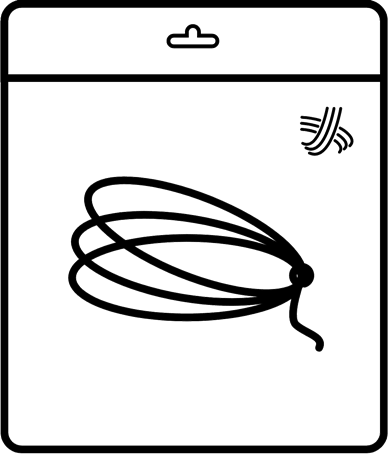 Yonex BG Aerobite Boost Badminton String Review in Kuala Lumpur (KL) Malaysia
By ERR Badminton Stringing
To begin with, we have found that the BG Aerobite Boost racket string is more suitable for players who typically use the Yonex BG80 string.
Welcome to
Yonex Aerobite Boost String by ERR Badminton Stringing KL Malaysia
Herewith is BG Aerobite Boost string review:-
Why is this string recommended? The BG Aerobite Boost string is ideal for players who prefer to hit spin shots while also desiring greater durability. The hybrid string has a thickness of 0.72mm, which is thicker than the Aerobite string. The cross string used is 0.61mm Aerosonic.
The BG Aerobite Boost string is a combination of two different types of strings. In fact, this hybrid stringing method was introduced to the tennis industry a long time ago, and in 2016, Yonex launched the first combination of hybrid strings specifically designed for badminton players.
Review by Eric: When strung at 28 lbs, the BG Aerobite Boost string offers good repulsion. Since the main string is thicker, it provides greater durability while maintaining good repulsion due to the cross string remaining at 0.61mm. When performing attacking and spin shots at the front of the net, players will enjoy a satisfying feel using this string.
When stringing with the BG Aerobite Boost badminton string, we typically use different tensions for the two strings to match the player's playing level and style. The normal tension range is between 26-28 lbs.
Here are the DT test results of BG Aerobite Boost badminton stringing experiments at 28lbs:
First Day 60 – 63 DT
Second Day 59 – 58 DT
Third-Day 57 – 58 DT
Review of BG Aerobite Boost String by ERR Badminton Restring KL
Currently, in 2019, hybrid strings are not limited to just Aerobite or Aerobite Boost. Some stringers have started experimenting by combining Yonex strings with other brands. Their feedback is that it's never easy to find one type of string that suits all players; some players are happy, and some are not. The main purpose of the Aerobite Boost string is to provide durability and repulsion. We noticed that the main string for the Aerobite Boost is 0.72mm, which is thicker than the first generation of Aerobite.
The thicker string boosts durability while also protecting the cross string from breaking easily. The cross-string gauge is only 0.61mm (Aerosonic). Badminton players in Malaysia are always curious to try new strings, partly because Yonex is a well-recognized brand in the world of racket sports, especially in Malaysia.
We at ERR like to share our knowledge with our members and advise them to choose the right string based on their playing level and needs. Here is a comment from one of our ERR members: he was surprised that the repulsion was so good despite the string's thickness of 0.72mm. He felt good playing with his racket. Of course, some members commented that the string felt a bit strange during play.
BG Aerobite Boost Badminton String
During the badminton stringing process with the BG Aerobite Boost, we can feel that the quality of the main string is better compared to the first generation. The first generation main string is stickier on the surface because, during the initial launch of badminton hybrid strings, Yonex wanted to prevent the cross string from snapping open when combined with a thicker string. Most badminton players dislike when strings snap open easily, which is why Yonex made changes to the surface coating to secure the Aerosonic string.
While some players may not place too much importance on this point, understanding the reason behind launching this hybrid string can help in choosing the right string. In the tennis industry, hybrid strings can create more spin, and the same mindset applies to badminton. The first national badminton player to use this string is Kento Momota. If you observe his playing style, aside from his cross smash, his netting skills and spin net shots are all executed perfectly.
Badminton Stringing with YONEX BG Aerobite Boost in Melati Utama
The string is certainly a factor, but hard work during training accounts for 80% of a player's performance. In Malaysia, there are many types of badminton players, and some immediately blame the racket when they make mistakes. From a professional point of view, mistakes are not caused by the string or racket; they're mostly due to a lack of practice. Even beginners can improve their performance with professional badminton stringing.
Although they may not know much about stringing, they can still feel whether the string has good repulsion or is too tight. That's why our certified stringer, Mr. Eric Chuar, advises and assists members in choosing suitable strings and tensions. Furthermore, he is the only one who provides racket restringing services to ensure that all rackets are restrung accurately and consistently.
We use only the world's no. 1 stringing machine, the Yonex Protech series, for our badminton stringing services. Additionally, we send the tension head to an ISO/IEC 17025 standard calibration laboratory every six months to check the tension's accuracy and ensure that it meets our +/-1 lb accuracy standard. We only use the stringing machine once everything has been calibrated and comes with a calibration certificate.
Manufacturer Description of YONEX BG Aerobite Boost
Description:
This is a hybrid multifilament string that's engineered for maximum control without sacrificing repulsion. The vertical strings are made of Vectran(tm), a super fiber that's more than twice as powerful as nylon. When combined with a super-thin cross string, this hybrid setup retains both control and repulsion.
Material:
CORE High-Intensity Nylon Multifilament, Super Fiber: Vectran(tm) (mains only) OUTER High Polymer Braided Nylon Fiber, Oval-Shaped (mains only) COATING mains – Polyurethane
Gauge:
mains-0.72mm; crosses-0.61mm
Color:
Mains-White/Crosses-Black
Made in Japan
BG Aerobite Boost Badminton Stringing Fees
Kindly refer to our String List for pricing
Frequently Questioned Answers
---
How to Make an Appointment?
To view our stringing schedule, please click the 'Book Now' button.
You can also directly book badminton racquet stringing services through the following link: Click Here to Book
In our online booking system, you can choose the option for immediate or same-day racquet pickup.
The booking interface will display the colors of various strings as well as the corresponding price information.
To provide a more professional service, it is recommended that you make an appointment in advance.
Things to Note:
We also accept stringing requests from walk-in customers, but this will require additional processing time. Therefore, it's recommended that you make an online appointment before coming to the store.