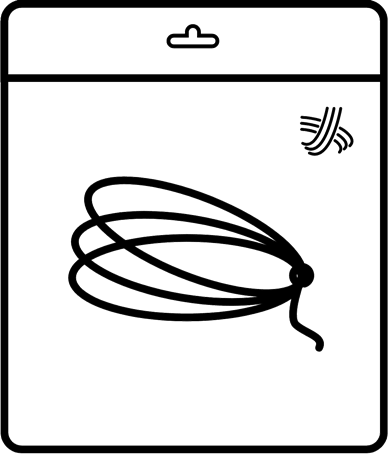 Yonex BG 6 Regular Badminton String Review in Kuala Lumpur (KL) Malaysia
By ERR Badminton Stringing
To start with, this BG6 Regular badminton string shares the same name as the BG6, but it has a different gauge that is thicker.
Welcome to
Yonex BG6 Regular String Review by ERR Badminton Stringing KL Malaysia
This is BG6 Regular badminton stringing review:-
When using the BG6 Regular badminton string, you will notice that it is stiffer and thicker compared to the first generation BG6. However, it is important to note that this is not an upgraded version of the BG6 string; rather, Yonex launched two types of strings with the same thickness but different gauges (0.70mm and 0.66mm) to fulfill the varying needs of players. The BG6 Regular badminton string is cheaper than the Yonex BG65 Titanium by about $2, but some players still prefer it due to its better durability and sound compared to other thicker strings.
Review by Eric: I used to string my coaching badminton racket with the BG6 Regular badminton string at 27 lbs. The hitting sound is good, and the medium feel of the string always helps me to control my strokes more firmly.
Here are the DT test results for the BG6 Regular badminton stringing experiment at 25 lbs.
First Day 58 – 60DT
Second Day 57 – 59DT
Third-Day 54 – 57DT
BG6 Regular String Review by ERR Badminton Restring Seri Setia KL
Some older generations still prefer using Yonex BG6 Regular because the newer strings are considered expensive, but BG6 Regular provides good repulsion. However, there are many types of leisure players, some of whom may opt for expensive strings like BG SKYARC, but when they bring in their rackets, we find that the maximum tension their badminton rackets can handle is only 20lbs, which indicates that their rackets are very old. In such cases, BG66 Brilliant will not feel good when strung on the racket, as the repulsion of BG SKYARC only appears after 22 lbs.
Therefore, it is important to have some knowledge before sending your racket for stringing. There are a few things you need to consider before sending your badminton racket for stringing. Firstly, if you choose BG6 Regular badminton stringing, you should know whether your previously used string had a similar gauge or thickness. For example, if you previously used Yonex BG65 with a gauge of 0.70mm, and you switch to BG6 Regular badminton stringing, you may feel that the string is stiffer, but the repulsion is good.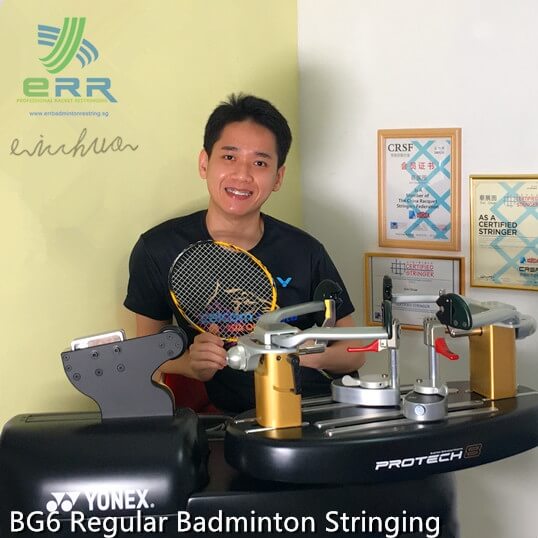 BG6 Regular Badminton Stringing in Melati Utama KL Kuala Lumpur
Secondly, if your previously used string was BG68 Titanium with a gauge of 0.68mm, and you feel that its durability is not good, then BG6 Regular badminton stringing may be the right choice for you. From a professional player's point of view, the cost of the string is not as important as whether the string suits your playing style and racket according to your level. If the string does not suit your feel and playing style, you will not be able to perform better during games. This is why our certified stringer, Mr. Eric, always advises his members before stringing their badminton rackets. He ensures that all his members choose the right string and tension so that they can play better.
Additionally, Mr. Eric Chuar has been a certified badminton coach in Malaysia for the past 12 years and based on his stringing experience, he knows that most leisure beginner players tend to choose strings based on their color rather than type because they do not understand the importance of choosing the right badminton string. Some players may even choose strings randomly by name, thinking that choosing a string like BG80 "POWER" will make them more powerful, which is not necessarily true. It is important to understand the properties of the string instead of just relying on the name, which may be a marketing ploy.
Yonex BG6 Regular Manufacturer Description
Description:
Medium Feeling
Repulsion Power
Gauge: 0.70mm
Length: 10 meters (33 feet)
Model: BG6 Regular
This regular gauge string combines repulsion power with durability. The Nylon multifilament, braided fibers, and Yonex's original coating create a 0.70mm gauge, providing the perfect combination for economical performance.
BG6 Regular Badminton Stringing Fees
Kindly refer to our String List for pricing
Frequently Questioned Answers
---
How to Make an Appointment?
To view our stringing schedule, please click the 'Book Now' button.
You can also directly book badminton racquet stringing services through the following link: Click Here to Book
In our online booking system, you can choose the option for immediate or same-day racquet pickup.
The booking interface will display the colors of various strings as well as the corresponding price information.
To provide a more professional service, it is recommended that you make an appointment in advance.
Things to Note:
We also accept stringing requests from walk-in customers, but this will require additional processing time. Therefore, it's recommended that you make an online appointment before coming to the store.